What Greek gardeners know: a Mediterranean climate requires you to embrace extremes. Dry summers. Wet winters. Hot sun. Oh, and little surprises from the sea. Here's some salt spray and wind for you.
It's no wonder the classic Greek garden is designed, first and foremost, to stand up to the elements. Hardy plants, protective walls, and shaded patios are ubiquitous. These are scrappy gardens, designed to make do.
"In smaller villages, there was no tradition for a home to have a backyard, there was no soil even," says architect Eleni Psyllaki, a native of Crete and founder of the design blog My Paradissi. "The place that people had when they went outside was the street. They had to put pots with plants in the street. That's a typical garden."
Psyllaki, whose garden comprises a cluster of terra cotta pots outside her window, has made a study of the modern Greek garden–and understands that it's not necessary to compromise style to achieve sturdiness. Here are her 10 essential elements of a typical Mediterranean garden:
Photography by Eleni Psyllaki except where noted.
Neutral Backdrops
Above: Stone walls, archways, succulents, and a pale backdrop are typical features of a Greek garden.
If you have hot summers, whitewashed walls and light-colored stone facades function as effective scrims to reflect the sun's heat and create a serene structure for a garden.
Olive Trees
Above: A non-fruiting olive tree. Photograph by Nicole Franzen for Gardenista.
The goddess Athena got a whole city named for her after she jammed her spear into the earth and turned it into an olive tree. Or so the myth goes. If true, she deserved the honor. Olive trees, in addition to being one of the most beautiful and graceful plants you can introduce to a garden, are endlessly useful. They're drought-resistant; they're long-lived, and their wood is prized for its beauty and durability. And then there's the oil.
Non-fruiting varieties (as seen Above) are descendants of the Mediterranean Olea europaea. Useful foils in a garden, their gray-green leaves and bark complement most other colors. Warning: if you live in a cold climate, you should grow yours in a pot and bring it indoors to enjoy a sunny southern exposure during the winter months.
Colorful Accents
Above: Succulents and drought-tolerant perennials are in the foreground; cypress trees are trained against the wall in the background.
Against a gray-green backdrop of herbs and drought-tolerant perennials, a pink or red flowering plant makes a dramatic statement. Pelargoniums, poppies, and perennial herbs are hardy choices. All it takes to pop is one.
Drought Tolerant Natives
Above: Check with local nurseries to find what qualifies as a drought-tolerant native in your growing zone. Whenever possible, opt for perennial herbs. They'll do double duty as ground cover and as a lure for pollinators. In a Mediterranean climate, rosemary, thyme, sage, chives, and parsley will run rampant.
Rosemary as a hedge? See Architect Visit: Barbara Chambers at Home in Mill Valley.
Potted Plants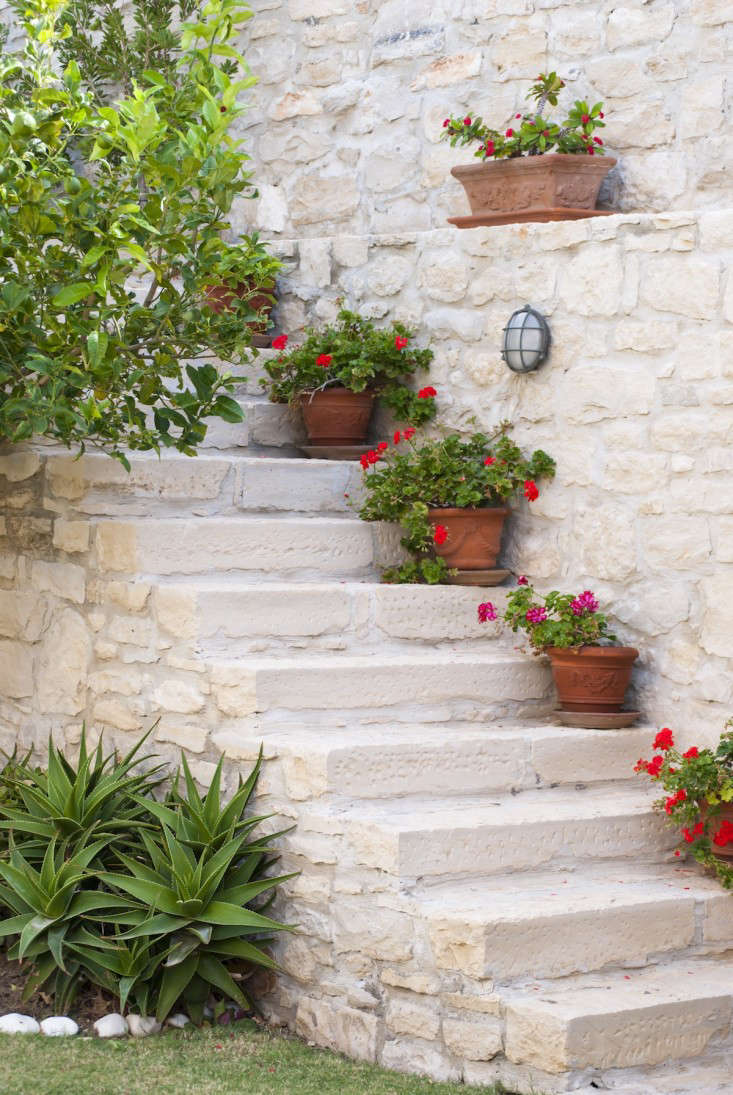 Above: Archaeologists know this is what the ancient Greeks had at home (rather than private gardens). Be sure to water them well. "Clay pots are a help," says Psyllaki. Clay retains moisture to keep roots hydrated longer in a hot climate. "We have a lot of pottery, and craftsman make such pots as a tradition."
Terra Cotta
Above: When you think of ancient Greece, you think of …. pottery. (OK, Doric columns too; but not everyone has room for one). Much of what we know about how the inhabitants of ancient Greek civilizations lived can be attributed to the shards they left behind for modern archaeologists to mull.
The benefits of clay pots are many. There's pretty much nothing that looks bad sitting next to one in the garden. And they make container gardening foolproof. Their porous nature makes it nearly impossible to over water a plant. Our favorites have the soft, aged coloring of antiques. We like these Aged Terra Cotta Flower Pots.
Citrus Trees
Above: Lemons, limes, oranges, tangerines. These are fruits you want to grow if at all possible. If you live in a Mediterranean climate, plant a tree in your garden immediately. If you have a small garden, you can espalier it against a fence or prune it to keep it contained. In a colder climate, get two or more of the same variety and keep them in pots so you can bring them indoors in the winter and pollinate them by hand (a paintbrush is involved). There are crazier hobbies. For detailed instructions, see DIY: Potted Indoor Citrus Trees.
Symmetry
Above: Remember the mythological Minotaur in the maze? The maze had a a perfectly pruned, symmetrical layout. Symmetry is a concept the ancient Greeks invented. In a modern garden, mirror-image beds create the same effect. See Garden Visit: A Modern CA Garden Inspired by the Classics.
Bougainvillea
Above: Perennial in zones where temperatures don't drop below 30 degrees, bougainvillea behaves like that friend-of-a-friend who comes to your party and eats all the appetizers. The only way to neutralize it is with sharp pruners. But you're still grateful it showed up.
Shade
Above: "It is typical to have a shaded terrace, covered in ivy or jasmine, to protect you from the sun," says Psyllaki. "We have a lot of winds here, and if you are protected from the sun, the wind will cool you down and make it comfortable to spend time outdoors in the hottest months."
Awnings, canopies, and pergolas constructed of natural materials such as wood and bamboo are popular weather-resistant choices to support the weight of vines. For inspiration, see Steal This Look: A Greek Bamboo Canopy.
For more inspiration, see our other Garden Ideas to Steal posts.
(Visited 3,519 times, 11 visits today)