With a small budget, can you still start a garden? When my husband and I moved into our new home, we had a pretty good idea of how much money we would have to spend to furnish it, to give it a coat of fresh paint, to remodel the kitchen. We knew those costs all would land on the high end of too much, but because we expected them, we were able to budget for the expenditures. Plants, though, were not something we ever thought we would need to save for. (The costs of window coverings also floored us. See Domestic Dispatches: 5 Ways to Cover 50 Windows on a Budget for some great advice.)
We were soon disabused of that false assumption. A landscape designer quoted us nearly $5,000 just to clean up and fill out a small garden in the front of our home. So our garden makeover dreams quickly morphed into a DIY planting project. But shopping for plants at our community gardening club's annual sale also yielded sticker shock. I walked away from the sale $150 poorer—with only 10 plants. Add in store-bought gardening soil, compost, and mulch, and the costs were not insignificant.
Thing is, it doesn't have to be this way. It is totally possible—with equal parts patience, preparation, and ingenuity—to start a flower or vegetable garden from scratch for practically nothing. Here are 10 ways to garden without breaking the bank.
1. Be on the lookout for plant swaps.
Many communities hold plant swaps, low-key events where plant lovers meet to trade specimens. It's a great way to swap a plant you're less than thrilled with for one that you love—all for free! See The New Sharing Economy, Plant Swap Edition for details and how to find one near you. Another way to find free plants is to log on to your neighborhood or town's online forum for local gardening enthusiasts; I'm a member of a Facebook group for amateur gardeners in my town and regularly see posts from people looking to give away healthy plants and cuttings (often after a garden cleanup or overhaul). Many times, all you have to do is dig them up and they're yours.
2. Shop for plants in the off-season.
The best time to get a deal on plants? Autumn. "Most nurseries have big plant sales in the fall, with markdowns of 50 percent or more. This is also one of the best times of year to plant—the soil is still warm enough to allow root systems to establish and cooler temperatures reduce the need to water," says Jean Victor, gardening writer and Gardenista: The Definitive Guide to Outdoor Spaces contributor.
3. Start from seeds.
A packet of 100 seeds can cost as little as $2; seedlings, meanwhile, often cost $4 each or more. You do the math. And it isn't terribly hard to start seeds indoors (then transplant them outdoors), nor is it expensive. In fact, you can make pots for seedlings at no cost at all out of either newsprint or eggshell halves. See DIY Seed Starting: Newspaper Pots and Gardening 101: How to Use Eggshells in the Garden for details.
4. Save seeds.
If you are coveting a flower or vegetable in a friend's garden, or you want to grow more of a plant you already currently grow, consider saving its seeds for the next growing season. Simply wait for the flower or fruit to set seed, then when the plant begins to dry and wither, collect the seeds. See DIY: How to Save Seeds for Next Year for directions.
5. Accept cuttings from friends.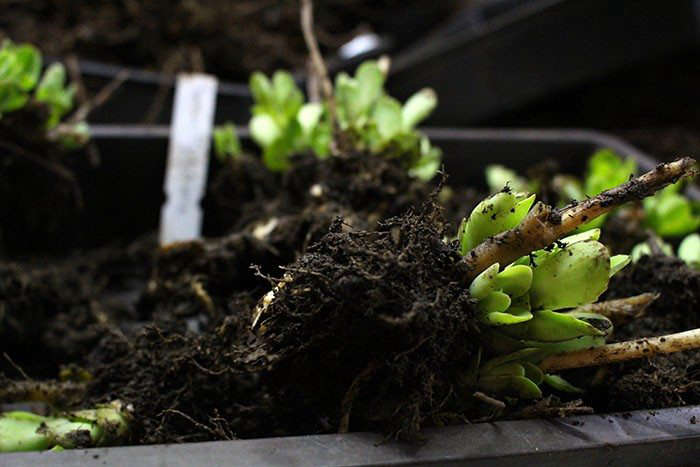 Growing from seeds is a great idea for most flowers and vegetables, but it's harder to do when it comes to other plants, like, say a shrub or a tree. Fortunately, most perennials can be propagated from cuttings. It's an age-old way to share plants. Take wisteria, for instance. "In the early 1800s, collectors imported seed from China and Japan to the US and Britain. However, plants grown from the seed produced disappointing flowers. When plant collectors later brought home cuttings made from layering or grafting, the plant thrived and bloomed abundantly like its predecessors in Asia," wrote Gardenista contributor Jeanne Rostaing in Plant of the Week: Wisteria.
6. Build a raised bed from found materials.
You can certainly keep it simple and buy a raised bed kit (see 10 Easy Pieces: Raised Bed Kits for our favorites), but you don't necessarily need to spend much, if any, money to build one. Basically, any large vessel will do; you can up-cycle an old bathtub, build one from pallets, or just repurpose a whole bunch of containers (think troughs, wine boxes, and buckets) for a container garden.
7. Make your own soil amendments.
Yes, it takes up to six months for a compost pile to really "cook," but the effort is worth it. It's chemical-free and free-free. See Composting: Are You Obsessed? for helpful tips. Another way to amend your soil without resorting to store-bought fertilizer: When planting, add crushed eggshells and coffee grounds to the bottom of the hole for a shot of calcium and nitrogen, both of which are essential to plant health. See Gardening 101: How to Use Eggshells in the Garden.
8. Find free mulch.
Ask local tree-cutting companies if they give away free wood chips for mulch. Many do. You may also want to call your town hall and see if they offer free mulch or compost. The only hassle is that you'll have to transport it all yourself home, so come prepared with containers or bags for the purpose. An easier way to score free mulch? Look around your property. Pine needles and chopped-up leaves work great as mulch. (See Your First Garden: What You Need to Know About Raking Leaves.)
9. Use a rain barrel.
According to the Environmental Protection Agency, lawn and gardening watering sucks up 40 percent of a household's water usage during the summer months. You can put a serious dent in that by installing a rain barrel to collect rainwater for use in your garden. See 10 Easy Pieces: Rain Barrels for some of our favorites.
10. Design it yourself.
To say hiring a garden or landscape designer isn't cheap is a huge understatement. If you have decent plant knowledge, gardening experience, and a good sense of how you want your garden to look, consider a design software program that even nonprofessionals can use. See 10 Best Landscape Design Software Programs of 2018.
For more ways to save money on your garden, see:
For more in our Your First Garden series, see: