There may be people who have done more to revolutionize cooking in America than Mollie Katzen, but I don't know any. I was thinking about this the other day, as I drove across the bridge to visit her at home in the Berkeley hills. She's primarily responsible for introducing vegetarianism to America–not as a religion or a fad diet or a health movement, but because vegetables taste good. That was a radical idea in the 1970s, when The Moosewood Cookbook arrived on the scene while most of us were still eating canned asparagus (yes, it's as bad as it sounds) and "frozen cut vegetable medley" and things called niblets that came in bags. It's no wonder that her friendly line drawings and handwritten recipes for tabouli, mushroom strudel, and cranapple walnut cake made Moosewood one of the ten best-selling cookbooks of all time. She's written ten more since–including, by the way, the one that invented kale chips.
Moosewood was my first cookbook, of course. I bought it when I was a newly married first-time homeowner wondering what to do with that thing called a stove that came with the house. The sesame-peanut noodles in a later Katzen cookbook (Still Life WIth Menu) remain to this day my go-to choice for a buffet party, and her new The Heart of the Plate–which I was headed to her house to talk about–is full of genius ideas for how to eat from the winter garden. So it would be fair to say that as I drove up the steep driveway to her house, I was feeling a little intimidated.
Until she opened the door, a slight woman wearing the uniform of Northern California (quilted vest, black yoga pants, pretty scarf), and asked, "Do you want to see my garden?" 
Photographs by John Merkl for Gardenista.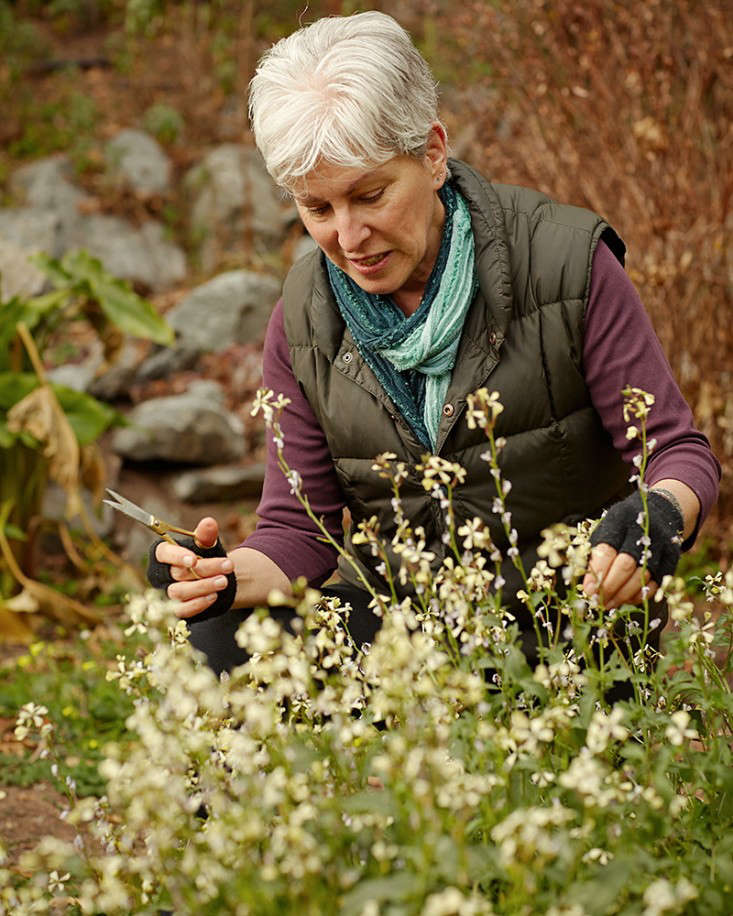 Above: Mollie Katzen in her arugula patch.
She is smaller than I expected ("people always say that," she says) and far slimmer than anyone who loves food so much deserves to be, and friendly in a happy-to-meet-you way, despite having been confronted about four zillion times by strangers who immediately blurt, "Moosewood was my first cookbook." Which I did.
She nodded politely, as if she'd never heard that one before, and said, "My editor Phil Wood, who founded Ten Speed Press, used to say when people asked him to identify the appeal of Moosewood, that 'there was a layer of formality completely missing from the book.' "
That same layer of formality is completely missing from Katzen, as well.
"Here, taste this," she said, offering me an arugula flower.
It was a little peppery.
"Delicious on salad," she said.
Above: Mollie Katzen's raised beds; she dug down 10 inches and laid a layer of mesh to keep out gophers. She improves the soil regularly with steer manure and compost.
Walking around her garden, she was full of suggestions for ways to eat seasonal crops in winter–even if you don't happen to live in a climate like Berkeley where kale, lettuce, artichokes, parsley, citrus, and rosemary thrive in January.
 "When in doubt, there's always apples–dice or slice them into a salad," she said.
Above: Lettuces in January; welcome to Northern California.
"I eat pretty much the same thing every night," she said, "a huge amount of a vegetable cooked with a second vegetable, and a little bit of carbs. I call it the food flip. Instead of having pasta with vegetables, I have vegetables with a little bit of pasta."
This sounds like an entirely reasonable way to eat if you have a big winter garden. But what if you don't?
"What if you're stopping off at a grocery store on your way home from work?" I asked.
"The secret is to have a larder stocked with essential ingredients, and then all you have to do is buy one vegetable on the way home, and you can make dinner," she said.
Larder essentials (she ticked them off):
Onions
Olive oil
Chile flakes
Flavored vinegars ("Collect them," she suggested.)
Citrus (Lemons, limes, or oranges)
Garlic
Lentils
Above: A 5-foot-high wire mesh deer fence makes this lettuce possible.
A delicious way to eat winter vegetables: "Slaws," said Katzen. "Grate a root vegetable like kohlrabi and an apple together and it's delicious."
Above: Katzen points out a patch of parsley hiding under an artichoke plant. 
Root vegetables and winter fruits that taste good grated into slaws (by themselves or in combinations with each other): 
Cabbage
Carrots
Yellow or pink beets ("Red beets are too staining," she said.)
Pears
Apples
Broccoli and cauliflower stems
"Toss the slaw with olive oil and lemon juice; it's very refreshing," she said.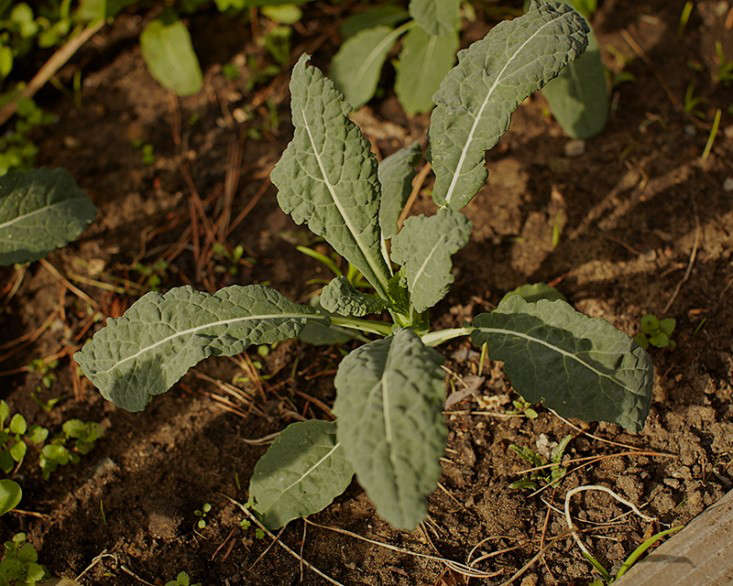 Above: Katzen allows the kale in her garden to flower and self sow in new patches.
Chop up kale, blanch it, and add it to lentils for a winter main dish. "The best cooks I know do as little to lentils as possible," she said. "Just use really good ingredients–good olive oil, sea salt, and kale."
Above: An artichoke plant (L) and parsley flourish in the garden.
"The artichokes sneak up on you," she said. "For a long time there aren't any, and then one day you look, and there's an artichoke."
Above: A kale tree of sorts; a 5-foot-high stalk ("it's a year old, at least," she said) continues to sprout new leaves at the top.
In Katzen's Vegetable Heaven, published in the mid 1990s, she included a recipe for baking kale chips. "In those days, it was green curly kale, because that was all we had," she said. "But any kale will work."
Above: Tools of the trade in the garden.
Katzen, a voracious tweeter and follower of food bloggers, has a few favorites, including:
Above: In the kitchen, she keeps a bowl nearby to collect scraps for compost.
Although a lover of vegetables, Katzen is not a vegetarian. "I think my love of vegetable recipes comes from growing up in a kosher home; you were trained 'you don't eat meat outside your mother's home because you don't know where it came from,' " she said. "Once a week my mother would make a dinner that was dairy–no meat–and those were my favorite meals. I loved the diffuse spotlight, the smorgasbord where no one dish was the main event."
Above: Katzen cooks on a six-burner Viking stovetop.
Some tricks to make cooking dinner easier (and more fun):
If you are going to blanch kale, no need to wash it first.
If it feels like it takes too long to quarter the Brussels sprouts, halve them instead.
If something isn't getting as brown and crispy as you expected, add a pat of butter to the skillet.
If you are going to seed a pomegranate, do it under water in a bowl "so you don't end up with the kitchen looking like a crime scene."
Above: In Katzen's latest book, The Heart of the Plate: Vegetarian Recipes for a New Generation ($23.48 from Amazon), she includes a recipe for making Crudité Chips: Use a mandoline to thinly slice radishes and raw rutabagas into thin slices. Refrigerate them in a bowl of water for an hour. "They curl up and get ridiculously crisp," she said. "Delicious."
For more of Katzen's winter garden recipes, see Smoky Brussels Sprouts and Onion. For another of our favorite chef's gardens, see Cook's Garden: At Home with Laura Silverman in Upstate New York.
N.B.: This is an update of a post published on January 13, 2014.
(Visited 353 times, 1 visits today)