Back in the analog era, if you wanted to DIY a plan for a garden or landscape, you pulled out a pencil, a ruler, a plant book, that folder of inspirational magazine clippings of yards you love, a sheet of graph paper, and started sketching. You had to use your imagination to see what your plan would look like when those circles and squiggles became azaleas, flagstone patios, and crape myrtles. It was enough to make you give up and call a landscaper or garden designer.
But in the digital era, a slew of landscape design software will help you design your landscape like a pro. Here are 10 of the best programs.
Realtime Landscaping Plus 2018
What it's good for: A beginner with zero experience in design software.
Requirements: Microsoft Windows (Vista, 7, 8, 8.1, or 10) with the latest Microsoft service packs.
Pro tip: Request a free trial version.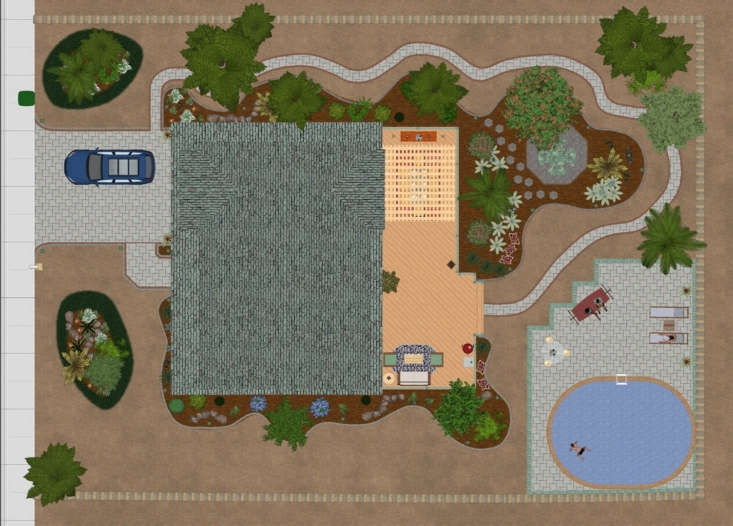 Landscaping design software can be tricky for an amateur to master, but 
Realtime Landscaping Plus
is easy. Download it and go; it's that intuitive. Upload a photo of your house, drag and drop images of plants, outdoor furniture or retaining walls, and get a 2-D or 3-D rendering of your design. There's a tool to calculate what your project will cost as you add or remove elements, along with a library of more than 10,000 images of plants, patio furniture, and other outdoor elements. The images are high-quality, and there are tons of templates so you don't have to start a design from scratch. Our favorite feature: You can take a virtual walk through a realistic 3-D rendering of your future yard. It's more like gaming than working.
Garden Puzzle
What it's good for: Planning a vegetable or flower garden.
Requirements: App for OS X/Windows or use online.
Pro tip: Get the add-on Vegetables Package (with 100 extra vegetables and herbs for $5) to make this your go-to edible garden planner.
This is the easiest design program to use, period, and the most affordable. You can lay out a landscape plan for your front yard in this one faster than you can read the tutorial on many of the others. There are no home design features, just garden and landscape design. The simplicity means Garden Puzzle has fewer flashy features, so you can't account for slope in your yard, and the only view is 2-D. There's also a much smaller plant library, with 931 images. But it's perfect if you just want to see how a bed of perennials will look along the backyard fence.
Punch Landscape Design
What it's good for: Anything from laying out a vegetable garden to a gazebo-equipped rose garden.
Requirements: Macintosh OS X 10.9.
Pro tip: A 4,000-image plant library shows you what thrives and where.