Back in the analog era, if you wanted to DIY a plan for a garden or landscape, you pulled out a pencil, a ruler, a plant book, that folder of inspirational magazine clippings of yards you love, a sheet of graph paper, and started sketching. You had to use your imagination to see what your plan would look like when those circles and squiggles became azaleas, flagstone patios, and crape myrtles. It was enough to make you give up and call a landscaper or garden designer.
But in the digital era, a slew of landscape design software will help you design your landscape like a pro. Here are 10 of the best programs.
Realtime Landscaping Plus 2018
What it's good for: A beginner with zero experience in design software.
Requirements: Microsoft Windows (Vista, 7, 8, 8.1, or 10) with the latest Microsoft service packs.
Pro tip: Request a free trial version.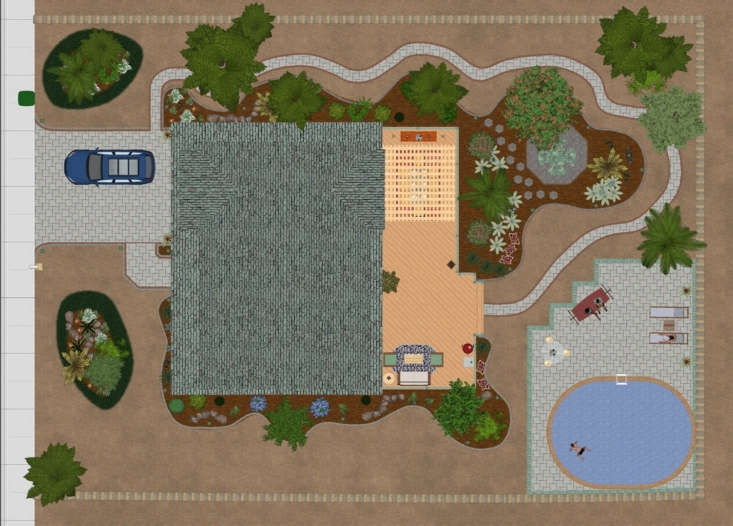 Landscaping design software can be tricky for an amateur to master, but 
Realtime Landscaping Plus
is easy. Download it and go; it's that intuitive. Upload a photo of your house, drag and drop images of plants, outdoor furniture or retaining walls, and get a 2-D or 3-D rendering of your design. There's a tool to calculate what your project will cost as you add or remove elements, along with a library of more than 10,000 images of plants, patio furniture, and other outdoor elements. The images are high-quality, and there are tons of templates so you don't have to start a design from scratch. Our favorite feature: You can take a virtual walk through a realistic 3-D rendering of your future yard. It's more like gaming than working.
Garden Puzzle
What it's good for: Planning a vegetable or flower garden.
Requirements: App for OS X/Windows or use online.
Pro tip: Get the add-on Vegetables Package (with 100 extra vegetables and herbs for $5) to make this your go-to edible garden planner.
This is the easiest design program to use, period, and the most affordable. You can lay out a landscape plan for your front yard in this one faster than you can read the tutorial on many of the others. There are no home design features, just garden and landscape design. The simplicity means Garden Puzzle has fewer flashy features, so you can't account for slope in your yard, and the only view is 2-D. There's also a much smaller plant library, with 931 images. But it's perfect if you just want to see how a bed of perennials will look along the backyard fence.
Punch Landscape Design
What it's good for: Anything from laying out a vegetable garden to a gazebo-equipped rose garden.
Requirements: Macintosh OS X 10.9.
Pro tip: A 4,000-image plant library shows you what thrives and where.
This one is uncomplicated by home design features. It's all about landscaping: flower beds, pools, fences, and irrigation systems. You can get 2-D and 3-D views, see what your landscape might look like in the future as plants grow, and use the cost estimator to see the price tag on your plan. And get this: A global sun positioning feature lets you see what the light will be on a certain time and date. Imagine how much easier it would have been for the Anasazi to make their rock equinox tracker at Chaco Canyon if they'd had tools like this?
Virtual Architect Ultimate Home Design With Landscaping & Decks
What it's good for: Starting from scratch.
Requirements: Windows Vista, 7, 8, or 10.
Pro tip: You can preview what your virtual yard will look like in all four seasons, and what it will look like up to 50 years in the future.
If you're starting with a plot of land and want to design your dream home as well as your dream garden, go with this one. You can design a home in detail, right down to custom window frames, and cabinets for the kitchen. The landscape design function has a Deck Builder that lets you design decks and patios by picking your material and punching in the size you want. There's a library of 7,500 plants, trees, and flowers you can sort by zone, and by light, soil, and water needs, so you can put the right plant in the right spot.
Home Designer
What it's good for: Pro-quality landscape plans.
Requirements: Windows 64-bit 10/8/7; Mac Sierra/High Sierra.
Pro tip: It's not easy to use, so download the free trial version to you can see if you have the skills and patience for this one
As the name says, it's heavier on home design than landscaping. Its plant library has 3,600 images, about half that of other landscape software. But it has sophisticated features to create a detailed landscape plan that's contractor-ready. You can pull in surveyor information and GPS coordinates so you can lay out a patio with satellite data perfection. The graphics are realistic, you can work in 3-D, and you can see a landscape from different perspectives. It even has a "Sun Rotates With Camera" setting so you can see how your yard will look at different times during the day, so you'll know exactly where to hang the hammock.
Home & Landscape Design Premium
What it's good for: Seeing your design from a lot of angles.
Requirements: Windows 7 or higher.
Pro tip: It's heavy on home-design features, so you can plan electrical installation on your house after you finish designing that brick walk.
You get 4,000 plants with this one, along with sample yard designs and templates for decks and patios. The previews are great: You can get 2-D and 3-D views of your creation, take a virtual walk through your plan, and get side-by-side before-and-after views. And, geek alert: You can even get an aerial view of your design, so you have don't put a GoPro on a drone to see what your garden will look like to birds.
Home & Landscape Design Essentials
What it's good for: Garden design, with a side of home design.
Requirements: Windows 7 or higher.
Pro tip: A QuickStart feature allows you to upload your house's dimensions and design around the home's shape.
This less expensive version of the Home & Landscape Design Premium has all the design tools you need to layout a basic landscape, but fewer tools for designing a house. It has the same 4,000-plant library as the pricier version, but fewer nonplant images, such as fences and trellises. You can upload photos of your home and yard and place plants into it.
Landscape Deck & Patio
What it's good for: Designing a pool.
Requirements: Windows 7 or higher.
Pro tip: A cost estimator helps you put a price tag on your dream project.
This has all the usual features, including a plant and object library, 2-D and 3-D views, and templates for gardens, decks, and patios. But it also has a Pool Designer tool that lets you place a pool in any shape and depth you like. You can plan a backyard dreamscape, choosing everything from the deck material to the palm trees you'll put near that fabulous freeform pool.
TurboFloorPlan 3-D Home & Landscape Pro
What it's good for: Designing a deck.
Requirements: Windows 7, 8, 10, or Vista.
Pro tip: Use the free trial period to see if you like it.
The IntelliDeck tool is the star of this show. While other software makes you manually fit a deck image to your house, IntelliDeck automatically follows the shape of your house, so the deck is in front of doorways. You choose the material and dimensions, and the tool does the rest. Use the 3,800-image plant library to place flowers around it, the object library to place a dining set on it, and see a preview of your future outdoor space faster than you can say, "We're eating dinner on the deck all summer long."
Garden Planner
What it's good for: Planning the simplest garden possible.
Requirements: Download to Windows.
Pro tip: This one has a free trial too. Give it a spin.
If you think of sophisticated graphics, gigantic plant databases, and global sun-positioning tools as distractions that keep you from mapping out your garden, this is the software for you. It's barebones, giving you simple, 2-D overhead views of your plan. You can click, drag, and drop objects into it without busting brain cells poring through a manual. Instead of a library and plant finder of specific species, you get options including "dense shrub," "simple shrub," or "flowers." The graphics are "cartoonish," according to one reviewer, but we're gardeners, not gamers, so that's fine with us.
Get more help laying out and designing a garden with our Garden Design 101 guides. Read more: