I always assumed container gardening was for apartment dwellers only. Why would someone with a yard ever choose a container garden over a real garden? After looking into the topic, I realize there are many reasons that container gardening is a smart choice for anyone—landowners included.
First, though, what is container gardening? Also known as pot gardening (not to be confused with this), it's essentially growing plants (including edibles, flowers, bushes, and trees) in pots and other containers instead of planting them in the ground.
Now, on to my original question: Why should you take up container gardening?
N.B.: Featured photograph courtesy of Brook Klausing, from Rental Garden Makeovers: 10 Best Budget Ideas for an Outdoor Space.
1. You don't need a yard.
Heck, you don't even necessarily need outdoor space. A patio, deck, or balcony is ideal, of course, but as long as your potted plants have access to decent light, your container garden can thrive.
2. You don't even need pots.
Don't get hung up on buying matching pots. Look around your home and you may be able to find something perfectly suitable—and maybe even preferable if you're into a more eclectic or farmhouse look: Old wooden crates, dresser drawers, or galvanized buckets can all be repurposed as planters as long as there's good drainage. My now-husband and I even once grew flowers out of a toilet that our landlord was trying to get rid of. (To this day, that ranks as our single greatest gardening success.)
3. Good soil is all but guaranteed.
If you're planting in the ground, you need to test the soil to make sure its pH level is compatible with the plants you're interested in growing. If it's not compatible, you'll have to add soil amendments. But if you're planting in containers, that's a non-issue. Simply use potting soil and a slow-release fertilizer to create the right soil habitat for your potted plants. Bonus perk: no chance of soil-borne plant diseases.
4. Weeding is rarely required.
Another benefit of gardening with store-bought soil: no weeding! And wind-borne seed spores are less likely to take root in your container garden since plants are usually more densely packed in a container than they are in a garden.
5. A container garden is mobile.
Moving? Take your garden with you. Going on vacation? Ask a neighbor to adopt your containers and temporarily relocate them to their property while you're away. Seasonal light change? Simply scoot your garden over to a spot that gets more sunlight (or into the shade if your plants are getting scorched). Winter's coming? Move them to the garage or into your home for the season. (See Container Gardening: A DIY Planter on Wheels.)
6. You may not need to water it as much as you think.
Conventional wisdom says that container gardens need to be watered more than in-ground gardens because the small soil volume in a pot dries out quicker, but you can decrease the necessity for daily (or even twice-a-day) waterings by using large containers (in general, the larger the pot, the less watering needed) or taking advantage of self-watering mechanisms (such as a watering bulb, a self-watering planter, or drip irrigation).
7. You can grow your favorite salad in one container.
You've likely heard of home-grown herbs and tomatoes in pots, but how about an entire salad garden in pots? You can grow all the ingredients of your favorite salad in one pot—tomatoes, lettuces, herbs, and all—or spread them out over several pots.
8. You can decorate with containers.
Along with outdoor furniture and rugs, pots can be another opportunity to add personal style to your patio, deck, balcony, or yard.
9. Cleanup is a breeze.
Fall cleanup is easy. Pots should be emptied and cleaned, ready for new potting soil and plants come spring. If you keep the plants in the plastic pot liners that they are usually sold in, then the cleaning process is even simpler.
10. Your back will thank you.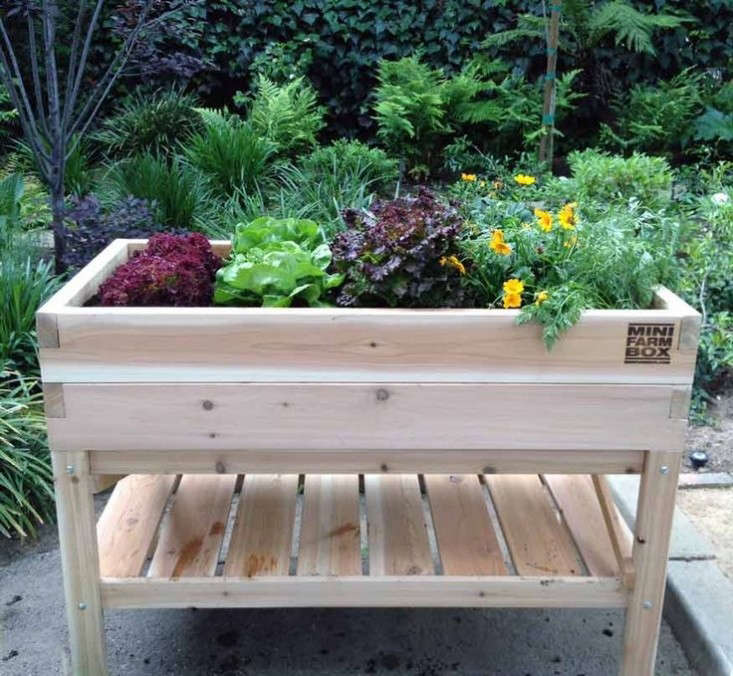 Gardening can be back-breaking labor. Get an elevated planter, and you'll never have to bend down to do the hard work of digging, pruning, and harvesting again.
For more on container gardening, see:
For more in the Your First Garden series:
(Visited 445 times, 1 visits today)