You've decided you want to start a garden this year. Aside from access to a patch of dirt, what do you really need to start growing?
Depending on who you ask, you will get a wide variety of answers—but not before being asked many, many questions in return, such as: What kind of garden? Will it be a flower or vegetable or a mix of both? How much sun do you have? What kind of soil? You get the drift.
Maybe you only have a vague idea or just want tasty tomatoes, and that's okay! Before we start, we're going to make some assumptions. First is that you have a location picked out, that it has adequate sun, and access to water. Second, you know your growing zone. This may be the single most important piece of information needed for gardening. Your USDA Plant Hardiness Zone tells you how cold your area gets and the first and last average frost dates. With this knowledge, you can pick plants that can thrive in your garden. Most seed packets and plant tags will have this information so you can pick the right plants. Last, you have a basic knowledge of plants and a curiosity to learn more—which you obviously do, since you're reading this!
Now, on to arming yourself with the right tools. Below are five things you'll need as a first-time gardener for spring.
N.B.: Featured photograph of purple flowering chives via Swedish-German real estate site Fantastic Frank.
Digging Tools
Shovels, spades and trowels—shovels for moving large amounts of soil and clearing a space; spades for digging holes for planting large plants; and trowels for smaller transplants. Not as crucial but highly useful is a Japanese hori hori knife. They are probably one of the most versatile garden tools because they can weed, cut, divide, and dig. They are very sharp and demand respect, and are best acquired when you have some experience under your belt.
Gloves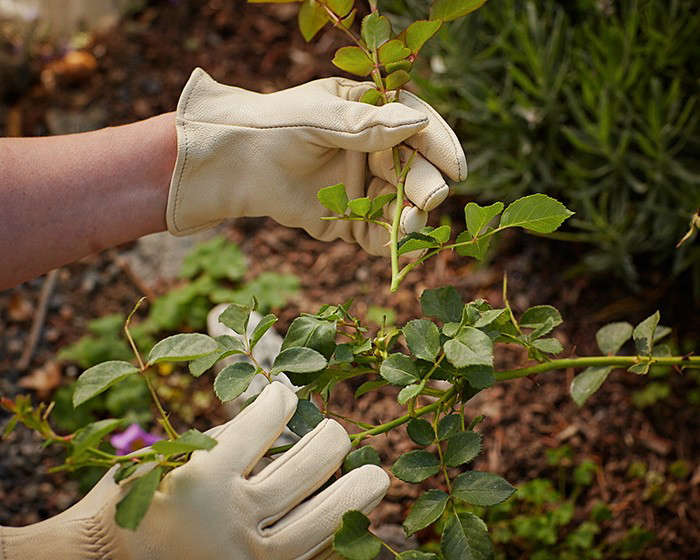 Gardening can be very hard on your hands. Find a pair that fits, is comfortable, and if they are waterproof, even better. Personally, I like to have two pairs, one traditional pair for weeding and one with gauntlets for pruning roses and berry bushes.
Water Hose
Don't go cheap on a hose. Inexpensive ones will break more often and will need replacing sooner. Spring for a metal spray head with a "rain" option. Metal spray heads take a beating that would destroy a plastic version in less than a season. A rain option is best for watering plants since it's gentle and doesn't harm leaves or roots.
Pruners
At least one set of bypass pruners. You may also see them called secateurs. They are kinder to plants because they make a clean cut. Do not start with anvil pruners, they crush stems. They have their place but not when you're just starting out.
Notebook
Writing down what you did and how it turned out is the only way to know what worked and what didn't. It's also pretty handy when things start sprouting and you have no clue what they are. If you wrote it down, you could check your notes!
With the above suggestions you will be well prepared for your very first garden! And remember gardens are always never finished. They are a constant work in progress.
See also:
(Visited 290 times, 2 visits today)