There's no need to sacrifice curb appeal to save water. We rounded up some of our favorite low-water ideas—from check dams to dry streams to drought-tolerant plants that look like sculpture in a landscape—to make your garden feel friendly to both the environment and passersby.
Check Dams
Landscape architect Christine Ten Eyck turned to an ancient technique for conserving water when she built check dams in tiered garden beds (shown) in her front garden in Austin, Texas.
How do check dams work? First used in dry climates in North Africa in Roman or pre-Roman times, check dams—temporary barriers such as rocks that cause water to pool—slow the rate of runoff and instead direct rainwater flow toward garden plants.
Check dams are particularly effective in sloped gardens where the force of gravity can be counted on to direct water flow. (Ten Eyck's house sits eight feet higher than the street.)
Covering Ground
Ground cover is essential in exposed areas for retaining moisture and preventing soil erosion. Drought tolerant succulents such as Sempervivum thrive in an informal setting like this.
Dry Streams
At the Gallica vineyard, a dry creek made of smooth river rocks serves a dual purpose: It directs the flow of rainwater and creates a striking visual element in the landscape. Edging the dry creek are grasses (clumps of Carex comans 'Amazon Mist') and deep purple drifts of Teucrium cossonii 'Majoricum'.
Decomposed Granite
Soft underfoot, decomposed granite comes in soft, natural colors—shades of gray and tan, mostly—and allows rainwater to percolate into the water table below. See more in our curated design guide to Gravel 101 and in Hardscaping 101: Decomposed Granite.
Rain Barrels
Collect rainwater in rain barrels or rainwater collection urns and use it to irrigate the garden, cutting down on water bills and wasted runoff.
Artful Arrangements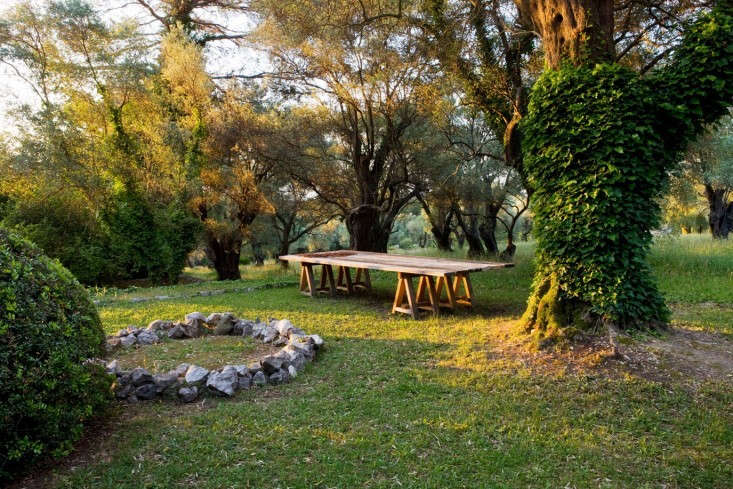 A wooden-plank trestle table draws the eye to the center of a grove, creating a focal point that makes the landscape feel endless—and endlessly green. Instead of placing furniture at the perimeter of the garden where it creates a visual boundary, site seating and dining areas in an open spot.
Silver Foliage
"Silver- and felty-leafed plants do well in drought, with Verbascum providing height here. Deep color thrives in a harsh environment, in the form of blue-purple Agastache, globes of Echinops, and salvia," writes our contributor Kendra Wilson.
Specimen Plants
A focal plant—such as a potted succulent, like euphorbia, in front of a high hedge of mature ivy—adds a layer of texture and warmth to a gravel courtyard.
For more ideas, see Specimen Trees: Are They Worth It?
Succulents as Art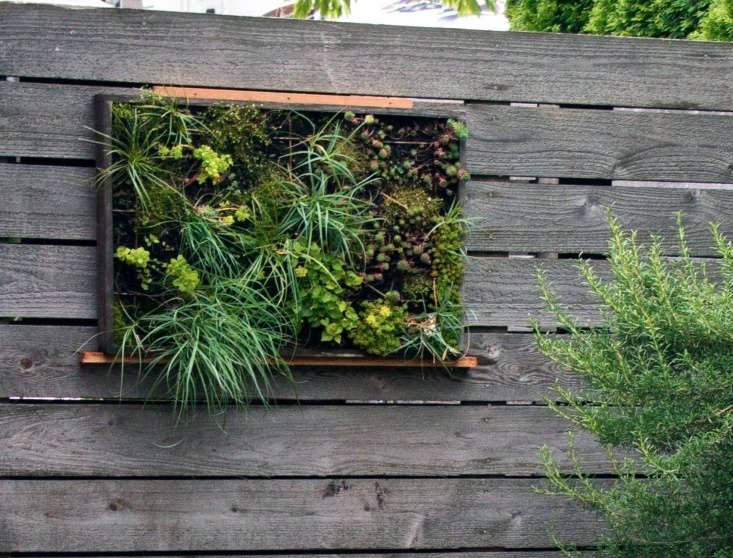 A vertical garden of succulents creates a focal point on a fence or facade without requiring more than a few inches of depth.
Sculptural Shapes
If you're designing a water-wise garden or adding water-saving features to an existing landscape, start with our Hardscape 101 design guides, including River Rocks 101 and The New Gravel Backyard. For more reading, see:
(Visited 1,640 times, 11 visits today)