If a landscape designer were to describe a certain aesthetic as "surf life meets ancient rituals," you'd be forgiven for wondering what that could possibly mean. But one look at this project from Los Angeles- and San Francisco-based design studio OR.CA, and the description starts to make sense. Outfitted with a sauna, outdoor shower, and ample places to park the owners's surfboards and featuring materials and pieces that are encouraged to gracefully age, the small backyard is an ode to both beach life and meditative pursuits.
The property, home to a surf-loving couple and their two young children, is situated in SF's Outer Sunset neighborhood, near Golden Gate Park. "It is a rare, wonderful 1908 home with original character and perched high, with access on both sides of the house," says OR.CA principal Molly Sedlacek. The alleys between houses in this area, though, are extremely narrow, making transporting materials less than ideal. "We were working with a 32-inch path to bring through all materials. Our builders, Kelly Linscott and Joe Caniglia, did incredible work."
Despite the challenges, the OR.CA team were able to deliver everything on their clients' wish list—an outdoor spa area, places to sit and unwind, inspired but fuss-free plantings, a refurbished studio (that was once on the verge of collapsing), even a composting toilet.
Join us for a tour. (And be sure to scroll down for the plant list.)
Photography by Cass Cleave, courtesy of OR.CA.
Above: "We used a cedar sauna kit and recommend these often for clients as they are quite affordable and easy to assemble. The sauna in this yard seats two comfortably. The clients use it after surf sessions, then head over to the outdoor shower next to it," says Molly. (See Object of Desire: An Elegant Brass & Copper Outdoor Shower by OR.CA.)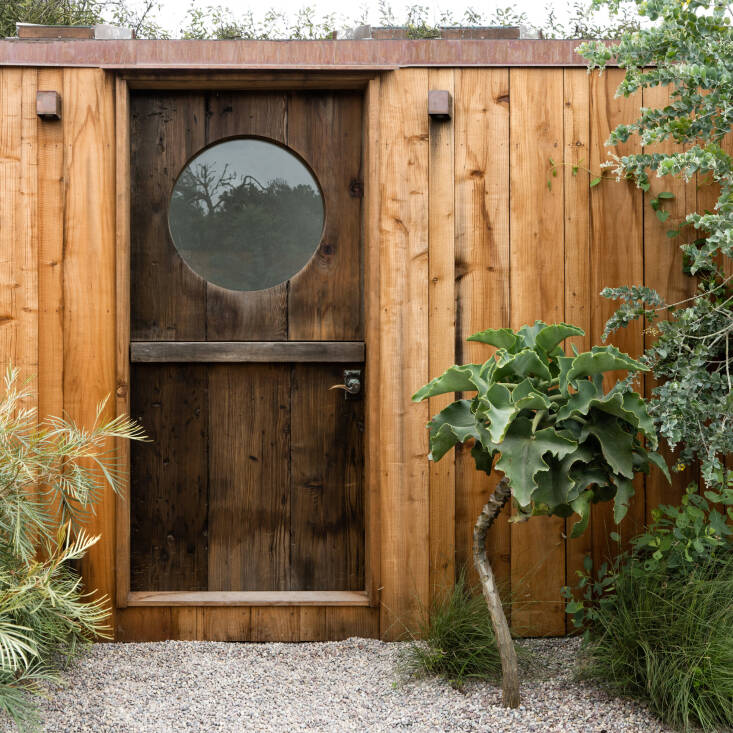 Above: "We love wild. Lush, textured layers is something we aim for when doing our plant design," says Molly. "We placed a Japanese honeysuckle [at left] next to the studio to encourage some vertical growth onto its siding, and to provide a place for pollinators to go."
Plant List:
Aloe bainesii (A. barberae)
Baine's Tree Aloe (Rose Pink)
Banksia integrifolia
Coast Banksia
Bouteloua gracilis  
Big Grama, Mosquito Grass
Grevillea 'Moonlight'
Moonlight Grevillea
Dendromecon harfordii (D. rigida h.)
Island Bush Poppy
Salvia 'Allen Chickering'
Sage 'Allen Chickering'
Salvia apiana 
California White Sage, Bee Sage
Acacia cultriformis  
Knifeleaf Acacia
Lonicera japonica 'Purpurea' (L. j. chinensis)
Japanese Honeysuckle
For more San Francisco backyards, see:
You need to login or register to view and manage your bookmarks.