In the first decade of America's post-war boom, a million and a half new houses were built, creating vast tracts of suburbia and giving young families their first opportunity to own a home. Nowadays, however, homebuyers who stumble on a 1940s relic in vintage condition often wonder if it's worth it to buy a house that needs a major remodel?
For Raleigh and Michael Zwerin, the answer was yes. In 2004 they bought a circa-1944 cottage in Mill Valley, California. From the moment they moved in, baby in tow, they started thinking about the house they wished they had. Nearly a decade later, after having a second baby (and learning firsthand that the charming creeks that crisscrossed the neighborhood were prone to flood in winter), they asked architect Kelly Haegglund for help.
For Haegglund,  who lives just a few blocks from the Zwerins, the challenge was to design a modern-family-sized house that didn't loom like the Hulk over the rest of the neighborhood, where one-story bungalows and cottages were built on narrow lots. The result? A modern three-bedroom bungalow with pleasing architectural details borrowed from the Arts and Crafts era. A low-water landscape, designed by Mill Valley-based Bradanini & Associates, surrounds the house in year-round greenery.
Photography by Mimi Giboin.
"I went back to that house in the city several times until I met the lead contractor and asked him for the color, but he said the owner of the house said it was proprietary information and he didn't want to give it out," says Raleigh. Luckily, though, the contractor took pity on her plight. "He said, 'I'll meet you somewhere and give you a shingle so you can match the color.' We ended up in a rendezvous by the side of the road. He brought two shingles in his truck, I brought a box of cookies, and it was great."
The custom trim color? The Zwerins also gleaned it from the same side-of-the-road exchange.
Before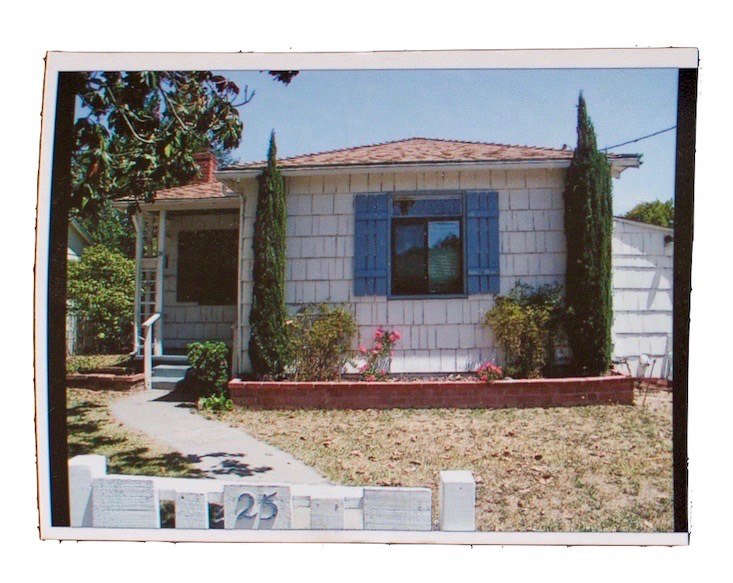 To prevent winter flooding, a civil engineer designed a plan to correct the grading, lay a network of pipes under the lawn, and install a sump pump.
Landscape Plan
After
Picket fence design tips:
"Set a fence back a few feet from the sidewalk. This gives passersby elbow room and gives you enough depth to plant another layer," which makes your garden look more spacious, says Haegglund.
Keep the fence low—waist-high if possible—especially in front of a one-story house, says Haegglund. "The scale is more old world, and friendlier."
When choosing a material, Haegglund picks cedar for an unpainted fence (she likes the way it weathers) and smooth redwood if the fence is going to be painted or stained.
Back Garden
Facade Details

Above: Gutters and downspouts are painted in Benjamin Moore's Brown Sugar.
Gutter design tips:
It's hard to go wrong with 5-inch half-round gutters with an undermount bracket, says Haegglund. "It's a traditional look that adds character," she says. "I've worked on houses that had 6-inch gutters and thought they looked … wrong. Sort of saggy."
Half-round gutters look good on both modern and traditional facades, says Haegglund. "It's a shape that's easier to work with than ogee."
You can mimic the look of aged copper gutters without paying the price with paint (try a soft gray-brown like Benjamin Moore's Brown Sugar).
Attic Air Vents
N.B.: See more of our favorite houses in the same Mill Valley neighborhood (including Remodelista editor Julie Carlson's):
(Visited 1,573 times, 24 visits today)