Without bulbs and tubers there would be no springtime. Tulips, daffodils, hyacinths, crocuses, squill, snowdrops, and muscari are waking up beneath the crusty grim earth as I type, preparing to break through the cold surface to burst into flower and reward us warmly for enduring winter.
Planting tulip bulbs under "dark skies in dying October" is like "calmly plotting the resurrection," E. B. White observed as his ailing wife, Katharine, braved the cold to help plant a spring bulb garden she knew she probably wouldn't live to see. Life after death, spring after winter, tulips after blizzards: thank you, bulbs and tubers.
If you plan it right, the rebirth can continue all year long. With hardworking bulbs and tubers in a garden, the flowering season can extend through summertime—thank you, lilies and dahlias—and autumn (thank you, colchicum) before moving indoors to put on a winter show. (I love you, forced amaryllis.)
We can help you with the planning. With our curated design guide to Bulbs & Tubers 101, you can learn everything you need to know to successfully grow our favorites (and yours). We'll help you create a spring bulbs extravaganza in the garden (see Gardening 101: How to Plant a Bulb) or in container plantings (see Container Gardens: Sarah Raven's 7 Tips for Perfect Flowerpots). Read on for inspiration and design ideas for planting bulbs and tubers.
Alliums
Meet the powder puff. As Kendra puts it: Alliums: Just As Good as Tulips but Better.
Crocus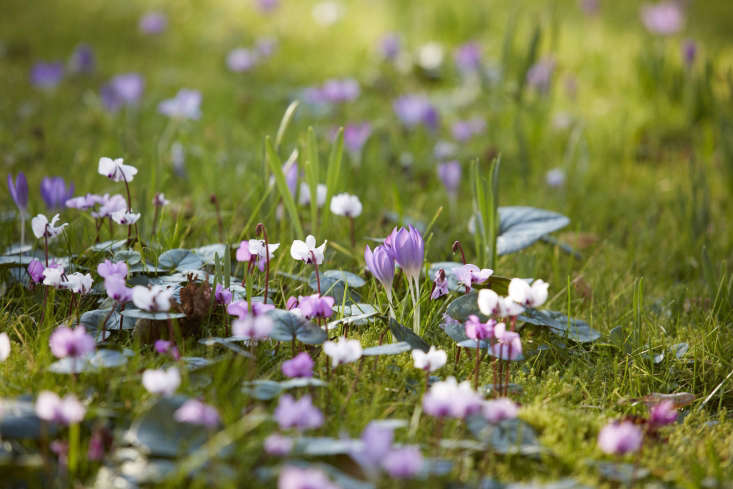 Crocus is the herald of spring, offering 90 species of low-growing spring flowers (plus the autumn bloomer, Crocus sativus). Over the years, crocuses will naturalize. See more tips in Crocus: A Field Guide to Planting, Care & Design.
Cyclamen
Cyclamen's tonal blooms and velvety, patterned foliage look as right in an autumn woodland as on a holiday mantel. But look closely when choosing: flowering times vary widely depending on the species. See our tips for growing, care, and design in Cyclamen 101: A Field Guide.
Daffodils
Luckily for us and our gardens, there are at least 25,000 cultivars of Narcissus—commonly known as daffodils—that vary in height, flower form, and the number of flowers per stem (which can range from one to as many as 20). Types include jonquils (with fragrant yellow flowers), delicate tazettas (including paperwhites), and miniatures (useful for rock gardens).
Dahlias
Dahlias get all the attention. Don't fight it. With flowers that range in shape from dinner plates to powder puffs and bloom in gemstone hues of red, pink, orange, yellow, and purple, dahlias were born for center stage. See more at Dahlias: A Field Guide to Planting, Care & Design.
Iris
Iris offers a cornucopia of cultivars, falling into categories such as bearded (Iris germanica), beardless Dutch (I. x hollandica), pond (I. ensata), and Siberian (I. sibirica). The most iconic is the tall bearded iris, so highly prized that the French monarchy grabbed it early on as part of their own branding and called it the fleur-de-lis.
See more at Iris: A Field Guide to Planting, Care & Design.
Peony
Peonies can be shrubs or they can be trees, and starting in May most peonies bloom in showy clumps of fluffy pink or white pompons and are useful middle-of-the-border flowers. Read on for growing tips in our curated guide to Peony 101.
Tulip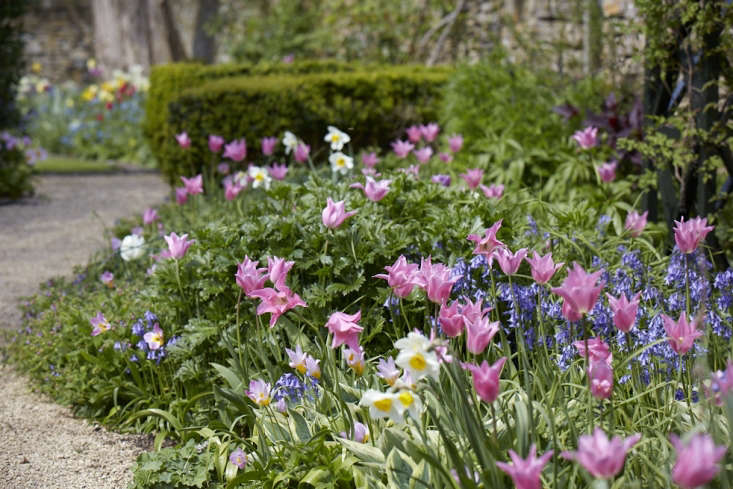 You can see how the Dutch fell under the spell of tulip mania in the 1600s, the century when a speculative frenzy boosted the price of flower bulbs to heights that forced investors to mortgage their homes. Fringed tulips; rock garden tulips; blowsy double tulips (peony look-alikes); early-blooming Fosteriana tulips (descendants of the wild Tulipa fosteriana); Darwin hybrids (mid-spring stalwarts), and feathery parrots are all cultivars to covet. See them all at Tulips 101.
So many flowering bulbs, so many ways to use them effectively in a flower bed or container garden. See more of our favorite combinations:
Interested in other bulbs and tubers for your garden or indoor space? Get more ideas on how to plant, grow, and care for various bulbs and tubers with our Bulbs & Tubers: A Field Guide.
(Visited 148 times, 1 visits today)