The yearbook at Trinity College in Hartford, Connecticut, is called The Ivy, named after the ivy-covered buildings on the quadrangle. When I arrived there for my junior year, the fustian towers had been recently stripped of their evergreen vines; a pity since they must have been built with ivy in mind. College gothic is nothing without ivy.
Although ivy continues to be treated with hostility, a study carried out between Oxford University and English Heritage in 2010 found that Hedera helix provides a thermal covering for walls and can be useful in protecting old buildings. The host needs to be strong, and the ivy kept in check but otherwise, complete removal is no longer urgently advised (to say nothing of its benefits to wildlife for food and shelter). If you are planting ivy, though, we suggest that you choose one of the more interesting varieties.
Photography by Britt Willoughby Dyer for Gardenista.
Hedera helix 'Tripod'
Choose exaggeratedly long and pointed-leaf ivy, as seen in Irish hedgerows or German fairytales. They draw attention from a frankly not very beautiful wall, while moving in unpredictable directions. Hedera helix 'Tripod' is not a thug.
Ivy lives symbiotically with trees in sheltered conditions, like a hedgerow or woodland. It has its roots planted firmly in the ground and is not a parasite. Aesthetically, a dark blob blurring the lines of a good deciduous tree might not be your cup of tea, however. Overgrown ivy in a canopy is unhelpful in winter, adding to wind resistance and the possibility of the tree coming down. A balanced approach is needed; cut woody monsters at the stem, while making amends by planting controllable ivy over doorways and along sturdy walls. There are hundreds to choose from, many slow-growing.
Ivy's benefits for wildlife outweigh its drawbacks in a garden. As pollinators begin to run out of food in autumn and early winter, the sputnik flowers of mature ivy are rich in pollen and nectar. On a warm day, ivy seems to buzz, a magnet for the ivy bee and more. Later, dark berries with a high fat content are beneficial to thrushes and blackbirds, who don't join in with the smaller birds on hanging feeders. The "mess" of leaves provides excellent cover for invertebrates, some of which are eaten by birds. Ivy feeds specific and rare creatures such as golden hoverfly, holly blue butterfly, and swallow-tailed moth.
For the benefits of shaggy gardens, see Can We Please Be Less Fanatically Tidy?
Hedera helix 'Carolina Crinkle'
Hedera helix 'Tussie Mussie'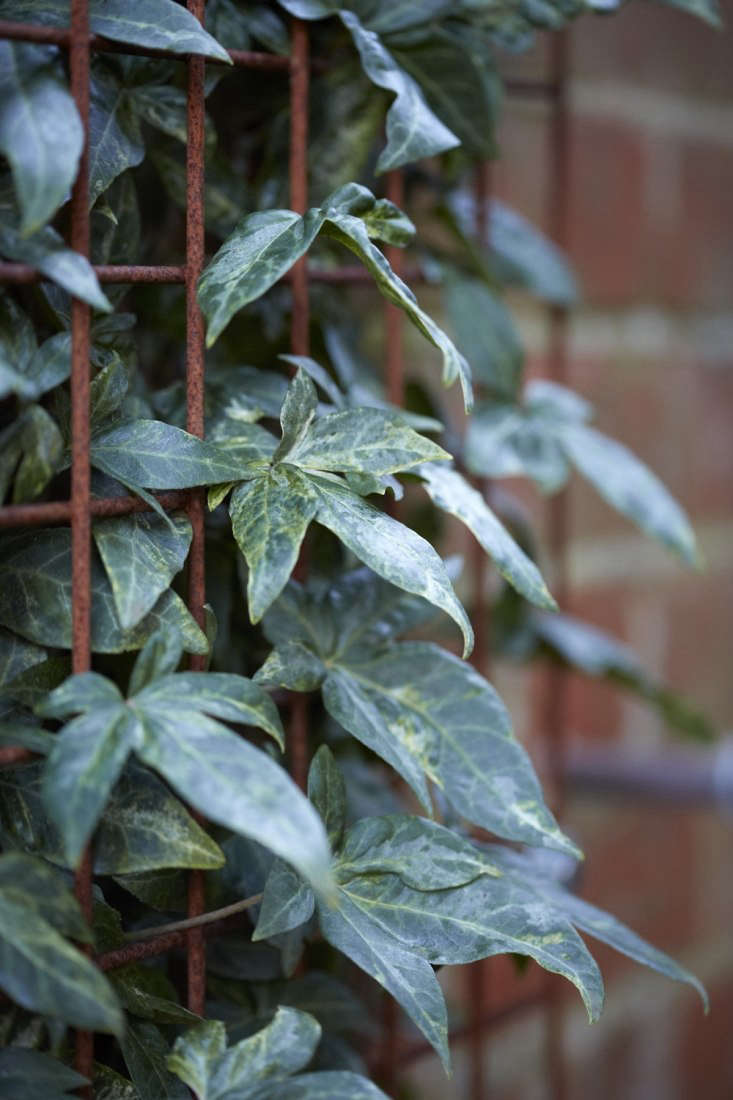 Ivy 'Tussie Mussie' looks as though it belongs in an Edwardian glasshouse. It benefits from being displayed as a specimen, on a columnar support, rather than being expected to cover a vertical flat plane.
Hedera helix 'Golden Curl'
Hedera algeriensis 'Gloire de Marengo'
Algerian ivy has more restrained coloring and a good arrow-heart shape; it would form an elegant backdrop in an urban garden. It holds an Award of Garden Merit from the Royal Horticultural Society and is fairly vigorous, reaching a height of about 10 feet.
Hedera helix 'Parsley Crested'
Hedera maroccana 'Spanish Canary'
Ivy is useful in containers when young. At this stage it is pliable, with fresh green growth, becoming mature and woody on reaching its full height or destination (it is at this stage that it gets into gear to flower as well). Hedera maroccana 'Spanish Canary' can be grown in a conservatory or outdoors with frost protection. Dangling or climbing, it is dramatic.
Ivy is an excellent houseplant, the best air purifier among the evergreens. A small version of the ivy shown here, with a confusingly similar name, is Hedera canariensis 'Spanish Canary'.
Hedera colchica 'Sulphur Heart'
Quick to cover walls or ground, self-clinging Persian ivy needs careful consideration before planting, as it will keep going up to about 16 feet.
Hedera helix 'Smithii'
Hedera pastuchovii 'Ann Ala'
Collected by botanist Roy Lancaster near the Caspian Sea and named after his guide, this dagger-shaped ivy is quite vigorous at 13 feet. Its unusual leaves would complement the textures of other evergreens such as ferns or pines.
Hedera helix 'Saint Agnes'
Ivy is the plant favored by Bacchus, god of wine; it was invested with the power of preventing drunkenness. As a wreath, it adorned the heads of Romans who had attained intellectual or sporting prowess. All the more reason, surely, to bring it back to the college campus.
See more tips for growing and caring for ivies in Ivy: A Field Guide and more about our other favorite Vines & Climbers in Jasmine 101, Creeping Fig: A Field Guide, and Bougainvillea 101. For more ways to use vines and climbers in your garden, see:
Finally, get more ideas on how to plant, grow, and care for various vines and climbers with our Vines & Climbers: A Field Guide.
Additionally, get more ideas on how to successfully plant, grow, and care for ivy with our Ivy: A Field Guide.
Finally, get more ideas on how to plant, grow, and care for various ground cover plants with our Ground Covers: A Field Guide.
(Visited 900 times, 2 visits today)