Suburban living holds the same promise now as when the idea was invented in the 1800s. You get clean air, room to breathe, and your own bit of green space to raise vegetables and grow flowers.
Big or small, no matter whether a suburban garden is a postage-stamp plot or a gentle half-acre sprawl, the land gives people ideas. Here are some of our favorite landscaping ideas to steal from suburbia (and many will work just as well in a city or country garden):
Porch Life
Pull a chair or two onto a covered porch. From front row seating, you can watch the world walk by—and shout hello to the neighbors.
Hammock Haven
Stretch a hammock between two trees or add a freestanding hammock to a quiet corner of the garden to create an instant destination that feels far away from the fray.
Patio Fire Pits
Think of it as a backyard campfire. A patio fire pit creates a year-round gathering spot for family and friends. For more ideas, see Landscape Design: 10 Tips for Adding a Fire Pit.
Coop Culture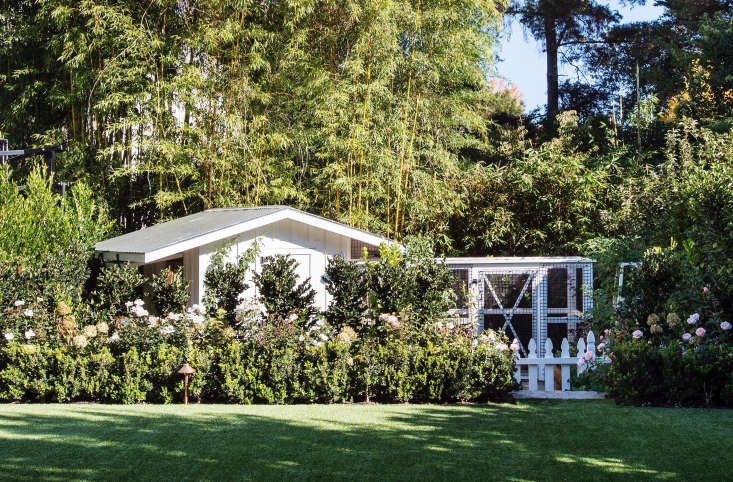 Calling all modern farmers: A backyard chicken coop takes up barely any room. Make it varmint-proof and prepare to enjoy fresh eggs. Get started with 5 Favorites: Backyard Chicken Coops for Small Flocks.
Fence Fashion
Above: Photograph by Nicole Franzen for Gardenista. For more, see Landscape on a Budget: 10 Quick Fixes to Add Personality to the Average Garden.
Dress up the perimeter of a small backyard with a streamlined fence. Horizontal stripes make a space feel wider. For more ideas, see Fence Fashion: 11 Ways to Add Curb Appeal with Horizontal Stripes.
Rotating Sprinklers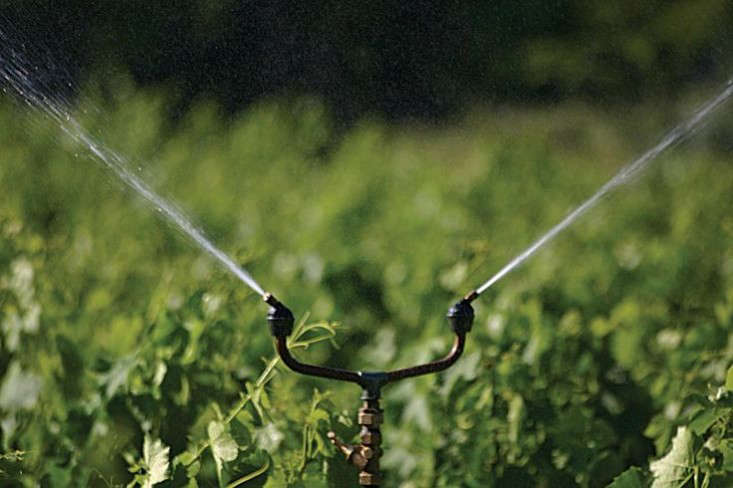 Above: For more, see Trend Alert: 15 Best Finds for the Garden.
U.S. Patent No. US121949 was granted in 1871 to Joseph Lesser of Buffalo, New York for an invention he called a Portable Water Fountain and Lawn Sprinkler. That description pretty much covers it. Kids have been running through the water drops and drinking from hoses ever since. The rotating sprinkler adds a special excitement to summer; for a selection of vintage models, see Rotating Sprinklers on Etsy.
Picnic Tables
With the rise of public parks came public sprawl—on blankets on the grass. Meals naturally followed. With the advent of backyards and backyard patios, the outdoor meal became a seated occasion. Ants, despair. See our favorites in 10 Easy Pieces: Picnic Style Outdoor Dining Tables.
Tree Houses
Above: Photograph by Stacy Bass, author of Gardens at First Light ($40.80 at Amazon).
Even a postage-stamp backyard can accommodate a secret clubhouse if you have an old tree with sturdy branches to provide support.
Hedge Edge
Above: Hedges are the boundary of choice in the original suburb, London's Hampstead Garden Suburb. Clipped shrubs are so much greener—and friendlier—than a fence. For more, see Garden Visit: At Home with Judy Green in London's Leafiest Suburb.
No-Grass Front Yards
Above: Photograph by Tom Kubik for Gardenista. For more, see Garden Visit: The Hobbit Land Next Door.
If you have a yard, you can have a meadow. See more ideas in DIY: Wild Lawn.
Silver Gazing Balls
Above: Arterra Landscape Architects, a member of our Architect & Designer Directory, used steel balls to reflect plants and sky in a San Francisco garden, creating an illusion of distant destinations in a small garden.
A hypnotizing front-yard staple since the Victorian era, mirrored gazing balls are especially mesmerizing when they're grouped together and placed against a spare, modern backdrop. Nothing dresses up a gravel garden faster.
For more inspiration, see our Garden Ideas to Steal archives, and don't miss:
(Visited 819 times, 7 visits today)