From the point of view of a plant, Ireland is heaven. Humans may as well abandon their instinct for neatness and symmetry; plants grow too well here. Whether tender or hardy, the climate (not too cold, not too hot, often wet) creates an enviable lushness, offset always by green.
Dry Stone Walls
Above: Dry stone walls in the garden of a former schoolhouse in County Tipperary, renovated by Tierney Haines Architects. Photograph courtesy of Tierney Haines.
Criss-crossing the globe from Greece to Connecticut, dry stone walls rise out of the ground as though they are part of the earth: and they are. Born out of necessity, with the philosophy "Use what you have." Like so many ancient devices, they serve the purpose on more levels than practicality and aesthetics. They are ecological–offering homes and hibernating opportunities–and like a good hedge they are permeable. (Concrete is not helpful in a deluge). Dry stone walls also provide a good plant growing medium, given the opportunity (see below).
Large Leaf Plants
When people complain that their garden is like a bog they are overlooking the large-leaved rhubarb family, which generously gives a bog a good name. The giant gunnera, growing slowly and luxuriously over a long season, dies down in winter and in many northern areas needs winter protection (economically done by covering the crowns with piles of gunnera leaves and staking them down). Adding manure in spring will help to produce the largest leaves, which are larger in Ireland than, say, England because the conditions are so heavenly.
We have seen gunnera growing in a large tank in a town garden but there are smaller rheums available which give a similar effect but in miniature. Try rheum 'Ace of Hearts' for a grand yet compact effect. Protect from wind to avoid tattered leaves.
Crevice Creepers
Above: Photograph via Moss Acres.
A perfectly mulched bed is surplus to requirements for ambitious plants that will set seed anywhere. In this friendly, moist environment, colonization of walls and steps by weeds and wind-blown crops is proof of the futility of too much nannying. Though foxgloves and poppies tend to put themselves into walls, it is possible to help things along by pushing in plugs. Alpine plants such as saxifrage and sempervivum will enjoy the crumbly drainage of a wall.
Anglo-Irish Decadence
Above: Portland stone at Mount Stewart, in County Down. Photograph by Jonathan Hession courtesy of The Irish Garden.
A relaxed formality suits Irish gardens. Plants romp away because of the perfection of the conditions, threatening to turn a classical layout into a jungle. Since old-style teams of gardeners were decimated in the Great War followed by the War for Irish Independence, gardens have had to get along with less than a handful of gardeners. A classical layout showing only the bare bones of axes and avenues gives an atmosphere of romantic decline. Keeping the wilderness in check is about as much as one can hope for.
A Patina of Age
Above: Photograph by Jonathan Hession courtesy of The Irish Garden.
Assist your slow slide into decay by applying buttermilk to terra cotta or leaving stone and clay vessels in damp, shady places for a season. Clean the inside of pots to discourage disease but leave the outside well alone.
For step-by-step instructions on how to achieve a mossy patina, see DIY: How to Transform Terra Cotta Pots Into Instant Antiques.
Ferns Underfoot
Above: Photograph via Moss Acres.
The evergreen Hart's Tongue fern provides a foil to wood anemones (Shown). Perennial ferns are great minglers in the watery sunshine of spring: situated between you and the sun, Shuttlecock ferns are particularly good when they are in the early stages of unfurling. Their preternatural glow seems to throb with spring. Later they provide an easy understory to the tall and wavy fern-leaved thalictrum.
Mossy Moments
Above: Photograph by Jonathan Hession courtesy of The Irish Garden.
Moss is very atmosphere-friendly. Our parents may have been distressed by it (along with lawn daisies), but to what purpose? Moss in grass makes a lawn more springy; daisies and buttercups look cheery surrounded by a green monoculture which is just as vigorous–and dandelions will never go away. Acceptance is more relaxing. On a health and safety note, moss on stone can be slippery; judgment required here.
Tame Flowers Gone Wild
A walk along a lane in southwest Ireland is an education in botany as the hedgerow sports dark red fuchsia, honeysuckle twirling overhead, and native purple foxgloves growing out of unlikely corners. They may not be named varieties like lonicera 'Graham Thomas' or digitalis 'Pam's Choice' but their exuberance shows us how plants grow, when they have chosen their location. Besides, wild Digitalis purpurea does not look monotonous in the wild. A hedgerow is never in itself dull: we make our gardens that way by fussing over them too much.
The William Robinson Effect
Above: Photograph courtesy of Gravetye Manor. For more on Gravetye Manor, see The Ultimate UK Getaway: 1 Hour from London, and a World Away.
Though his friend Gertrude Jekyll is more well-known, the Irish-born William Robinson has a greater influence on the way we garden now. An early training on the Anglo-Irish estates of Ireland was crucial in developing Robinson's philosophy for a wilder kind of gardening, which he brought to England and to his very popular books The Wild Garden and The English Flower Garden.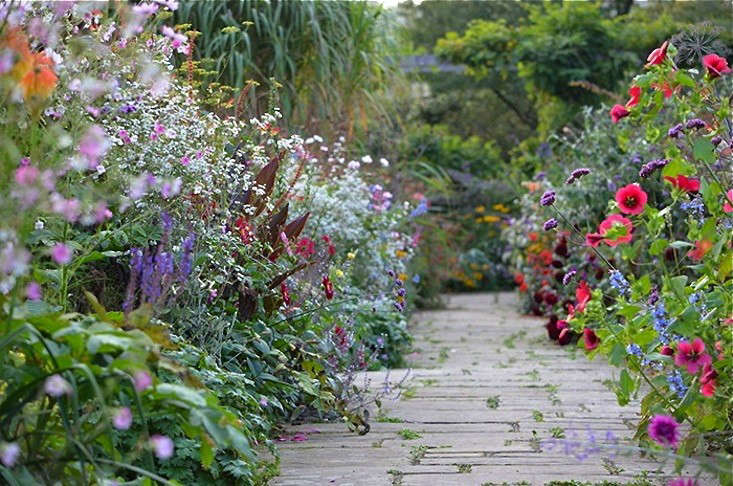 Above: York paving divides the double borders at Gravetye Manor. Photograph courtesy of Gravetye Manor.
Robinson made a successful career out of writing from fairly early on. The point about Robinsonian gardening was that it was easier and more natural than the rituals involved in bedding plants, then the fashion and still seen now in public parks. He was not against mixed borders but was keen to combine native plants with hardy exotics, bringing back the wildflowers in Shakespeare's plays and growing them next to other hardy plants such as giant lilies and candelabra primulas which were native to the Himalayas. Robinson spent the last 50 years of his life at his Sussex estate Gravetye Manor (Above). This kind of lush, wild planting does particularly well in Ireland.
Pools, Ponds, and Waterfalls
Above: Photograph by Jonathan Hession courtesy of The Irish Garden.
When it rains for almost two-thirds of the year, as it does in the west of Ireland, water has to be embraced. Waterfalls and follies go together in dissipated pleasure gardens but a smooth geometric style is more likely to be found now. Irish planstwoman Helen Dillon replaced her perfect lawn in Dublin with a rectangular pond, pushing green to the background, for once.
For more garden ideas from Ireland, see: