When Mill Valley, California-based architect Kelly Haegglund designed a modern farmhouse for her own family, she married contemporary and classic details: the house has a peaked roof, covered porches, and a picket fence.
The result was so visually pleasing that when it was time to design the outdoor spaces, she performed variations on the theme, installing a hammock for naps, tall hedges for privacy, and a velvety green lawn that pays homage to 20th-century suburbia…except for the fact that the grass is artificial. Let's take a closer look:
Photography by Matthew Williams for Gardenista.
Curb Appeal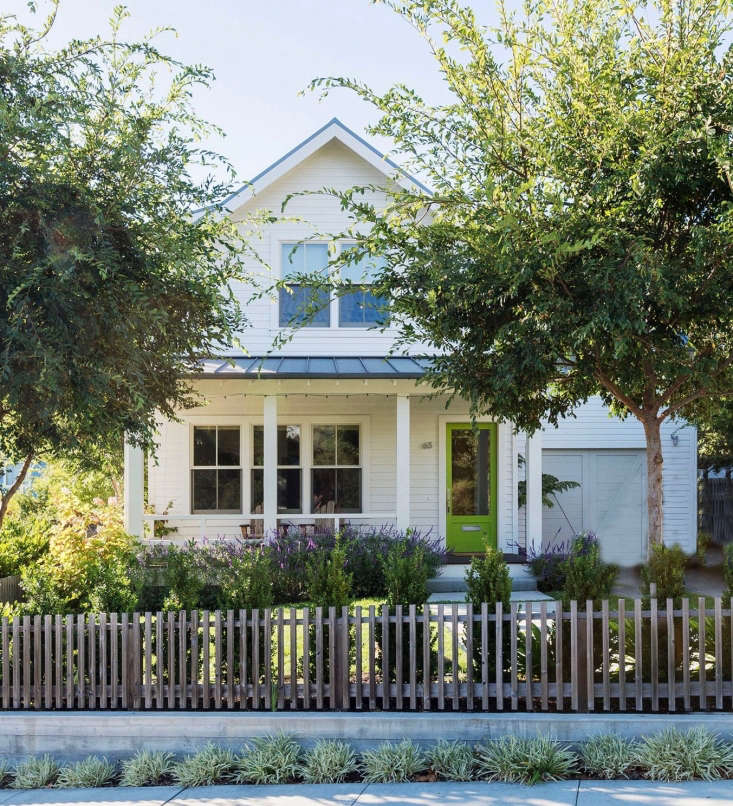 "One of the interesting effects of this design is that the fence appears almost solid from certain angles then opens up as you look straight on," says Haegglund. The natural wood pickets blend seamlessly with a solid cedar backyard fence.
The paint color on the front door is Benjamin Moore's Dark Lime, which Haegglund chose because "it's modern, and a complement to the greens and purples in the garden."
Back Garden
Are you on the fence about the Pros and Cons of Artificial Turf? See more of our favorite projects featuring artificial grass:
(Visited 313 times, 1 visits today)