Patio pavers are the most important material to choose for your outdoor space; nothing matters more than what's underfoot. Looking for landscaping ideas? We've rounded up sources for ten of our favorite surfaces—including bluestone, brick, marble, and concrete—plus photos of the finished looks:
Bluestone Pavers
Bluestone pavers come in many different shapes, sizes, colors—and  in two textures (natural cleft and sawn thermal). Read on to see which is best for your project.
Above: Large bluestone pavers make a simple and dramatic impact on a patio. Photograph by Art Gray. For more of this garden, see Landscape Architect Visit: A Refined Family Garden with Flexible Play Zones in LA's Pacific Palisades.
Natural Cleft Bluestone
Above: With natural cleft bluestone pavers, "Thicknesses can vary from one side of the stone to the other making for a harder installation," notes stone supplier Stone Farm Living. Photograph via Stone Farm Living.  "This stone is typically used for a more 'rustic' or 'natural' look, as the surface shows the natural grain of the stone versus [the look of] thermal bluestone," says Stone Farm Living. For specs and prices, see
Stone Farm Living
.
Thermal Bluestone
Concrete Pavers
Manufactured from molded concrete pavers generally fall into two types. The first is the thick durable interlocking paver (often often used for driveways because it can support the weight of a vehicle). The second type is architectural pavers; thinner and more visually pleasing, architectural pavers are available in a variety of sizes and shapes and are the concrete of choice for a patio where aesthetics are important.
Square Concrete Pavers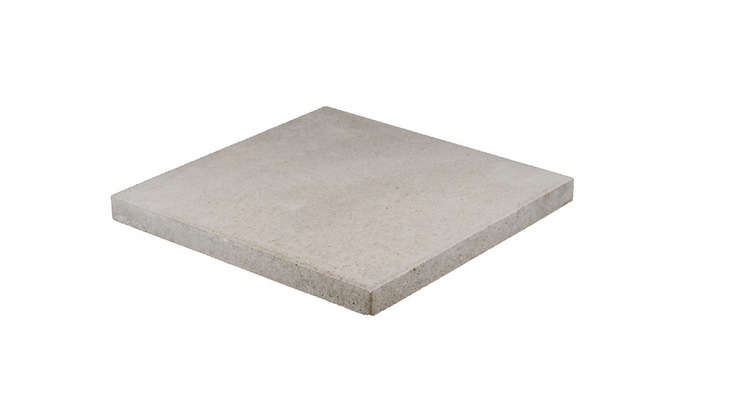 Above: A 23-inch Gray Square Patio Stone (L); $8.98 at Lowe's.
Molded Concrete Pavers
Above: From Stockholm-based designer Caroline Brahme, standard size concrete pavers are available with different configurations and have molded planting holes. The Grey to Green collection is available from Greenworks. For more information and prices, email [email protected]