On her blog Salad For President, Julia Sherman has been cooking with chefs, artists, musicians, architects, activists, and other lettuce lovers since 2012. Photographing them in their kitchens and gardens as they prepared their favorite recipes, Sherman learned to think of salad as "edible confetti: pretty but not precious; scalable, affordable, and unbelievably good looking on a family-style platter."
Now comes the cookbook. Salad For President: A Cookbook Inspired by Artists, which goes on sale today, is a compilation of recipes—including 75 of Sherman's own—and offers a personal glimpse into the daily lives and eating habits of contributors such as Alice Waters, Ron Finley, and Luis Barragán (each of whom shared a favorite vegetable-centric dish).
Read on for Sherman's recipe for Grilled Hearts of Palm with Mint and Triple Citrus:
Photography by Julia Sherman unless otherwise noted.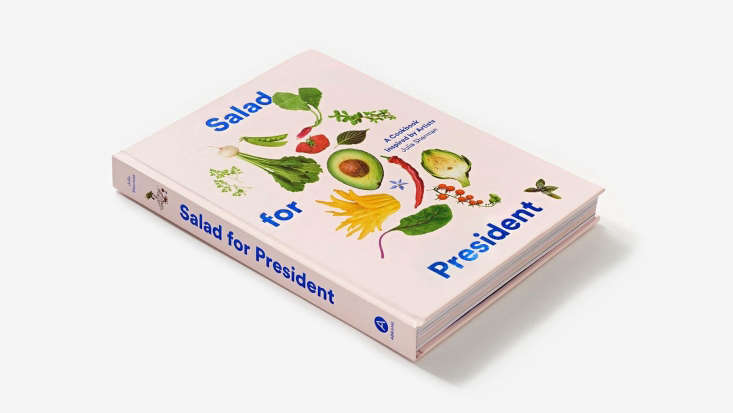 "Of all the people I've interviewed, you must eat the most salad," Sherman tells Waters in the book.
"Oh, yes, I even make a salad taco for breakfast," says Waters.
Grilled Hearts of Palm with Mint and Triple Citrus
Serves four to six people
Ingredients
3 (14-ounce/400 gram) jars or cans brined hearts of palm
1 tablespoon plus 1/4 cup (60 ml) olive oil
Sea salt and freshly ground white pepper
1 tablespoon vegetable oil
2 Ruby Red grapefruits
1 Cara Cara orange
1 blood orange
About 2 tablespoons drained picked red onions
2 tablespoons small fresh mint leaves
1/2 teaspoon honey
Drain and rinse the hearts of palm, pat them dry, and cut in half lengthwise. Put them in a shallow dish and drizzle with 1 tablespoon of the olive oil. Season with salt and white pepper to taste and turn gently to coat.
Prepare a medium-hot charcoal fire or preheat a stovetop grill pan to medium-high. Lightly oil the grill grate or grill pan with the vegetable oil. Working in batches if necessary, drop the hearts of palm on the hot grill and cook, without disturbing them, until distinct grill marks appear, 3 to 5 minutes. Turn and cook the other side until marked., 3 to 5 more minutes. Remove to a serving platter or individual plates.
Supreme the citrus fruits, reserving the grapefruit membranes. Cut off each end of a fruit and set the fruit upright on the cutting board. Using a sharp knife, slice off the pith, following the contours of the fruit, moving from top to bottom, cutting as little of the flesh away as possible. Rotate the fruit 90 degrees and cut next to each strip of membrane to cut out the sections. Repeat with the remaining fruit. Arrange the citrus on the platter with the heart of palm and scatter the picked onions, and mint.
Squeeze 1 tablespoon juice from the grapefruit membrane into a bowl and whisk in the honey and the remaining  1/4 cup olive oil until the dressing is emulsified. Drizzle lightly over the salad and season with salt and white pepper.
For more of our favorite cookbooks, see:
(Visited 28 times, 1 visits today)