The word "fishbowl" came to mind the first time designer Julie Farris of XS Space visited a client's townhouse backyard in Manhattan's Greenwich Village. "Visible off to the right was the back of a full-on apartment building—with window, window, window looking out toward this garden," she says. "The client definitely wanted some more privacy."
The solution? An airy hedge of bamboo provides screening at the garden's perimeter while a pared-down palette of green and white focuses the eye on the center of the space. "The white limestone is like a canvas. When the sun is directly overhead, you can see the shadows of the bamboo and other plants starkly against it," says Farris.
Read on to see the "Before" photos:
Photography by Matthew Williams courtesy of Julie Farris, except where noted.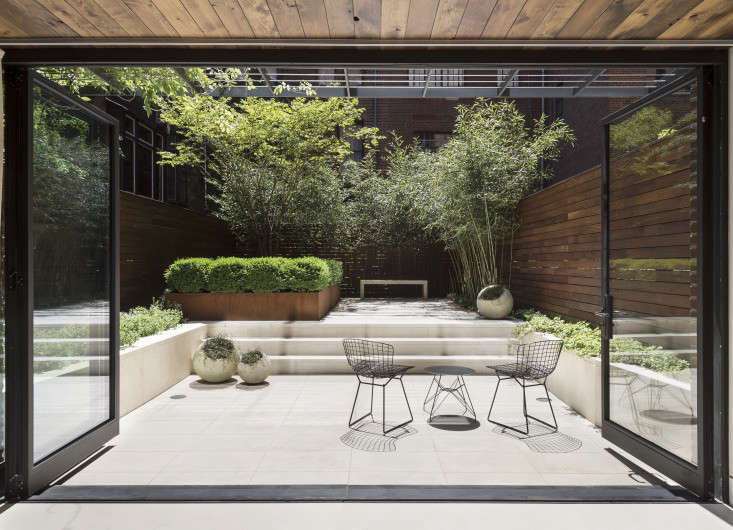 Indoors, reclaimed wood is on the kitchen ceiling; the material's color and texture are echoed in the ipe wood fence. "Robert and Vrinda use a lot of organic materials," says Farris. "The wood on the ceiling has really a natural inside that we wanted to extend out."
A crepe myrtle tree anchors the plantings in a Cor-Ten steel box overflowing with Korean boxwood. The multi-stemmed tree's bark picks up on the color of the ipe fence and the Cor-Ten steel planter.
Before
The "before" view from the kitchen. "When I first saw it, there was nothing in it but a very sad-looking dogwood," says Farris.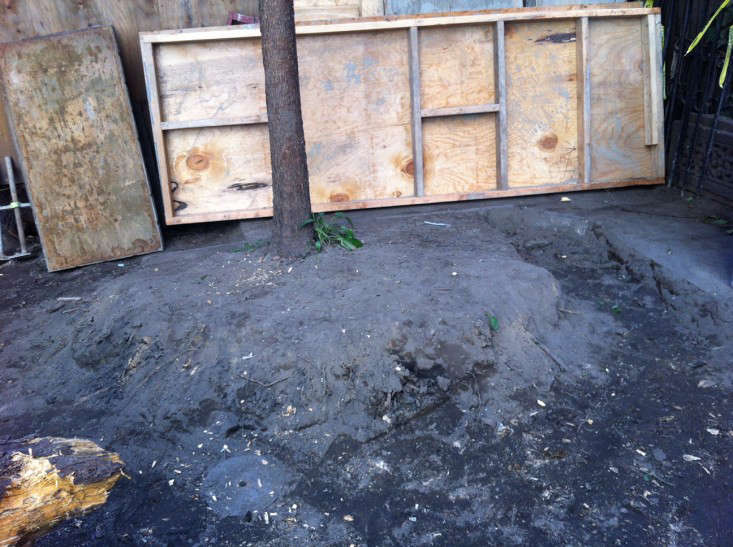 "It was basically a sea of mud, overlooked by all those windows," says Farris.
For more ideas to design a townhouse garden, see:
(Visited 1,254 times, 2 visits today)