Garden in a box. To kick off our new Gardenista 100 guide to the hundred best garden and outdoor products for 2015, we've rounded up our favorite elevated box planters.
An elevated planter box is a solution for both big and small gardens. Put a single planter box on a small deck–or five in a row in a sunny backyard with lots of space but terrible soil:
Above: We spotted the elevated Cult Vege-tainer Planter from Belgian designer Tradewinds at this year's Maison de Objet show in Paris, where we fell for its ergonomic (and stylishly modern) design. Made of weather-resistant wood and galvanized steel, the raised bed planter is generously sized (it accommodates a 16-inch-deep bed of soil) and in a small space, it enables you to grow a salad on a balcony.
The planter's 27.5-inch height makes it comfortable to tend a crop without stooping; for more information and prices see Tradewinds.
Above: A solid wood VegTrug Patio Garden stained charcoal gray is $279 from Gardener's Supply.
The planter's V-shape allows you to grow plants with deep roots (such as tomatoes) in the center, and shallow-rooted herbs and lettuces along the perimeter. The planter comes with plastic feet to protect the wood legs from wet surfaces.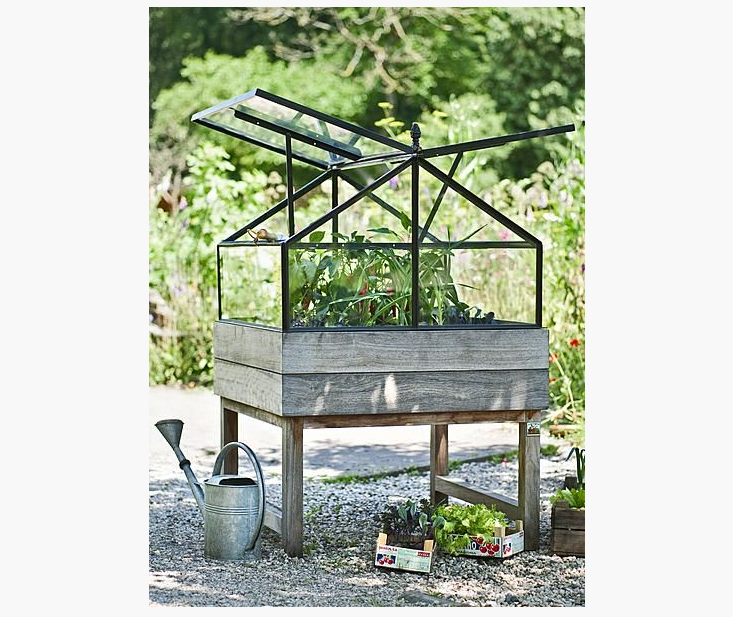 Above: From Belgian company Les Potagers De Thomas, a Table Garden (€210) made of hardwood and a fitted Wrought Iron Conservatory (€650) are sold separately. Both measure 19.6 inches square and are suitable for either outdoor or indoor use.
Above: An Elevated Table Garden from MiniFarm Box made of untreated cedar has a lower storage shelf and is resistant to termites and rot. It measures 48 inches long by 24 inches wide by 36 inches tall; $229.
Would you like to grow microgreens for salad? MiniFarm Box founder Conor Fitzpatrick offered 9 Tips to Grow Edible Microgreens in our Ask the Expert series.
Above: From Farmer D, a cedar Bed on Legs arrives with pre-drilled wood pieces ready for assembly (hardware included). It measures 48 inches long by 24 inches wide (other sizes are also available); $299.95.
Above: From French design firm Compagnie, a Babylone Indoor Planter is the ultimate window planter. Made of lacquered steel, it has a removable aluminum plant tray and a fixed lower shelf. The planter is available in two colors including white and chocolate for £974 from Made in Design.
Above: Here's our favorite edible garden on wheels. A FoodMap Container is made of recycled milk jugs and sits atop a weather-resitant frame made of metal tubing. With heavy duty rubber casters, it's easy to push around; $128.
For more about the FoodMap container, see our earlier post, An Edible Garden on Wheels.
Are you planning to plant a portable kitchen garden this spring? For more on edible gardens, see:
(Visited 932 times, 3 visits today)