After nine years of living in New York, I am the proud new tenant of an apartment with a fire escape. I realize that my lack of a fire escape—and the fact that, until recently, I had never stepped foot in a laundromat—means I haven't been a real New Yorker this whole time. Real New Yorkers have fire escapes.
The New York City fire escape is an icon. At its most literal, it's a necessary (and somewhat unsightly) safety measure, ubiquitous because of an 1860 law that required all tenements to have easy-escape stairways. But leave it to city dwellers to make the most of the only access to the outdoors they have. (The quintessential example? The fire escape in West Side Story, the urban version of Romeo and Juliet's romantic balcony.) In the city, a fire escape is prime real estate: It's a balcony, a tiny private terrace, a place to grow plants and, maybe, perch with a book in the warm summer months.
When my boyfriend and I moved into our new place, the fire escape in front of our living room window was a perk. On our first Sunday in the apartment, a bright, warm morning, the birds chirped away sweetly outside our window. "We could plant flowers out there in the spring," I said. "And berries! And maybe hang a bird feeder." I was envisioning hummingbirds flitting by while we had coffee in the morning. He reminded me that if we hung a bird feeder we'd get a front-row seat to a rat parade.
Since I'm woefully new to fire escapes (and, also unlike the stereotypical New Yorker, a bit wary of breaking the rules), I'm not sure how this whole "fire escape garden" thing works. So I did some research. Here's what to know if, like me, you're thinking about starting one.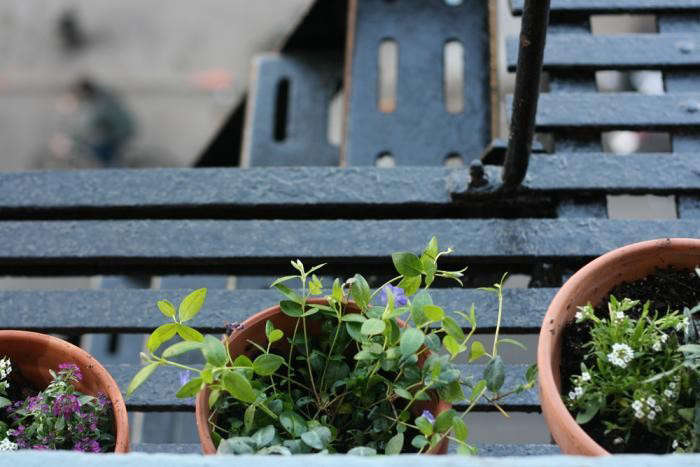 1. Fire escape gardens are not allowed.
First, a disclaimer. Generally speaking, using a fire escape for anything but emergencies is against the rules (the city's fire code, the building's regulation, and/or the law) pretty much everywhere. It's true, fire escape gardens could be dangerous: they could block access out of an apartment, or block firefighters' access in (just see one such warning here). And then there's the risk that a precariously perched terra cotta pot could fall to the sidewalk below.
We're not advocating breaking the law, but walk around any street in New York and you'll see that it doesn't stop intrepid city dwellers from having a fire escape garden anyway. If you're one of those rule-benders, be advised that you or your building could be fined, written up, or passed over by insurance companies. And, it goes without saying that you shouldn't treat your fire escape like an actual terrace. That means no tables and chairs, no chaise lounges, no barbecue grills, no fountains, and no pergolas (though we wouldn't be surprised if some determined Brooklynite has tried one or all of these). If you're still determined to create a bit of green space, a couple of small potted plants could be okay. (Read on…)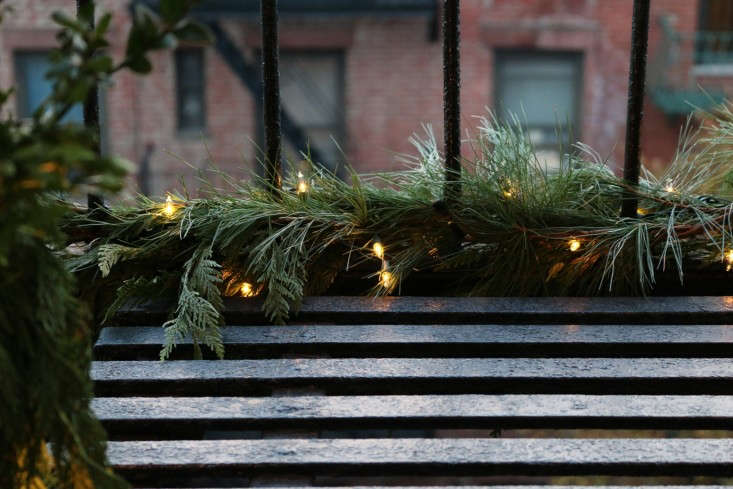 2. You'll need to be a minimalist.
For safety, you'll need to be judicious with your plantings: think a handful of pots, not twenty. Though they look beautiful, avoid trailing vines and large plants (this is not the place to plant an olive tree). And leave a clear foot path. A good rule of thumb? You should see more metal—much more—than green.
3. For fire escape safety? There's a planter for that.
It's not a great idea to use ceramic or glass pots on a fire escape. Just think about if they fell. Consider opting instead for cloth planters (see 10 Easy Pieces: Soft Sack Plant Pots) or, even better, planters than hook onto railings, keeping the walkways clear (see 10 Easy Pieces: Balcony Railing Planters). The bonus? Cloth planters are particularly good-looking (and lightweight), and adding plants at handrail level will lend a bit more privacy to your teeny garden.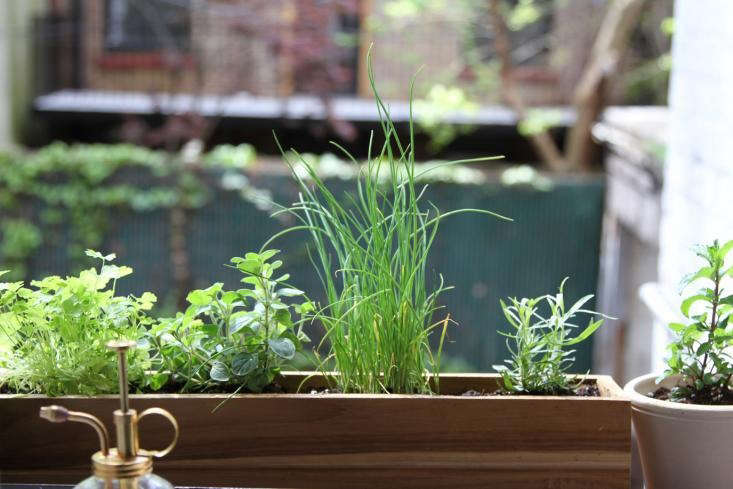 4. You can host fire-escape-to-table dinners.
Yes, it's possible to have a tiny kitchen garden on your fire escape. "You can grow your favorite salad in one container," writes Fan in 10 Compelling Reasons to Plant a Container Garden. "You can grow all the ingredients of your favorite salad in one pot—tomatoes, lettuces, herbs, and all—or spread them out over several pots." Or consider contributor Marie Viljoen's advice from her tiny urban balcony garden and grow tiny pots of strawberries or blueberries. Herbs are always easy to grow in pots, too. (Read: Everything You Need to Know About Herb Gardens.) For more ideas of what to plant, see 10 Easy Pieces: Tough Perennials for City Gardens.
5. You'll probably have some unwanted visitors.
The unspoken truth of the fire escape garden? You could be creating a habitat for pigeons and squirrels—and possibly rats. Like pre-war apartments that come with original molding and cockroaches, this is just one of the unpleasantries that comes with charm (remember what we said about romanticizing?). If you're really concerned, follow the Brooklyn Botanic Garden's advice to Gothamist and use an "organic nitrogen fertilizer containing dried blood," which will repel rodents.
On the plus side, you could also attract desirable little visitors, like butterflies, and you'll be helping the bees. (For the best bee-friendly plants, read Pollinator Gardens: 8 Easy Steps to Design a Landscape with Native Plants.)
6. It's best to plant within arm's reach.
To avoid having to crawl through your apartment window to get to your plants, stand at your open window with both feet on the ground, then put your planters within arm's reach. This will ensure easy tending and snipping, no spotters needed.
7. Don't water your plants outside.
Imagine you're walking down the street, having a pleasant morning, when suddenly you're drenched in a shower of dirty, run-off plant water. Or consider the case of this (rightly) irritated renter, whose apartment would get flooded every time his upstairs neighbor watered his plants. Practice good city etiquette and water your plants inside, in the bathtub or kitchen sink. (Keep in mind that this will involve carrying your plants through your apartment, possibly dripping with water; leave them to drain for a bit, or lay out an old sheet or drop cloth underfoot).
8. You can compost out there.
A fire escape would be a good place to start a little compost project (see 10 Things Nobody Tells You About Compost for more on that topic; see also: Rats). If that's too much for you, a fire escape garden is a good place to put all of your coffee grounds and eggshells to use. (Takeout not welcome.)
On a related note, your fire escape garden needn't be expensive: see How to Start a Garden for Practically Free.
9. A fire escape garden in summer = an indoor garden in winter.
New York City winters (and wind) are no match for a fire escape garden. If you want the perks of a fire escape garden in the warmer months but live in a city that gets cold in winter, you'll need to also embrace—and have room for—an indoor garden come November. Bring your plants inside, or expect that your plants will succumb to the elements.
10. You can take the garden with you when you move.
The perk of any container garden? It's portable. When your lease is up, your tiny garden can go with you, to another fire escape somewhere—or, if it's time to decamp for greener pastures, it can be the start of a bigger garden.
For more on tiny, apartment-friendly gardens, see our guides to Edible Gardens, Small-Space Gardening, and Houseplants. And for more on city gardens, see: