After nine years of living in New York, I am the proud new tenant of an apartment with a fire escape. I realize that my lack of a fire escape—and the fact that, until recently, I had never stepped foot in a laundromat—means I haven't been a real New Yorker this whole time. Real New Yorkers have fire escapes.
The New York City fire escape is an icon. At its most literal, it's a necessary (and somewhat unsightly) safety measure, ubiquitous because of an 1860 law that required all tenements to have easy-escape stairways. But leave it to city dwellers to make the most of the only access to the outdoors they have. (The quintessential example? The fire escape in West Side Story, the urban version of Romeo and Juliet's romantic balcony.) In the city, a fire escape is prime real estate: It's a balcony, a tiny private terrace, a place to grow plants and, maybe, perch with a book in the warm summer months.
When my boyfriend and I moved into our new place, the fire escape in front of our living room window was a perk. On our first Sunday in the apartment, a bright, warm morning, the birds chirped away sweetly outside our window. "We could plant flowers out there in the spring," I said. "And berries! And maybe hang a bird feeder." I was envisioning hummingbirds flitting by while we had coffee in the morning. He reminded me that if we hung a bird feeder we'd get a front-row seat to a rat parade.
Since I'm woefully new to fire escapes (and, also unlike the stereotypical New Yorker, a bit wary of breaking the rules), I'm not sure how this whole "fire escape garden" thing works. So I did some research. Here's what to know if, like me, you're thinking about starting one.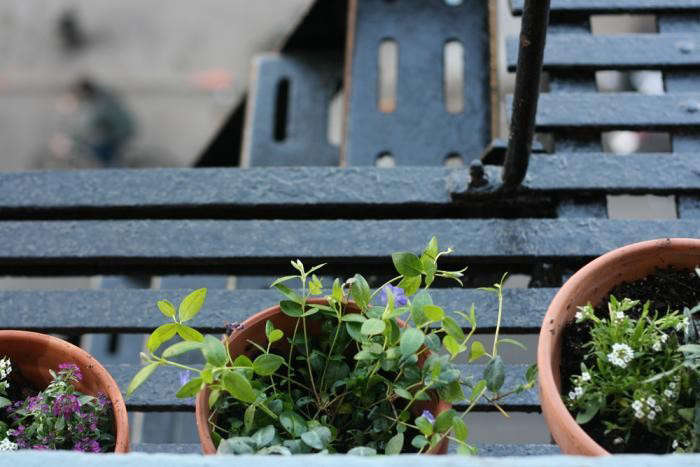 1. Fire escape gardens are not allowed.
First, a disclaimer. Generally speaking, using a fire escape for anything but emergencies is against the rules (the city's fire code, the building's regulation, and/or the law) pretty much everywhere. It's true, fire escape gardens could be dangerous: they could block access out of an apartment, or block firefighters' access in (just see one such warning here). And then there's the risk that a precariously perched terra cotta pot could fall to the sidewalk below.
We're not advocating breaking the law, but walk around any street in New York and you'll see that it doesn't stop intrepid city dwellers from having a fire escape garden anyway. If you're one of those rule-benders, be advised that you or your building could be fined, written up, or passed over by insurance companies. And, it goes without saying that you shouldn't treat your fire escape like an actual terrace. That means no tables and chairs, no chaise lounges, no barbecue grills, no fountains, and no pergolas (though we wouldn't be surprised if some determined Brooklynite has tried one or all of these). If you're still determined to create a bit of green space, a couple of small potted plants could be okay. (Read on…)