The first time landscape architect David Godshall of Terremoto went to see a small house near the Larchmont neighborhood of Los Angeles, there wasn't much to the garden. "Some existing redwood trees in the back, sad shrubs in the front," he remembers.
But the clients (interior designer Anna Pomerantz and her husband, Colby Buddelmeyer, a consumer products developer) had just bought a beautiful, subtle, midcentury gem of a house, and the challenge was to create the garden it deserved.
"Luckily, the redwood trees set a strong tone," says Godshall. From there, a theme emerged: "We decided to create a conceptual narrative of a garden; we wanted it to feel like all of California all at once, with ferns, a redwood forest, the desert, and interspersed in between, a smattering of native species and things that felt culturally native, like bougainvillea."
The result? Let's take a look at the transformation.
Photography courtesy of Terremoto.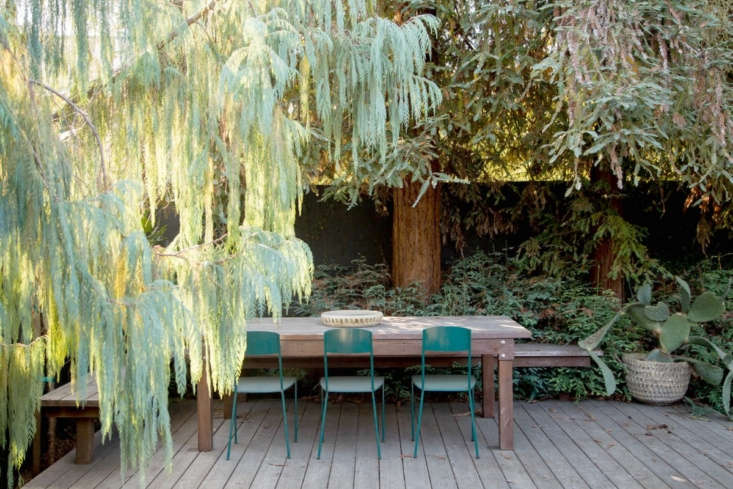 "The first thing you do in a small garden project is to take inventory to do an analysis, so you can make decisions about the things that are existing and are good," says Godshall. "In this garden, the layers that are new work well with some elements that are old. It was a conversational project between Anna and Colby, and Diego Lopez from my office, and the process was as fluid and as effortless as a thing that takes a lot of effort can be."
Before
In the backyard, Terremoto laid out a small lawn at the edge of the deck, surrounded by a horseshoe of planting beds. "We're not scared of grass as long as it's used appropriately," says Godshall.
The front garden also had some good hardscape bones:
The front path was "a lovely funny wooden boardwalk that had a lot of personality, built at some point in time by a previous owner," says Godshall. On either side of the boardwalk? "Nothing was there before, except some bad shrubs," he says.
Terremoto and the homeowners agreed the winding wooden walkway was a feature, not a bug, and came up with a plan to make it the centerpiece of the front garden.
After
In the front garden, jungle meets desert—and equals oasis.
"The potted tree was Anna's doing. There was a hole in the garden that needed a plant and she put the tree there and asked if we were OK with it," says Godshall. "We're not scared of having a pot in the garden; as you can see it can do an interesting thing."
In the foreground, exuberant clumps of purple Mexican sage and a potted slipper plant (Pedilanthus bracteatus) create another layer of interest. Next to the Kashmir cypress (which eventually can reach a height of 60 feet) is a mature orange tree, existing when the homeowners bought the house.
"The fire pit was by Anna, who is a lovely interior designer," says Godshall.
"Those haunting blue trees, they bridge the worlds between a pine and a conifer," says Godshall, who discovered them one day when he was shopping at a nursery.  "It was an arresting image."
Terremoto planted three Kashmir cypress to fill holes between the existing redwood trees. "It was the first time we used that tree," Says Godshall. But not the last.
Planning a garden project? Whether it's a complete redo or just an upgrade of a fence or a deck, start with our Hardscape 101 guides for inspiration and tips, including Decks & Patios 101, Fences & Gates 101, and Swimming Pools 101. And don't miss:
(Visited 684 times, 1 visits today)