What is it about garden visiting that is so inspiring when you are there and so deflating after you return home? Suddenly your outdoor space looks rather flat and disorganized. No parterre, no knot garden, no maze. Of course you don't need to aspire to this level of formality, but you might consider growing more lines of evergreen, whether curvy or straight:
Instead of an amorphous shrub or some random bushes, think about clipped hedges, which will bring a garden up toward eye level and give you something to focus on. In summer, planting becomes taller and more ambitious within this permanent framework and in winter you will come to rely on it almost completely. Hedges and trees. What else is there?
Photographs by Kendra Wilson for Gardenista, except where noted.
Above: A holly hedge punctuated with holly trees at Holly Farm, Leicestershire. There is an ilex for every occasion: common holly (ilex aquifolium) is most often used for hedges and topiary as above.
Others such as the variegated Ilex Aquifolium 'Argentea Marginata' will submit happily to being cut into standards; £10 apiece from Burncoose Nurseries in Cornwall. For US gardeners, Holly Blue Prince also grows into a thick hedge; it's $38.97 from Nature Hills.
Above: Holly forms an impenetrable hedge, keeping out humans and larger animals. But it is very inviting to smaller creatures like birds. No wonder the berries disappear so quickly.
Above: The low, thick comfort of box, which provides a middle story to yew in the traditional Arts and Crafts garden. Although its roots will compete with the plants it encloses so attractively, it is a more agreeable immediate neighbor than yew, and bottom story plants will grow underneath it. When planting hedging go for younger plants which will establish better in the long term.
A selection of Evergreen Hedging, including box, yew, and other bareroot evergreens in bulk is available from for Ashridge Nurseries, about £1- £2 each. For US gardeners, Buxus Green Velvet is $13.95 apiece from Great Garden Plants.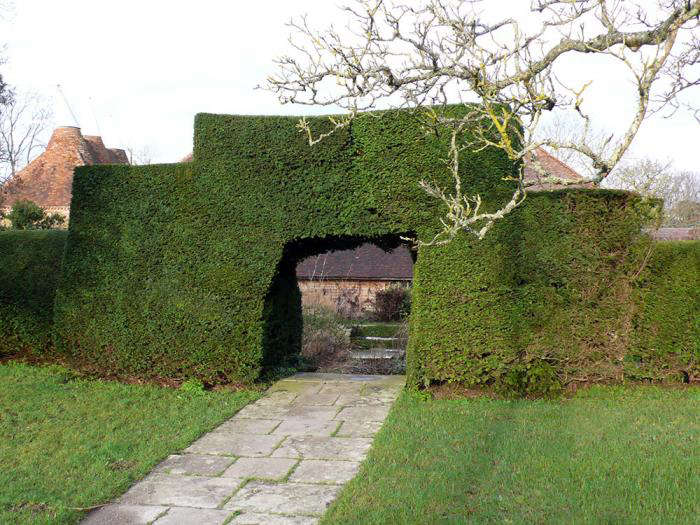 Above: Yew. Big structure in winter and every other season. For US gardeners, Yew Erecta is a compact hedging plant; $29.97 from Nature Hills.
Above: Hornbeam (shown here) and beech keep their leaves in winter, which is a comfort at the beginning when the whole garden is shedding. The spring growth tends to be sluggish however: surrounded by new fresh springy green, they remain stubbornly brown for as long as possible. Or so it would seem. American Hornbeam is $5.89 apiece from Cold Stream Farm. Photograph by Ropergees via Flickr.
For more, see "Hornbeam: A Hedge for All Seasons."
Above: Cotoneaster. Naturally lax and rangy, some varieties can be pruned into a neat and very striking hedge. Berries provide the only color around in snow and fog. Cotoneaster Divaricatus is one of the best for hedging and is available from Glebe Farm, about £0.89 each depending on size of order. For US gardeners, a selection of Cotoneaster varieties is available for $18.95 per plant from Sooner Plant Farm.
For more winter hedges, see "Secret Gardens: The Importance of Privet."
(Visited 125 times, 1 visits today)