Do you look wistfully at all those gorgeous tomato plants at your garden center as you pass them by to go to the shade plant section? Do you sit on your deck overlooking your yard full of ferns and hostas, and wonder if you'll ever be able to grow anything to eat without joining a community garden?
You can stop doing all that!  You can grow at least some of the vegetables you love—even if the sun rarely makes an appearance in your garden. You may even be able to grow a tomato or two!
Where do you start when you've been told you can't grow vegetables in the shade?
Featured photograph by George Billard for Gardenista, from Garden Visit: A Cook's Garden in Upstate New York.
Step 1: Determine the level of shade in your garden.
In the gardening world, there are two types of shade: part shade and deep shade. Part shade is also part sun! Be optimistic! Part shade is three to six hours of direct sunlight. (An example of a site that receives part shade could be the side of the house that faces north and has a few trees.) Chances are, your shady garden gets at least some sun and qualifies as part shade—which means it's capable of growing crops. Full shade is no direct sun—the forest floor is full shade—and a yard with full shade is not amenable to growing vegetables.
Step 2. Consider your distance to the equator.
The closer you are to the equator, the stronger the sun. In the northern hemisphere, if you are in Boston, you will need more hours of sunlight (say, six hours instead of three) to get the same solar energy compared to someone in Atlanta, Georgia, who is closer to the equator.
Step 3. Find out what growing zone you're in.
Part shade will allow gardeners in the more southern climes in the northern hemisphere to grow cool weather vegetables. Part shade means cooler temperatures for the plants in question.
Step 4. Plant the right shade-tolerant vegetables.
What can you grow? Vegetables grown for leaves and roots. Leaves and roots need less energy than fruits. You can start with seeds or buy seedlings from your local nursery, though we are partial to starting from seed, which can be far more satisfying. That said, buying seedlings gets you harvesting sooner.
The following plants can be grown in three to six hours of sunlight. Please understand that these plants will grow and produce in part shade, but they won't be as prolific as they would be in full sun—and they will grow slower.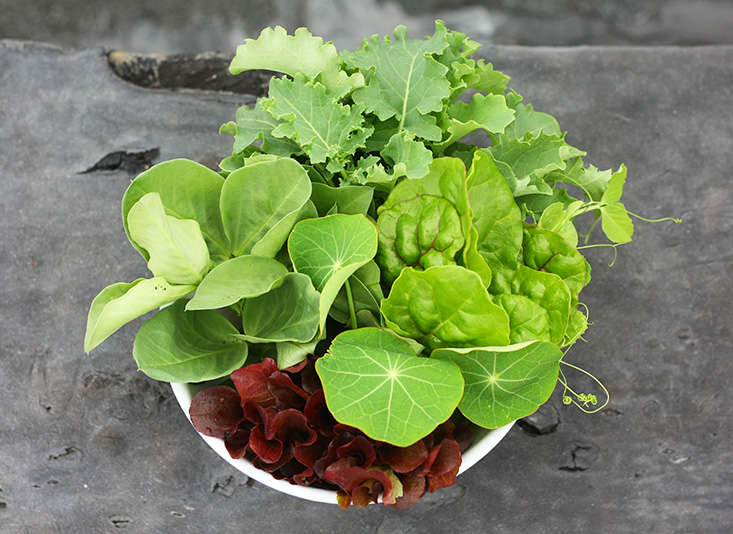 Loose leafy greens: Arugula, lettuce, endives, spinach, sorrel, and Swiss chard. These salad staples and sauté favorites do very well in partial shade because they are cool weather plants. The heat of summer causes them to bolt (see The Garden Decoder: What Happens When Edible Plants "Bolt"), which results in an unpleasant bitter taste to the leaves. Part shade extends their growing season and allows for succession planting.
Roots: Beets, carrots, parsnips, potatoes, turnips, rutabagas, garlic, and radishes. These plants send their energy below ground to make edible roots. With the exception of potatoes, which thrive in full sun but can tolerate six hours, all of them will be happy with part shade.
Cabbage family: broccoli, Brussel sprouts, cabbage, cauliflower, collards, kale, and mustard greens. The cabbage family likes at least six hours of sun. While your yields will be smaller, there are some benefits to growing these in shade: Broccoli and cauliflower heads will be slow to bolt and be tighter; and kale, mustard greens, and collards will appreciate the cooler temps.
Herbs: cilantro, chives, oregano, parsley, chervil, and mint. Chives are happy with three hours of sun. Cilantro, which seems to bolt overnight during a heat wave, will last far longer and allow for succession planting in part shade. Oregano, parsley, and chervil are happy with four to six hours of sun. Mint? You can't kill mint….
Stalks and bulbs: celery, scallions, and onions. Celery may not look like the tight group of stalks you see in the market, but meet all of its other needs, and it will be happy enough in part shade. Scallions, or green onions, are quite happy with part shade. Its cousin, the regular onion, can tolerate some shade, but they would need all other conditions to be perfect—worth a try if you have the right soil for onions.
And what about tomatoes? Yes! You can grow tomatoes in part shade! But before you rush out to buy some beefsteak tomato seeds, know that growing fruit takes a great deal of energy and, as a general rule, the larger the fruit, the more sun you need. So, for a shady garden, choose smaller varieties; grape, cherry, and capri sized ones, can tolerate five to six hours of full sun. They will not be prolific and may be on the leggy side, but even if you get a handful of vine ripened, hand grown and picked tomatoes, they will beat store-bought any day!
Final Tips
Some ways to improve your harvest when growing vegetables in part shade:
Containers are best—because you can move them with the sun. The more sun you can give your vegetables, the more productive they will be. If you can use plant stands or trays with wheels, all the better.
Meet your plants needs, don't leave them wanting. Get your soil tested and amend it for the plants you want to grow.
Fertilize when needed with the correct fertilizer at the correct dose for the plant.
Water as needed. Not every vegetable has the same watering requirement. Plants like tomatoes can go through several gallons a week, and lettuce is mostly water and will also need to drink more than the average plant.
Don't let the lack of sun stop you from growing your own vegetables. With a bit of knowledge and a bit of luck, you can grow your own food in that partly shady backyard.
For more on vegetable gardens, see:
(Visited 329 times, 4 visits today)