Scented Geranium, Pelargonium: "Scented Sentinel"
If I had to list my top favorite things that I love about plants, fragrance would be number one. I am not timid (and seriously seek out) flowers and leaves that I can poking my nose into or gently crush between my fingers. So it almost goes without saying that I adore scented geraniums and try to incorporate them into my garden designs whenever possible.
Please keep reading to learn why and for tips on how to grow this fragrant friend.
Native to South Africa, scented geraniums are one group of the Pelargonium family, the others being Ivy-Leaved, Zonal, Martha Washington, Unique, and Angel. The scented group differs from the others by being shrubby, evergreen perennials and shrubs with attractive leaves that emit a fragrance when brushed or crushed.
See more about other types of pelargoniums in Pelargonium: A Field Guide to Planting, Care, and Design.
Various tempting aromas can be experienced, including apple, rose, lemon, orange, and even coconut. And don't worry, scented geraniums are not the result of some biochemical experiment; the leaves were not injected with artificial fragrance. Scented geraniums are simply blessed with a talent to manufacture chemicals in their leaves (just like other aromatic herbs). Of course over the years breeders have mixed things up and done some cross breeding, but that's it.
Leaves of scented geranium are mainly medium green but some come with attractive variegated leaves. Leaf shapes also vary from being toothed, to lobed or deeply cut. Because of their sturdy leaves and scent, these plants are rarely affected by pests. Fascinating fact: scented geraniums cool themselves by releasing oils from glands on the underside of their leaves.
Scented geraniums are a bit underused in most landscapes but that should not be the case. Their versatility in both the garden and the kitchen should be noted. Did you know that you can wash and dry their leaves then lay them on an inch of sugar, cover them with more sugar, and leave it for a week to make scented sugar? Use this yummy creation in baking and teas. Also, the dried leaves can be added to sachets and potpourris.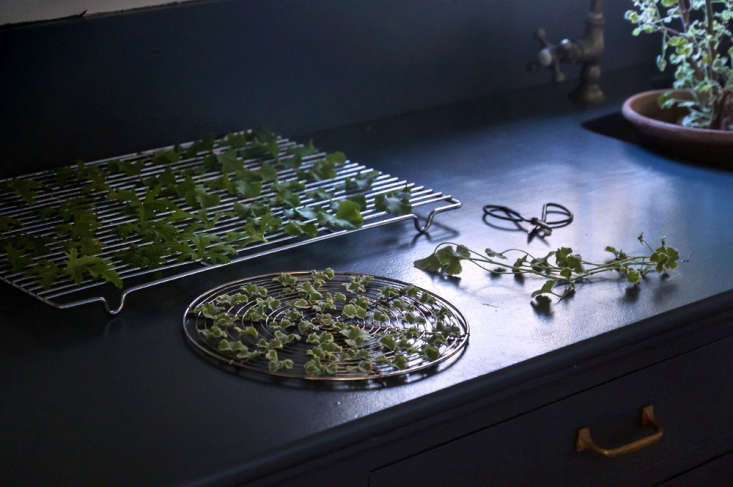 Cheat Sheet
Most scented geraniums produce clusters of small, single flowers in shades of pink, purple mauve, and white. Some flowers are lovely and noticeable, others are barely visible.
Be sure to gather your favorite fragrant cuttings and arrange them with other fresh flowers in a bouquet. Fresh stems last about a week in a clean vase.
Plant patches in an herb and vegetable garden so that when you prune their companions you get a whiff of their loveliness. Also plant scented geraniums along walkways where passersby will naturally brush against them.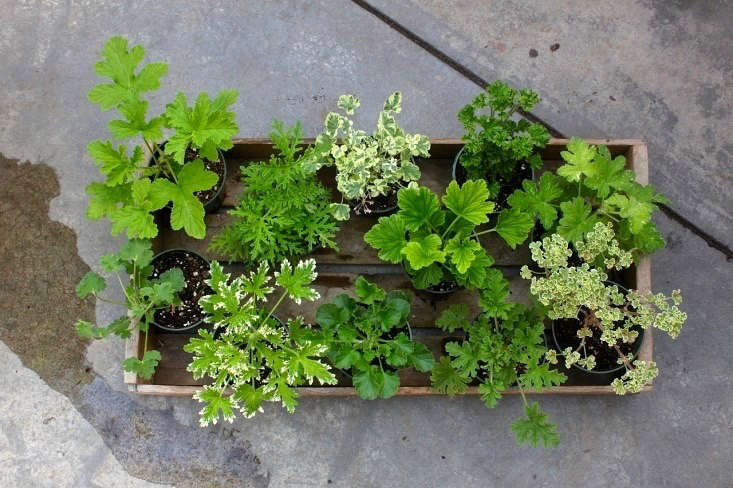 See more in Scents and Sensibility: The Scented Geranium is Spring's Must-Have Plant.
Keep It Alive
Scented geraniums prefer warm, sunny, and dry spots that drain well. Tip: Too rich of soil will decrease the strength of the leaf fragrance.
In USDA growing zones 7 and colder, treat as annuals or plant scented geraniums in containers that can be brought indoors for fragrant winter houseplants. In zones 8 and up, treat them as perennials that may die back but will happily return in the spring. In zones 9 and up, scented pelargoniums are evergreen.
Planted in the ground, pelargoniums grow quickly and can get quite bulky and have leggy stems, so prune them in the fall to produce a more manageable and attractive shape and size. Sizes vary, but most grow to about up to 3 feet tall and 2 feet wide.
N.B.: Planning a spring herb garden? See:
(Visited 269 times, 1 visits today)