More than 15 years ago, when furniture maker Ed Clay of Furniture Marolles bought a low-slung ranch house on a cul-de-sac within walking of the historic central plaza in downtown Sonoma, California, the location was great. But the garden needed help (to put it nicely).
"We bought it from the son of a woman who had lived here 45 years and although she had been a gardener, it had fallen into neglect," he remembers. "The fence was falling down, the old trees' roots had unevenly heaved up the paving stones, and the backyard was covered by concrete."
But gardens are resilient. Clay and his partner, who prefers to remain anonymous, spent years patiently transforming the uninspired suburban garden: breaking up slabs of concrete with a sledgehammer, installing a gravel courtyard, root-pruning the old trees, and fixing drainage problems.
The result? A charming, sun-dappled landscape with potted citrus trees and artful surprises, including a vintage marble sink tucked into a wall of vines, a cottage with a roll-up wall of windows, and Clay's own three-legged Marolles chairs. Let's find a shady spot to sit for awhile:
Photography by Mimi Giboin for Gardenista.
One of the first improvements was to add French doors and generous windows to the rooms that faced the back garden. "When we moved in," Clay remembers, "from the house, you couldn't even see what was in the backyard."
Before
After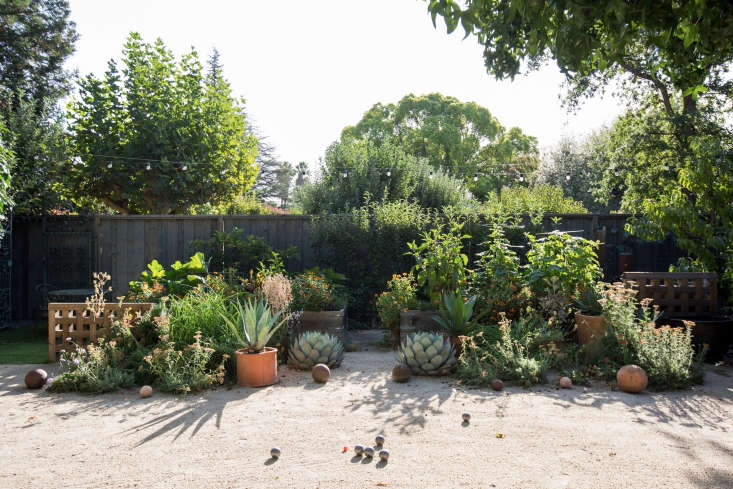 To create the gravel courtyard, spread a 2-inch layer of decomposed granite on top of a 2-inch base.
Curb Appeal
The circa-1950 house, designed by schoolteachers, has good bones; it was built by the first owner's father (he was a contractor).
N.B.: Seduced by the idea of a gravel garden? See:
Finally, learn how to successfully use gravel in a hardscape project with our Hardscaping 101: Gravel guide.
(Visited 1,079 times, 1 visits today)