Ah, the scent of freshly mowed grass. And… lawn mower noise, grass allergies, proliferation of chemical fertilizers, obscene water consumption, and continual war with lawn intruders (of the "weed" variety). The suburban romance with groomed grass turf is over.
The good news for those who still want a field of green is the abundance of lawn substitutes that can accommodate foot traffic, pet traffic, and rounds of lawn games.
Above: Clovers and a mix of wildflowers turn turf into a meadow. Photograph by Justine Hand.
Plant of mix of clover varieties to attract pollinators and to create a meadow. You can mow a path through the flowers. Eight varieties of Clover Seeds at prices starting at $5.95 per pound are available from American Meadows.
Above: Photograph courtesy of Great Garden Plants. Surprisingly nearly as rugged as ordinary grass, Blue Star Creeper (Isotoma fluviatillis) ground cover is fast growing and can take heavy foot traffic. It creates a floral meadow in the spring and summer. Hardy in zones 5 to 9; $7.95 for a 1-quart pot at Great Garden Plants.

Above: Green Carpet Rupturewort (Herniaria glabra) is so-called for its abundance of tiny leaves that grow in a very low flat manner to create a dense evergreen carpet. It turns a reddish color in winter. Hardy in zones 5 to 9; $4.95 for a 3-inch pot at Mountain Valley Growers.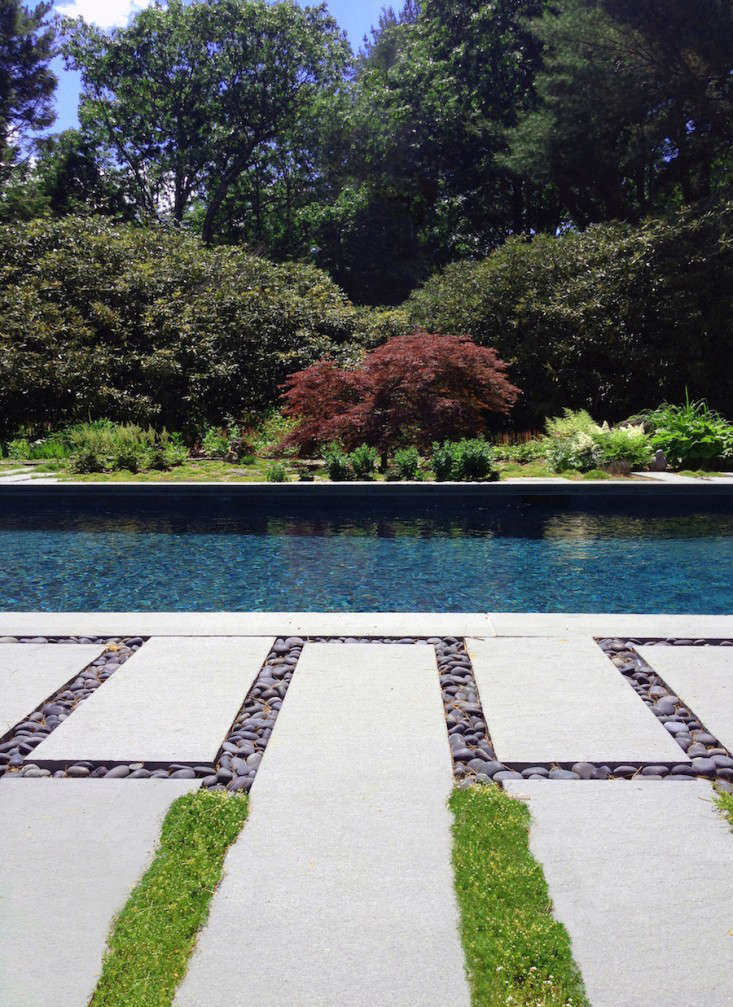 Above:  Photograph by Michael Moran courtesy of O'Neill Rose Architects.
Consider replacing your lawn with moss. Brooklyn-based O'Neill Rose Architects planted a mix of Irish moss (Sagina subulata) and thyme between the bluestone pavers at the edge of a swimming pool at a Berkshire Mountains summer house built in the 1920s. For more of this project see Swimming Pool of the Week: A 1920s Summer House at the Edge of the Woods in the Berkshires.
Above: Photograph by O'Neill Rose Architects.
O'Neill Rose Architects created a transition between pavers and Irish moss black Mexican river rocks. Irish Moss is $5.29 for three from Direct Gardening.
Above: Photograph courtesy of Wikimedia.
Consider Dichondra repens. A one-pound bag of Dichondra Seed is $17.99 from Amazon.
Above: Very drought tolerant, low-growing Elfin Thyme (Thymus serpyllum) forms a tight solid mat of green foliage that blooms with light pink flowers in summer. The sun-loving plant is a vigorous creeper that stands up to foot traffic. And, did I mention the scent? A set of three 4-inch pots is $19.95 at Greenwood Nursery.
N.B.: This is an update of a post originally published on March 21, 2013.