Don't let the date on the calendar fool you, there's still plenty of time for lounging on the beach. Extend your time on the sand with one of these classic shade umbrellas.
Above: A Frankford Wood Pole Beach Umbrella is $189.95 from Beach Store.
Above: A Messina Parasol designed for Danish label Skagerak has an adjustable wood base that tilts to keep you shaded as the sun moves across the sky. It's €225 from Ambiente. Sold separately, a concrete and steel Capri Parasol Base is €329.
Above: With a luxurious diameter of 118 inches, a Karlso Hanging Umbrella from Ikea is made of fabric that blocks 97 percent of ultraviolet rays. It comes with a 102-inch-long pole and a stand but must be "finished" with four concrete support blocks purchased "at a DIY store." It's $99.
Above: With a diameter of 7.5 feet, an octagonal Beach Umbrella has a shade made of heavy duty marine-grade fabric and a wood pole made of ash. The collar tilts to adjust to the movement of the sun overhead; $347 from ATG.
Above: With a eucalyptus frame and a 9-foot circular parasol, a Barlow Tyrie Napoli Umbrella has nickel plated brass fittings and is $1,525 from Didrik's.
Above: On sale from Pottery Barn, a 6-foot round Solid Color Umbrella with a eucalyptus pole comes in five colors including natural (Shown) and is marked down to $79.99.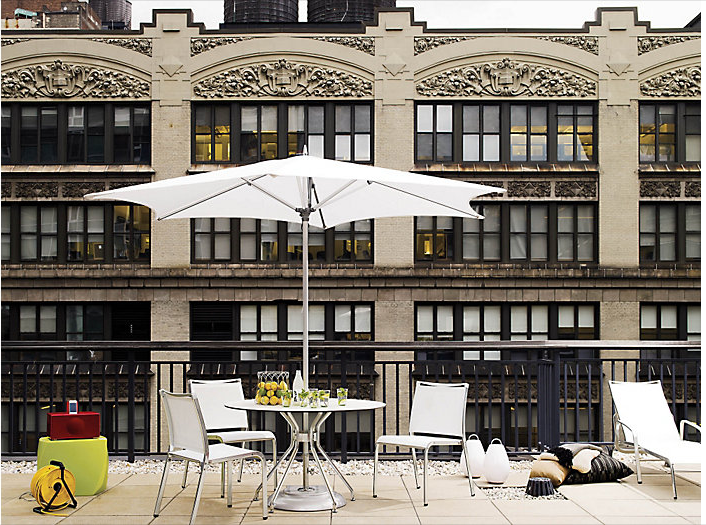 Above: A Tuuci Hexagon Shade has a flatter shape than most dome umbrellas. With marine grade hardware and a "sharkskin" reflective fabric, it is available in three colors including Natural (Shown) and is $1,535 from DWR.
Above: A Maui Umbrella with a diameter of 9 feet comes with a base and can fit into an umbrella hole in a table or be used as a freestanding shade umbrella; it is on sale for $349.99 from Room & Board. 
Above: A 9-foot Wood Market Umbrella with a hardwood pole is $128.99 from All Modern.
Above: The classic 9-Foot Round Sunbrella has an FSC-certified eucalyptus wood frame with a Sunbrella shade in Sulfur; $359 from Crate & Barrel.
Headed to the beach? Take our New Favorite Beach Towel along and don't forget the 5 Things You Must Know About Sunscreen.
N.B.: This is an update of a post originally published August 20, 2013 as part of our To the Beach week. 
(Visited 188 times, 1 visits today)