The ancient Greeks loved symmetry for a good reason. As do Ken and Jean Victor Linsteadt–for the same reason. By adding stone walls and a staircase to bisect and subdivide their sloped backyard into a series of mirror-image garden beds, the Mill Valley, CA couple have created a calming sense of balance.
Both the house and the garden were wrecks when the Linsteadts, who lived around the corner at the time, bought the property and overhauled it in 2007. Perhaps it's no wonder the Linsteadts share a penchant for proportion–he's an architect and she's a writer–or that their first impulse for the garden was to establish an overall organizing principle. "The original garden, when we first saw it, was overgrown and had one falling-down wall somewhere in the middle or it," says Jean. "It needed the structure of terraces."
What is surprising–and makes the garden particularly charming–is how cheerfully the couple also chose to undermine the visual effect of that perfect symmetry. This is a garden where the plants are encouraged to be messy. Beans are taking over an arbor in the kitchen garden. A hedge of lavender is creeping over a wall. Climbing roses are running amok and threatening to overthrow the back fence. "I like the contrast between the way the stone walls create an overall organizing structure while within them the garden can loosen up and grow a little wild." says Jean. So do we.
One morning Jean gave us a tour:
Photography by Nicole Franzen for Gardenista.
But first….the front yard.
For more of Ken Linsteadt's work, see Architect Visit: Ken Linsteadt in Mill Valley.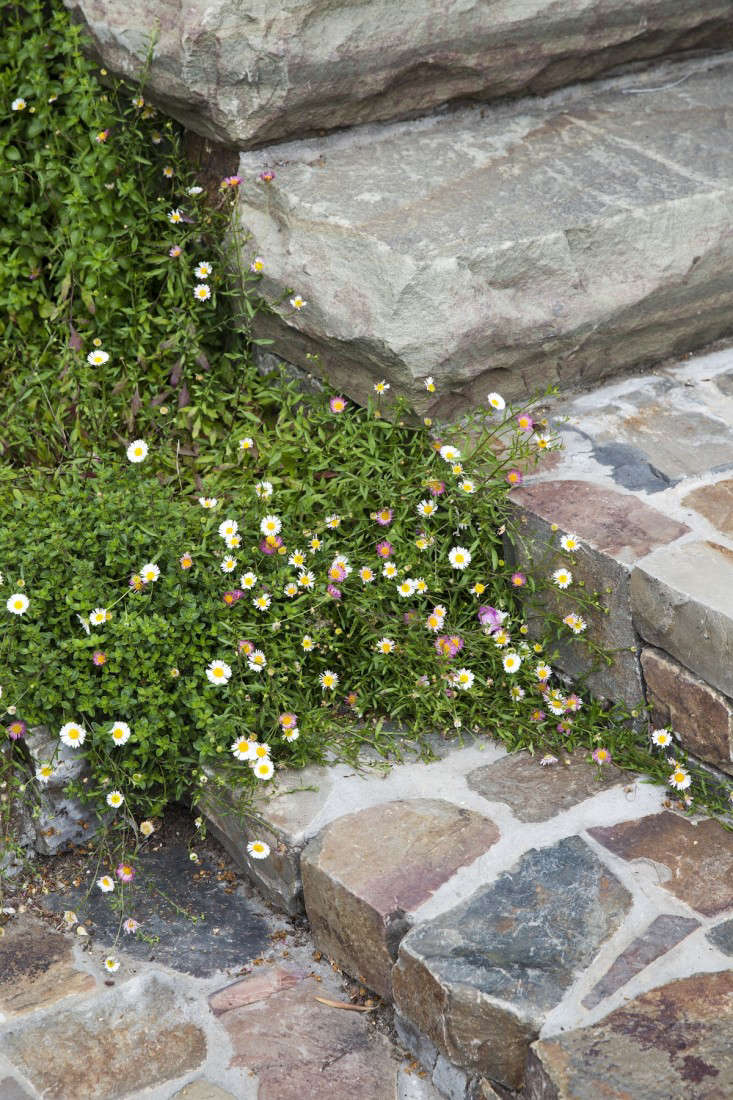 "I especially love it at the height of summer when the roses and vines get all floppy and start to breach the bounds of the walls," says Jean. "At the same time, I feel like the walls root the house and garden in the earth in a way that feels solid and timeless, even though the house is only seven years old."
Are you in the throes of designing your own Mediterranean garden? Get more ideas from Rehab Diaries: Rescuing a 100-Year-Old Garden.  And for more of architect Linsteadt's work, see Steal This Look: Belgian-Inspired Kitchen by Ken Linsteadt Architects.
(Visited 732 times, 1 visits today)