When I moved four years ago from New York City to a houseboat in Sausalito, CA, I felt totally qualified to have my own floating edible garden. On the East Coast, I had installed rooftop container gardens and renovated brownstone backyards–and had even written a book called A Little Piece of Earth: How to Grow Your Own Food in Small Spaces.
So I ambitiously installed espaliered apple and pear trees, along with figs and blueberry bushes. I hauled Mediterranean edibles like artichokes and olive trees up to my rooftop and, around the perimeter, I had grapevines. Then disaster struck. The wind killed the grapevines almost immediately. Many of the other plants limped along–the figs that started to sprout in springtime fell from the trees when the summer fog rolled in. My pear tree had constant leaf curl. The olive trees survived, but didn't produce olives. The blueberries provided habitat to destructive moths. The artichoke leaves got leafy and full, and after six months, I had just one artichoke…
Photographs by Marla Aufmuth for Gardenista.
Above: I bought my own floating home last November and had to start all over. It's a funky little fixer upper, but I love living on the water. Some mornings I wake up to sea lions roaring and light reflecting off the bay and dappling across my walls. I learned some hard lessons with my first garden. These days, for edibles, I grow herbs and leafy greens year round. I've got a great farmers' market nearby for other produce. And for my decorative containers, I use California natives and ornamental grasses. These plants stand up to the salty sprays, heavy winds, and occasional fog banks that settle over the water.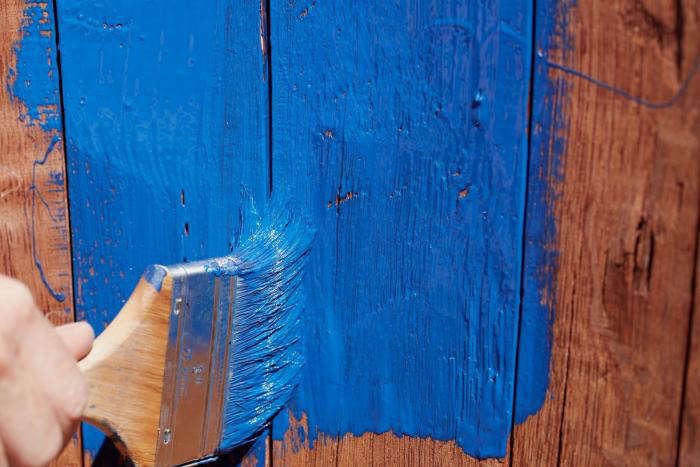 Above: I purchased two wine barrel planters from Goodman Building Supply in Mill Valley. A similar Cedar Outdoor Barrel Planter is $34.98 from Amazon. Because the houseboats are so colorful, I wanted to paint the planters Cobalt Blue. Luckily, I had a left-over can of paint.
Above: A sample pot of Cobalt Flame paint is $1.94 from Behr. I love cobalt blue because flowers and foliage pop so well against it.
Above: After painting, drill holes in the bottom of your planters to aid drainage. I also line the bottom of a planter with landscaper cloth or weed guard. This way, water can drain but it doesn't take too much soil. A 50-foot length of Pro Weed Mat is $26.95 from Gardener's Supply.
Above: A good rule of thumb for rooftop planters is that they should not weigh more than 20 pounds per square foot, yet they also need to weigh enough so they won't blow off your roof. Potting soil comes mixed with fertilizer and perlite, but I add more perlite or vermiculite to improve drainage and keep the mixture lighter. I also add peat moss to the mix to help it retain moisture longer. A 20-quart bag of All-Organic Self Watering Container Mix is $12.95 from Gardener's Supply.
Above: I fill the container up three quarters of the way with planting soil, and then start placing the plants. My favorite place to shop for plants is Green Jeans Garden Supply in Mill Valley a couple of miles from my houseboat. Have a tall, dramatic plant center and toward the back of the container. Then add a mix of color and texture for your middle plants, and cascading plants near the rim.
Above: I chose ornamental grasses along with California Fuchsia ($8.95 for a 4-inch pot from Annie's Annuals) and Yarrow ($4.50 for a 4-inch pot, available seasonally, from Annie's Annuals). Both of these flowers are California natives, and are drought tolerant. They can handle high winds; local bees, butterflies, and hummingbirds will feed on them.
Make sure that your rooftop containers are not flush against a surface. Insert shims under them for air flow.
I love my colorful new planters, but I'm moving much more slowly and cautiously with this rooftop. I do however catch myself shopping for window boxes for strawberry plants; I borrowed a cold frame to start seeds, and this year I haven't been able at the farmers' market to find those Charentais Melons ($2.50 for a packet of seeds from Baker Creek), and those did grow well in a container. So I know my garden will expand over time. But I'm trying to contain my enthusiasm.
For more DIY projects with Maria, see DIY: Lavender Soda and DIY: Rose Petal Honey.
(N.B.: Maria's book, A Little Piece of Earth: How to Grow Your Own Food in Small Spaces, is $18.04 from Amazon.)
N.B.: This is an update of a post originally published August 15, 2012 as part of Kitchen Week. 
(Visited 209 times, 1 visits today)