When a young couple found an aging, one-bedroom cottage for sale on the east side of Seattle's desirable Capitol Hill neighborhood, they looked past its flaws and instead at its generous, 4,800-square-foot lot—and began to imagine making a permanent home there.
First, the flaws: The couple required three bedrooms, not one, and wanted an "efficient, low-maintenance, and modern" house. The pair also missed the courtyard-style homes of their native South Africa, and prioritized indoor-outdoor flow above almost all else. Last, the lot was flanked by multiunit rental buildings (with heavy foot traffic) on both sides, and was sited on a busy arterial street with a city bus line.
The pair engaged Shed Architecture & Design to reinvent the narrow lot, so they replaced the cottage with a 2,450-square-foot, three-bedroom home with a concrete terraced front garden and privacy features at every turn. Concrete walls in front and a detached garage at back block views of the house from passersby. On the sides, which face the rental buildings, windows were added only where needed, and a concrete wall and cedar fence shield the backyard from prying eyes. The planting scheme, developed by Williamson Landscape Architecture, was designed to reference South Africa by "evoking California native shrub land, but with plants that thrive in the Pacific Northwest," says Shed architect Thomas Schaer. Let's take a closer look.
Photography by Rafael Soldi, courtesy of Shed Architecture & Design.
The clients "miss living in a warm climate," says Schaer, which motivated their desire for California-style plantings. The landscape architect used low-water plants where possible.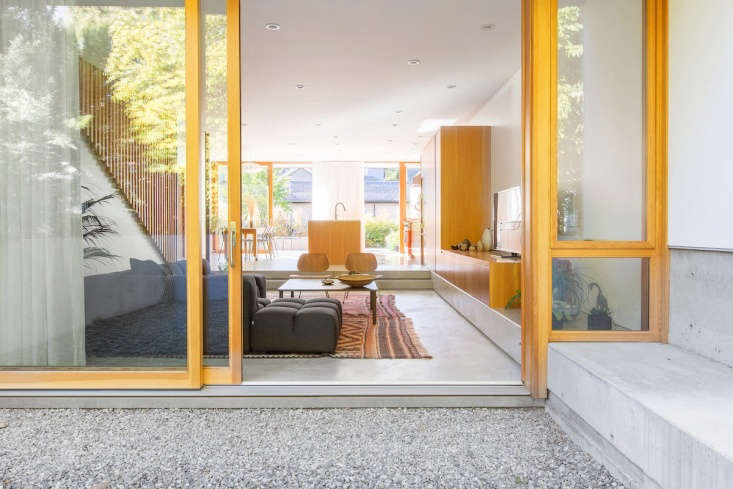 "Creating comfortable outdoor spaces with free-flowing connections to the interior living areas was paramount," Schaer says.
"The front terrace provides a nice position from which to survey the streetscape, while its wall shields those seated on the terrace from pedestrians below," Schaer says.
Due to the rental properties on either side, the house is designed for interaction with the outdoors only on its ends—both the front and back walls have floor-to-ceiling sliding glass doors.
The clients designed a side pathway of black river pebbles and concrete pavers, reused from the previous landscape, bordered by a fence of horizontal cedar boards. The path links the detached garage to the house; the door at the end of the path opens onto the home's entry foyer.
The clients love to cook and they entertain frequently; the kitchen opens immediately onto the back patio for easy outdoor entertaining in good weather.
"The back deck surface feels great underfoot, and the concrete bench provides seating for a long outdoor table," says Schaer. "The tall concrete wall extends the kitchen outward, soaks up and reflects the sun, and walls off the neighboring apartment building."
For more elegant privacy solutions, see:
N.B.: This post is an update; it was first published March 2018.
(Visited 675 times, 1 visits today)