Please don't call them "geraniums." We have to get past that.
They're actually pelargoniums, flowering plants indigenous to South Africa. In Sweden, where gardeners have a soft spot for these warm-weather natives, pelargoniums commonly spend the long winters indoors — in greenhouses, on window sills, or being generally coddled. In Sweden, the national addiction is known as pelargonsjukan, which translates to "pelargonic disease." We prefer to think of it as a hobby:
Photographs by Kendra Wilson, for Gardenista.
Above: In England, Kelmarsh Hall near Northampton also boasts a fine collection, including this old Regal pelargonium in the vinery.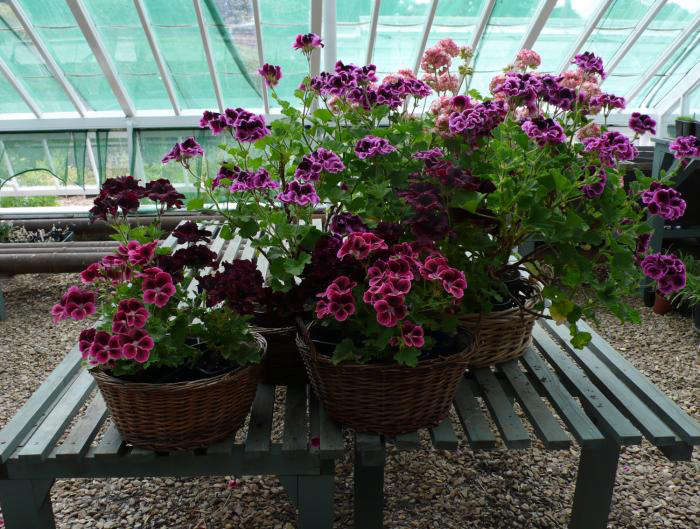 Above: Grown as annuals in cooler climates, pelargoniums can overwinter — and bloom–indoors. The basket with the blackest flowers contains Fifth Avenue; at the back are the pale blooms of Appleblossom Rosebud. Fibrex Nurseries in the UK holds a national collection of pelargoniums, generally priced between £3-£4.
Above: A rose-lemon scent emanates from the leaves of pelargonium Radula. It has fine-petalled white with magenta flowers.
Above: There are more than a hundred varieties of pelargoniums with scented leaves, including those that smell of apricot, apple, coconut, and nutmeg.
Above: Salmon pink pelargonium on far table is Regina. In foreground: Purple pelargonium Rembrandt has Lord Bute (very dark leaves with red edging) tucked beneath it. The red and pink pelargonium is an old, unknown variety. For a wide selection of scented leaf pelargoniums at prices that range from $4.50 to $5 per pot, see Geraniaceae. In the UK, The Herb Nursery are suppliers of Lord Bute, from £2.50.
(Visited 399 times, 1 visits today)