Avant-garde ideas are met with less resistance in German gardens, perhaps because plant science is never far behind. Why do drifts of naturalistic perennials work so well in both public and private spaces? Because they have been clinically proven.
There is also a wildness, particularly in Berlin, which our cities lack. "While there are many beautifully manicured parks, the streets of Berlin are overgrown and wild," says the founder of Mary Lennox Flower & Garden, Ruby Barber. This is to do with the divided history of the city. "Hopefully, as Berlin develops, it will maintain its unruly green charm."
1. Green Roofs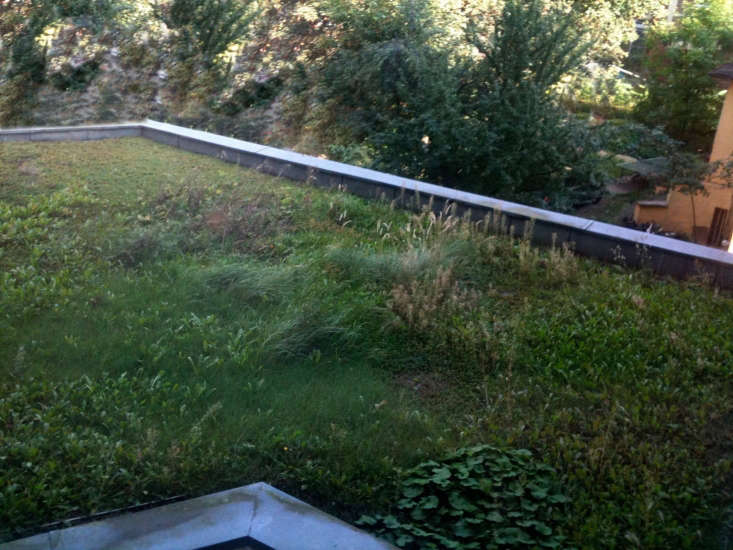 We may think of green roofs as a recent trend, but they took off in Germany in the '60s and '70s with improvement to roofing technology. They are important for encouraging biodiversity in plants while providing a living habitat; they provide a natural insulation while absorbing rainwater and looking a lot more attractive than black felt. As with so many sensible ideas, green roofs made of turf were traditional in Europe before the Industrial Revolution.
2. Rampant Planting
Berlin is considered to be one of the greenest and most floriferous cities in the world. "The flowers on the streets and in the parks are fantastic," says Ruby Barber. " In the first few weeks of spring Berlin is bursting with blossom and magnolia. Not long after, the whole city carries the scent of lilac." It is a fact that wildflowers are everywhere, with cultivated plants such as bearded iris popping up in unexpected places. Flowers are part of the culture; why would anyone use a balcony just to store a bicycle?
3. The Mary Lennox Effect
Mary Lennox are very keen on locally grown flowers, which goes against the grain in their native city. "The flower market in Berlin is heavily reliant on imports," says Ruby. "We are always trying to find new and interesting flowers to work with that aren't available at the average florist."
4. Follow the Rules: Kleingartenkolonies
As well as the abundance of parks, Germany is home to the kleingartenkolonie. Traditionally bedevilled with rules (one third fruit, one third veg, one third lawn, etc.), these community gardens are slowly being liberated by younger enthusiasts. They also go by the name of: gartenkolonie and schrebergaerten.
5. Break the Rules: Berlin
In Berlin the old model has been overturned and the rules were thrown out of the window. The community garden at Prinzessinnengarten, 200 meters away from the Berlin Wall (in the heart of Kreuzberg) and a wasteland from World War II until this century, exemplifies this new attitude to community gardening. Volunteers can come and go on a regular or irregular basis; produce is for sale and is used in the on-site café. With an emphasis on growing locally and seasonally, it is hoped, among Berlin's florists at least, that this approach will filter into the nascient home-bred flower industry."Prinzessinnengarten is a huge triumph of urban gardening," says Ruby of Mary Lennox.
6. Experimental Planting
Germans use municipal parks for experimental planting. While the "new perennial" style continues to feel new-ish in reclaimed urban spaces such as New York's High Line park, the Germans have been doing this for some time. The parks of Munich show a sophisticated approach to plant communities which has been developed since the middle of the last century (in Germany). Low-maintenance, low-cost, cheerful and yes, natural-looking. It is the opposite of what we usually think of as civic planting with its loyalty to artificial bedding schemes.
7. Pflanzensoziologie
The behavior of plant communities is known as "planzensoziologies," translated as plant sociology. Plants need to suit their conditions; they need to be tough. It is an imitation of nature.
See some happy communities of plants in: Dream Landscapes: 10 Perennial Gardens Inspired by Piet Oudolf.
8. Ursula Wegener, Florist
Ursula Wegener, master florist, is a classic case of the unusual being usual. A leading florist and lecturer whose work is anything but mainstream, her skills include the art of ikebana.
Melbourne-based Loose Leaf florist and co-owner Wona Bae studied under Wegener, taking the Korean version of ikebana (kokozi) to Australia to set up the business. For more see: 10 Garden Ideas to Steal From Australia.
9. Urban Vegetation
The Hogarth Roundabout in its full glory can be found here: Throw it, Grow it: London's Guerrilla Gardeners.
Landscape architect and German emigré Brita von Schoenaich went through the legal routes to green up one of London's most traffic-clogged areas. Trained in Germany and at Kew, she runs a practice near Petersham Nurseries and lectures internationally.
10. Trees, Not Umbrellas
German beer gardens: often copied, never matched. You need trees and ideally, a river. Beer was traditionally cooled in river banks, naturally tree-lined. Add strings of lights and you might never stagger home.
See more of our favorite roof gardens (and German-inspired garden design ideas):
(Visited 758 times, 1 visits today)