Asparagus Fern, Asparagus Aethiopicus: "Emerald Feather"
Asparagus Fern is the "insert houseplant here" houseplant. Need a pop of green? Easy-to-grow asparagus ferns are genial go-to plants that will thrive nearly anywhere, as evidenced by the specimen in your dentist's waiting room. Though it's a wonderful addition to any indoor garden scape, beware of its concealed identity: It has sharp thorns and is toxic to dogs and cats.
Asparagus fern is an evergreen perennial with upright or long, trailing branches covered with tiny, thin leaves, which give it a bushy, feathery, fluffy appearance. The plants can have small flowers or berries. Native to Africa, asparagus fern also goes by these aliases: emerald fern, emerald feather, and lace fern. The most common variety is Asparagus sprengeri. Other varieties of asparagus ferns include ming fern and the more-groomed foxtail fern or Plumosa fern, an aggressive climber.
During a visit to Pistils Nursery (shown above), owner Mégan Twilegar waxed nostalgic about a childhood asparagus fern: "This is the plant that I remember watering for my mother when I was growing up, and I just love it," she said. "My mother's plant was large and in a terra cotta pot but there were these fleshy roots all over the base that I thought were fascinating." (If asparagus ferns look familiar, it may be because they had a surge of popularity in the 1970s.)
Asparagus fern is so named because its fronds look like the top of a stalk of asparagus. Surprisingly enough, asparagus fern is related to the lily (Liliaceae) family.
This is a plant full of contradictions. For example, although asparagus ferns are commonly used as houseplants, they are considered an invasive weed in some places, including New Zealand, Florida, and Hawaii. And the term "fern" is a misnomer: Unlike true ferns, which spread by spores, the asparagus fern spreads by seed.
Cheat Sheet
Prune asparagus fern to keep it in shape, and cut any dead stems at the base.
Though asparagus fern responds well to pruning, beware: Its soft-looking leaves conceal sharp thorns, so it's best to wear gloves.
Allow a potted asparagus fern to drape over a windowsill or ledge. Or, plant it in a basket and suspend from the ceiling.
Keep It Alive
The sunnier the spot, the faster asparagus fern will grow. Yellow leaves indicate not enough sunlight, while brown leaves indicate too much.
When it comes to temperature, asparagus ferns aren't fussy: Keep the plant in a fairly humid environment, but average indoor temperatures will do.
Allow the soil to dry out between waterings.
Asparagus ferns are virtually indestructible (so much so that they're tough to get rid of when planted in a garden). So, "if you forget to water it once in a while," not to worry, says Susanne Kongoy, owner of New York shop GRDN. Asparagus fern will forgive you.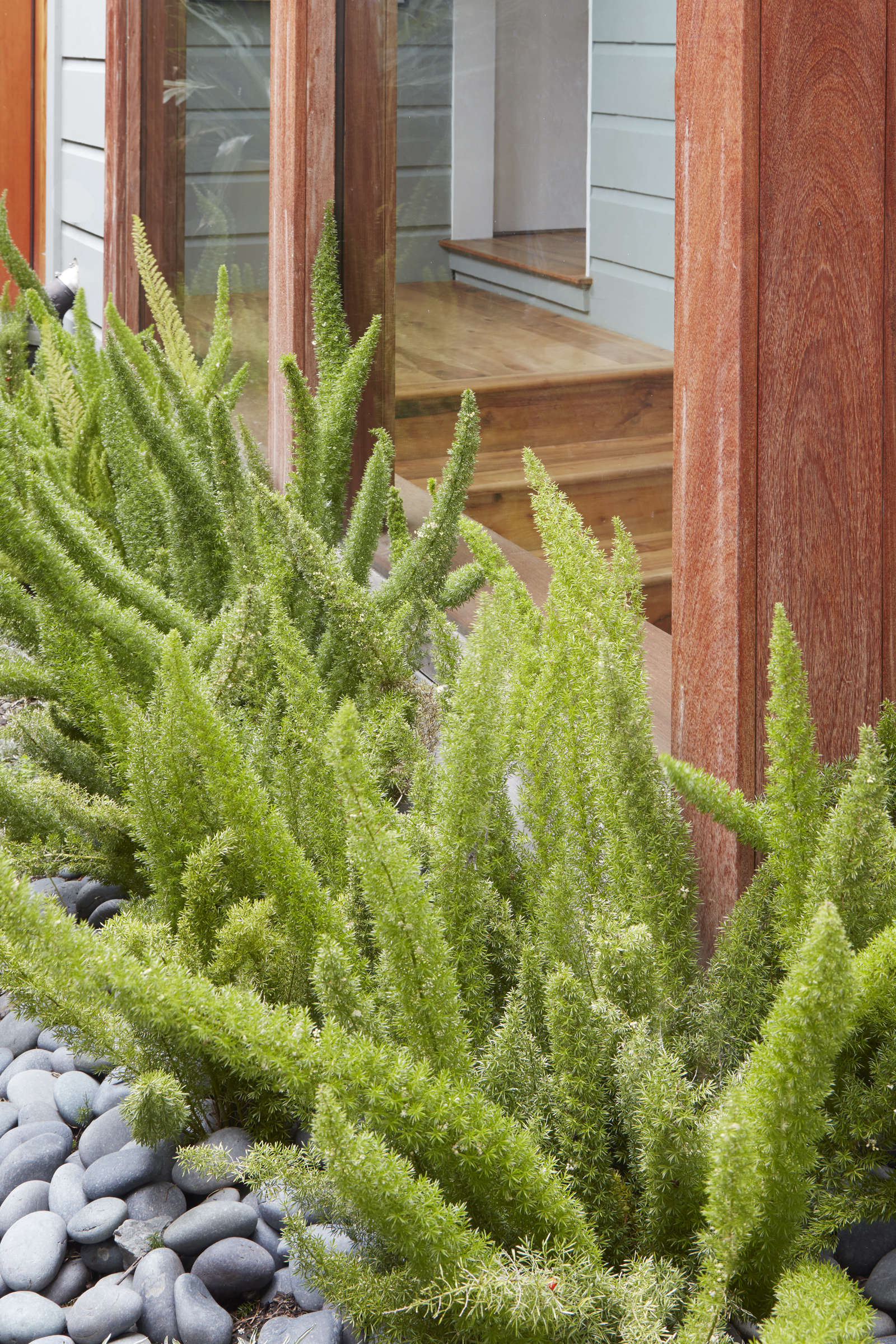 We love the retro look of these fluffy plants. Bring back the '70s with these houseplants (and some modern sensibility):
Finally, get more ideas on how to successfully plant, grow, and care for asparagus fern with our Asparagus Fern: A Field Guide.
Finally, get more ideas on how to plant, grow, and care for various houseplants with our Houseplants: A Field Guide.
Interested in other tropical plants for your garden or indoor space? Get more ideas on how to plant, grow, and care for various tropical plants with our Tropical Plants: A Field Guide.
(Visited 1,999 times, 7 visits today)