Our judges have selected the finalists, now you choose the winners. Vote for the finalists in each of 12 Considered Design Awards categories, on both Gardenista and Remodelista. You can vote once a day in each category, now through August 15.
In the Best Professionally Designed Landscape category, our five finalists are Outer Space Landscape Architecture, Rees Roberts & Partners, Steve Martino, Arterra Landscape Architecture, and Flora Grubb Gardens.
Project 1
Rees Roberts & Partners | New York, NY | Croatian Tower Garden
Design Statement: "This landscape surrounds a 15th-century Croatian tower that has been restored and converted into a house. The design creates a series of distinct outdoor spaces while seeking to preserve the existing planted and natural landscape, which includes a centuries-old olive grove and rambling stone walls."
Chosen by: Guest judge and garden designer Carolyn Mullet, who commented, "Stunning location with unexpected architecture. A design that shows respect for place through restraint. Inviting, new living spaces combine comfortably with restored stone walls and existing trees."
Above: "New trees and landscape features were added strategically to enhance and protect the existing flora."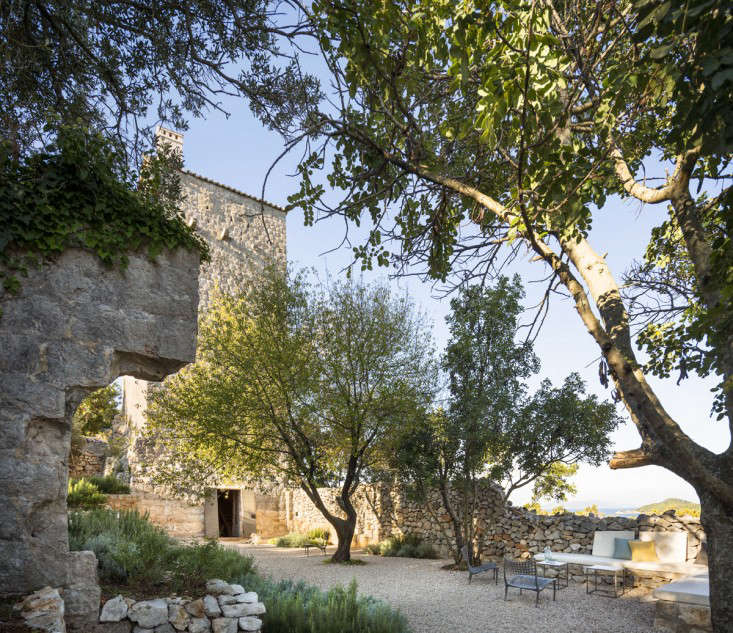 Above: "An intimate outdoor sitting area is used daily for evening gin and tonics."
Above: "The cool silvery green tones of herbs and other plantings complement the stone ruins throughout."
Above: "The variegated heights and densities of the landscape mimic the site's built environment."
---
Project 2
Arterra Landscape Architects | San Francisco, CA | Homestead on Whiskey Hill
Design Statement: "A young family with a love of the land wanted to turn a tumbledown, overgrown hillside into a contemporary agrarian setting for entertaining and recreation. Equally important was celebrating the site through preserving all native oak trees and accentuating the panoramic views." Photographs: Michele Lee Willson.
Chosen by: Gardenista editor in chief Michelle Slatalla, who said: "The design achieves that elusive goal, of taming the land (so people can use it) while preserving important elements of the natural landscape (so people can enjoy it)."
Above: "Our clients were our greatest inspiration for this gracious and comfortable landscape."
Above: "Paths meander through the garden to areas for recreation, like the bocce court and stables."
Above: "The outdoor kitchen by the pool house is a gathering spot for the family."
Above: "An indoor/outdoor fireplace is a focal point when evening falls."
---
Project 3
Steve Martino | Phoenix, AZ | Baja Garden
Design Statement: "This livable desert garden evolved over a span of four years by resolving a list of site problems. Woven into this garden is a strong representation of the region's ecology: Native plants link the garden to the ecological processes of the site." Photographs: Steve Gunther.
Chosen by: Carolyn Mullet, who said: "Amazing color palette and bold sculptural forms. The native plantings settle the design into the site perfectly."
Above: "Juxtaposing manmade elements against a naturalistic landscape gives a connection to the site and region."
Above: "Rebar "˜spines' extending from the tilted outdoor shower wall mimic the Ocotillo plants."
Above: "The 'secret' Baja Garden fire pit with rebar heat-sink."
Above: "The sunken Baja Garden was inspired by the ancient kiva ruins of the Southwest."
---
Project 4
Flora Grubb Gardens | San Francisco, CA | Mediterranean Retreat
Design Statement: "Challenge: To create a new outdoor living space in a garden that prior was never used."
Chosen by: Michelle Slatalla, who had this to say about the project: "Essentially, this project achieved what we all dream of: it add a brand-new room of living space onto a home–and made that space feel as welcoming as an indoor living room."
Above: "A specimen Aloe barbarae is the focal point for this Mediterranean palette."
Above: "A new ipe deck gave the outdoor area an additional 14 feet of living space."
Above: "Detail shot of Calamondrin, Elegia capensis, Rosmarinus bowles, Euphorbia Ascot Rainbow, and Olea Bonita."
Above: "The arched seating area backdropped by a three-stain process on an existing concrete wall."
---
Project 5
Outer Space Landscape Architecture | San Francisco, CA | Northern California Modern
Design Statement: "This modern design incorporates clean lines and mass plantings, and maximizes space by utilizing all reaches of the property. The rear includes a bocce court, trampoline, zip line and sportscourt, dining areas, a kitchen with counter seating and a fire pit, extensive area for edibles, and bird, bee, and butterfly habitat."
Chosen by: Carolyn Mullet, who said, "Modern in form, materials, and plantings. A garden that makes one think of easy entertaining and family fun."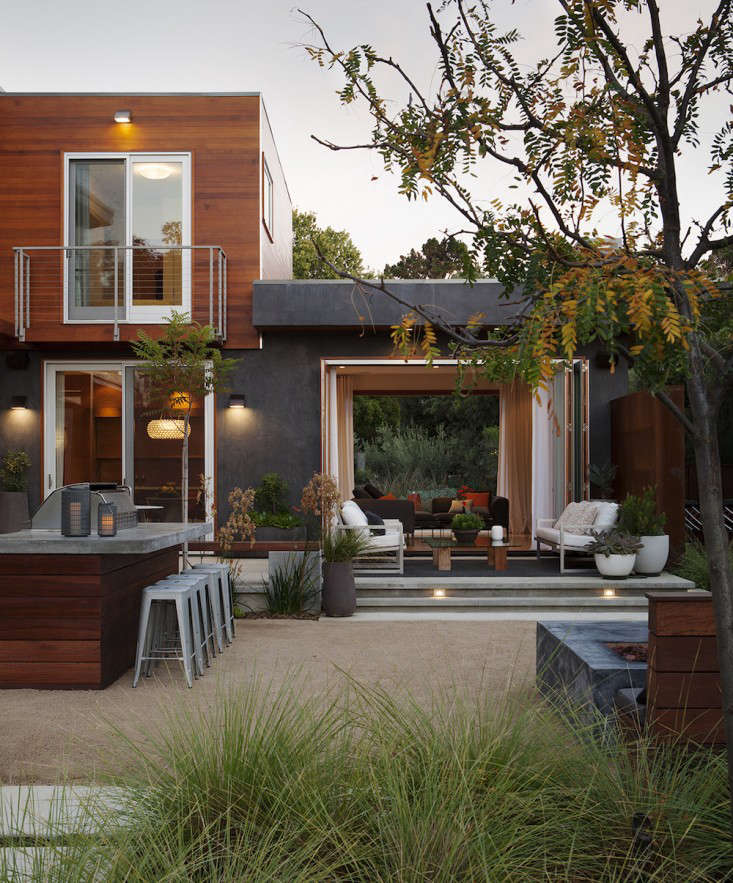 Above: "Doors open on two sides of the living room to entertainment area (shown) and private courtyard."
Above: "An arbor creates shaded seating for watching bocce."
Above: "Native grasses complement modern elements including a basalt gabion wall and frosted glass screen."
Above: "A frosted glass screen defines the entry and creates a private courtyard off the living room."
Found your favorite? Vote once per day in each of 12 categories across both sites, now through August 15:
(Visited 189 times, 1 visits today)