The first time Brooklyn-based architect Roberto Sosa and his partner, Jeffrey Coe, saw a circa-1880s farmhouse and garden in the Hudson Valley north of the city, the house was painted a bright sky shade of blue—and was "in desperate need of restoration, upgrades, and TLC," says Sosa. It was a real "ugly duckling."
It took the couple more than seven years to remodel the house and the sprawling grounds, barn, and gardens, where they created a series of outdoor rooms and a buffer from a nearby road. Ugly duckling no more:
N.B.: See the interiors of the farmhouse on Remodelista.
Photography by Mylene Pionilla, except where noted.
Before
The previous owners of the house in Milan in northern Dutchess County had been in residence since the 1950s.
After
For curb appeal, Sosa and Coe painted the farmhouse in "serene gray" (Benjamin Moore's Platinum Gray) and replaced the front door with a salvaged Dutch door, adding an antique-style transom window above the entryway. The bluestone entry stoop is new and a few windows have been relocated to create symmetry.
For the front of the house, designed with local landscape designer Don Statham, the couple envisioned a garden that would be both "a buffer from the road and a viewing garden from the house," and planted "a leaf hedge that encloses mostly white flowering species in two exterior rooms." The loose hedge acts as a visual barrier while the flowering gardens are a focal point visible from inside the home; symmetry gives it a traditional feel.
Sosa designed the other gardens himself and added a kitchen herb garden "built with bricks and stones dug out from the property." With the addition of French doors to the kitchen/dining area, it's now easily accessible in good weather.
Another major challenge was renovating the barn; at the time the couple found it, it was full to the rafters with antiques and bric-a-brac. In the process of clearing it out, they discovered that some of the beams had likely come from the nearby branch of the Central New England Railroad, now dismantled. The couple rebuilt the doors, windows, and siding but left the roof intact: "It's the original tin roof, the only part we did not replace," says Sosa.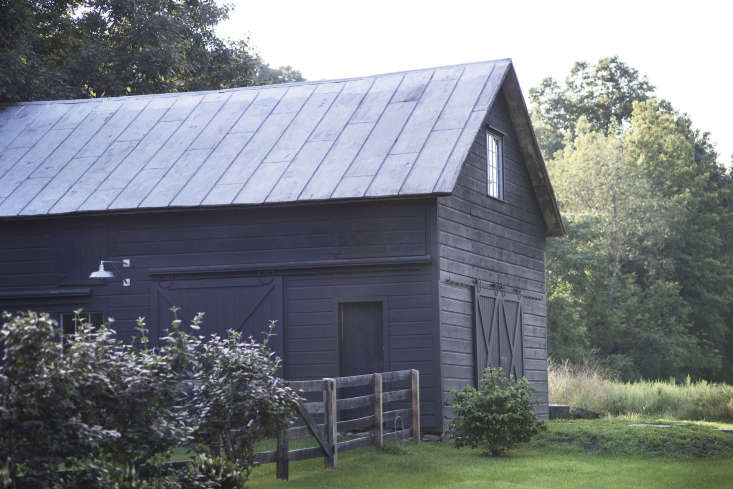 As residents of New York City during the work week, the couple had a few specific considerations when choosing plants: "We enjoy endemic, vigorous, low-maintenance species that thrive with limited weekend care," Sosa says. Hydrangea were a perfect fit. Plus, "we have an abundant deer population, so plants were selected accordingly," he says.
For more of our favorite upstate gardens, see our posts:
(Visited 1,113 times, 8 visits today)