The small terrace of Norwegian blogger Nina Holst is a soft blur of dove gray, designed for instant relaxation and light entertaining. Much of the furniture and accessories are sourced from the familiar Ikea, but it's Nina's Scandinavian intuition that gives the composition its unique quality. It's a look we'd like to emulate in our own backyard. Here are the key elements of Nina's budget-conscious Scandinavian terrace:

Above: Photograph by Nina Holst of Stylizimo.

Above: Photograph by Nina Holst of Stylizimo.

Above: Photograph by Nina Holst of Stylizimo.

Above: Photograph by Nina Holst of Stylizimo.
Core Elements

Above: The Basket Weave All Weather Wicker Sofa is built of a white-gray poly rattan woven over a lightweight aluminum frame. The sofa comes complete with Olefin outdoor fabric that can be washed with soap and water; $1,998 from Terrain. On the other end of the pricing spectrum, the woven polypropylene Arholma Sofa is $545 at Ikea.

Above: The Basket Weave All Weather Wicker Armchair to complete the set is $998 from Terrain.

Above: Ikea's affordable outdoor set, the Falster Table, 2 Chairs, and Bench in weather-resistant polystyrene is $360.

Above: The Square Slab Box Frame Coffee Table has a pale concrete top that sits on an open iron base; $349 at West Elm.
Outdoor Fabrics

Above: The Kookaburra Sun Sail Shade in Polar White is 16.5 feet of breathable woven polymer fabric is $75 at Amazon. For more sun shade inspiration, see our post Simple Summer Style: 10 Garden Ideas for a Backyard Canopy.

Above: Ikea's graphic Sillerup Rug is right for the outdoors, fabricated from polypropylene with a latex backing; $129.

Above: Dove gray-colored Fí¥rdrup Faux Sheepskins are $12.99 each from Ikea.
Accessories

Above: A strand of 25 outdoor Globe String Lights has replaceable bulbs; $34.95 from Crate & Barrel. For a larger selection, see our post 10 Easy Pieces: Outdoor Holiday String Lights.

Above: Nina creates additional seating with two stacked woven banana fiber Alseda Stools from Ikea; $29.99 each. For a DIY idea, visit DIY: Color-Blocked Wicker Poufs.

Above: Terrain's Stone Base Fire Pit has a granite base and dark, cast iron bowl; $598.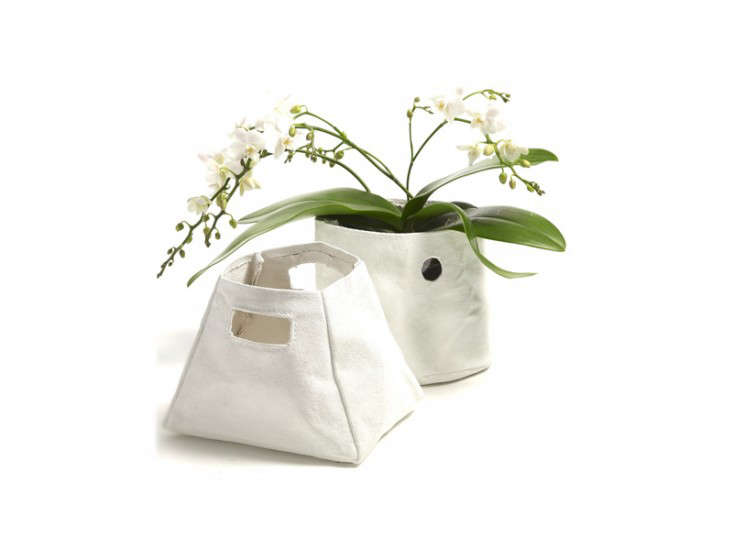 Above: The Canvas Planter Bag from French company Serax is made of soft canvas, stiffened with a few coats of white paint; €12 each at Lili's.

Above: House Doctor Outdoor Lanterns are €18 for the small and €22 for the large at French online shop Lili's.

Above: A handmade Plain Concrete Planter is $55 from Tasi Masi, who specializes in concrete vases and planters. To make your own, see our post DIY on a Budget: $30 Mini Concrete Planters.
For more Scandinavian outdoor design see our posts:
Finally, learn how to successfully design a deck for any landscape or exterior home project with our Hardscaping 101: Decks & Patios guide.
(Visited 28 times, 4 visits today)