Why do some houses seem friendlier than others? Look no further than the roof for an answer. A house with a generous roof overhang provides an extra layer of shelter and protection–no wonder it looks more welcoming.
No only does a roof overhang protect a facade from the ravages of weather, it also can act like an awning to shade a patio or deck. And a wide overhang will divert rainwater away from the foundation, which helps keep a basement dry.
Here are 10 ideas to add curb appeal to a house with a roof overhang:
Eichler Rethink
Above: Photograph courtesy of Ana Williamson.
Architect Ana Williamson, a member of the Remodelista Architect/Designer Directory, added a 21st century family room to the back of a classic 1960s Eichler house in Menlo Park, California, disguising the addition with a wide roof overhang typical of midcentury modern design.
Eichler Original
Above: SF-based landscape designer Beth Mullins of Growsgreen created a new garden in San Mateo, California to complement a restored midcentury Eichler gem that has a roof overhang to shelter a wall of windows.
Stay tuned for our upcoming post, The Landscape Designer Is In, when Mullins will be available this weekend to answer any and all questions about the project.
Retractable Roof
Above: For more, see A Norwegian Shed with a Retractable Roof and Walls. Photograph courtesy of Rever & Drage.
Oslo-based architects Rever & Drage designed a trio of garden sheds on the coast of Norway to disappear. When doors on front and back walls roll open, the see-through sheds reveal a shoreline view. On the largest shed (R), a retractable roof creates an awning to shade a patio.
Above: Powered by an electric motor, the retractable roof slides back and disappears. Photograph courtesy of Rever & Drage.
Czech Mate
Above: In the Czech Republic, A1Architects built a lakeside charred-timber teahouse with a substantial roof overhang to ensure that the outbuilding would be a modern "micro-space, beautiful and cozy and comfortable to stay in for hours."
For more of this project, see A Teahouse Charred and Blackened on Purpose.
Above: Large sliding doors reminiscent of Japanese paper shoji can be adjusted to enclose interior spaces or to create expansive views.
Cape Cod Classic
Above: On Cape Cod, architect Charles Zehnder's Kugel 1970 Gips House overlooks Northeast Pond; a series of cantilevered decks and roof overhangs connect indoor spaces to spectacular natural surroundings. For more of the house, see The Pond-Front Rental: The Cape Cod Modern Trust House.
Sunscreen
Above: On a steep slope in California's Santa Lucia Mountains, Remodelista Architect/Designer Directory member Feldman Architecture designed a house with a generous roof overhang to shade interiors as well as to protect the facade from the effects of weather.
An eco-friendly roof garden cuts energy costs and creates an inviting habitat for butterflies and bees.
Above: On the green roof are perennial grasses and wildflowers including California native poppies.
En Plein Air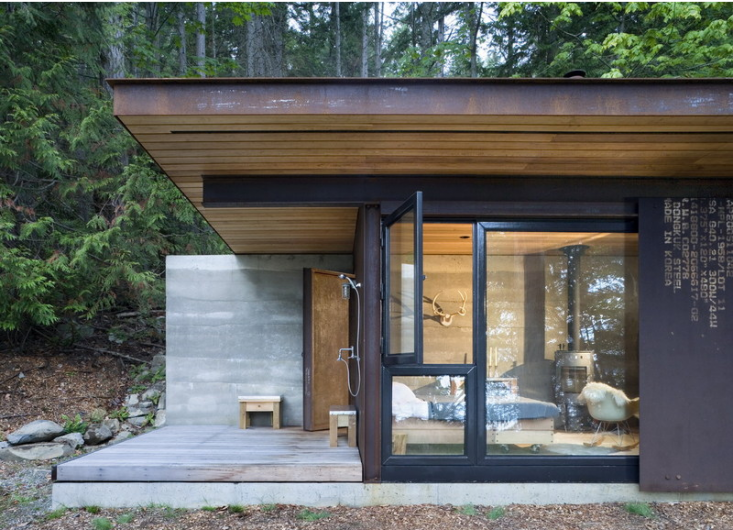 Above: For a 191-square-foot cabin in the Pacific Northwest, architect Tom Kundig designed an outdoor shower protected beneath a deep roof overhang. For more of this project, see Into the Wild: A Tiny Cabin in the Pacific Northwest.
South by Southwest
Above: For a Texas home that overlooks a busy thoroughfare, Austin-based Alterstudio Architects designed a roof overhang for a protected backyard deck to create a private oasis that feels far from traffic.
For more of Alterstudio's work, see Steal This Look: A Silvery Blue Palette in Austin, TX.
Marfa Minimalism
Above: Photograph courtesy of Barbara Hill Design. 
In Marfa, Texas a former dance hall converted to a vacation house has a generous roof overhang to create a shaded patio. For more of this project, see Steal This Look: A Minimalist Marfa Exterior Space.
Coast of Maine
See more of this project at The Ultimate Indoor-Outdoor House on the Coast of Maine.
For more ways to make a difference with a roof, see:
(Visited 1,499 times, 1 visits today)