When we surveyed members of the Remodelista + Gardenista Architect/Designer Directory for their favored roofing material, we were surprised by the answers. Did the recommendations vary? NO. Were we surprised? YES. Hands down, the "go to" roofing material was standing seam metal.
What is Standing Seam Metal?
Standing seam metal roofs are made of metal panels that run from the top of the roof to the eaves. Each panel has a high lip or rib on each side. The ribs overlap and fit together, concealing the fasteners and creating raised seams that run from top to bottom.
Standing seam metal roofs aren't new: This style of metal roofing was used as early as the mid 1700s. It became more prevalent in the mid 1800s when copper was more readily available. Today, the most common metals used are steel, aluminum, and copper–which is the most expensive.
The Benefits:
A standing seam metal roof is energy-efficient, reducing home energy costs–especially in hot climates.
It is sustainable. Most metal roofing contains a significant amount of recycled content, and it is 100 percent recyclable at the end of its house-topping life.
It is long-lasting and durable, not to mention fire- and wind-resistant. While the upfront cost may be higher than composite shingles, metal roofing can last three times longer, maybe more. Most of these roofs carry a 30- to 50-year warranty.
It is lightweight, reducing load-bearing structural costs. A metal roof can often be installed directly over an existing roof, eliminating the expense and waste of removal and disposal. Consult with an installer for your specific case.
It looks great and is equally suited to barn-style, modern and traditional homes.
Here's what the architects had to say:
"Metal roofs are always a great, low-maintenance high-aesthetic option," says architect Andrew Borges. "We love metal for its crisp aesthetic and long-lasting functionality. Metal roofing has been around for quite some time and hasn't really changed much in its application. The under-layers have gotten more advanced, but in the end the metal itself is there for the ages . . . and is recyclable when it reaches the end of its useful life."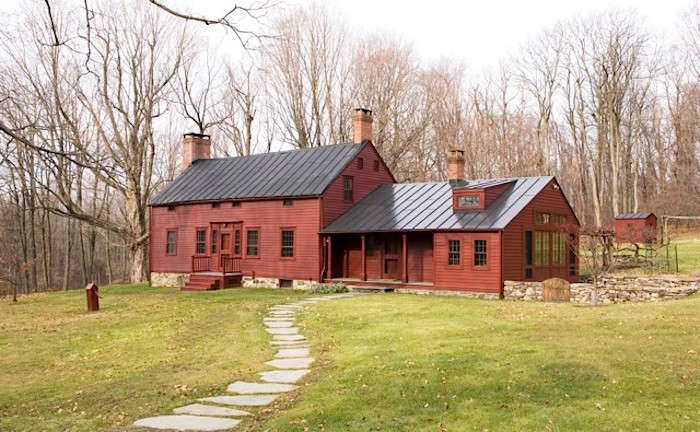 James Dixon likes the fact that standing seam metal roof panels are available in many different finishes. "Our favorites are galvanized aluminum and, when the budget allows, copper," says Dixon. "Not only do metal roofs look great, but they are extremely durable–many old barns throughout the Northeast have them. Because of its durability, metal roofs make a great 'green' choice. Shake roofs are lovely, but the material that's available today only lasts about ten years or so, compared to thirty-plus for metal."
In areas where heat is a concern, such as in California wine country, seamed metal roofing is the first choice for architect Amy Alper. The metal reflects sunlight, so the roof absorbs less heat and less energy is needed to cool the house's interior.
"We often work in mild climates, and we love the look of uncoated paint grip steel," says Lake Flato architect Rebecca Bruce. "It's steel that has been dipped in a phosphate bath to make it ready for painting. It has a great matte finish that's similar to weathered zinc, but it's much less costly."
Ric Peterson of Suyama Peterson Deguchi favors zinc for a standing seam metal roof. "Zinc is possibly a lifetime solution if it's correctly detailed and installed," he says. John Dutton, of the L.A. firm Dutton Architects, agrees. "The king of roofs for us is Rheinzinc," he says, adding, "A nice thing about a metal roof is you can do an integrated gutter."
This is an update of a post originally published November 5th, 2013.
More on roofs below:
(Visited 405 times, 4 visits today)