Nearly 200 years after British civil engineer Henry Robinson Palmer came up with the idea to crease thin sheets of metal to make corrugated metal siding, architects still come up with new ways to use his invention. Here are nine stylish ways to use the lightweight, low-cost, sturdy material on facades:
Galvanized Guesthouse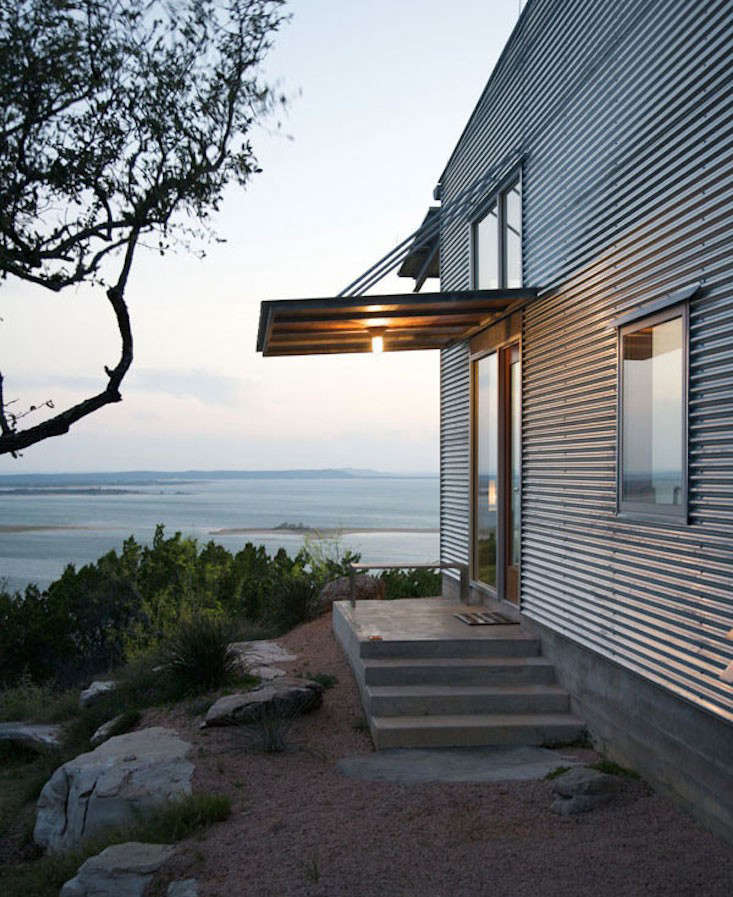 Above: Austin, Texas-based Mell Lawrence Architects designed a low-energy galvanized metal guest house that sits on a bluff above a lake.
Modern Barn
Above: A remodeled 19th century barn in upstate New York has a timber frame wrapped in a corrugated siding product known as SIPs (Structural Insulated Panels), a composite building material, which acts as framing, insulation, and exterior sheathing, all in one. For more, see A Rural Barn Transformed for Modern Living on Remodelista
Sonoma Pool House
Above: In Sonoma, Schwartz and Schwartz Architecture wrapped the facade of a 500-square-foot pool house in corrugated metal siding. For more, see Outbuilding of the Week: Tiny House, Big Views in Sonoma.
Shipping Container House
Above: A portable holiday house (which in a former life was a shipping container) has a corrugated metal frame. Designed by New Zealand-based Atelierworkshop, a side wall open, Barbie Dream House style, to create an outdoor patio. for more, see Outbuilding of the Week: A Shipping Container Transformed into the Ultimate Holiday House.
Corrugated Coop
Above: From corrugated coop to rustic luxe cabin, on a former pheasant farm and featured recently in The World of Interiors. Must be France. Photograph by Ricardo Labougle and styling by Loreto López Quesada, courtesy of Isabel López-Quesada.
For more of this project, see Outbuilding of the Week: A Chic Chicken Coop in France.
Salvaged Shed
Above: A galvanized garden shed sided with corrugated panels salvaged from old chicken coops in Napa Valley sits poolside in a St. Helena garden. For more, see Outbuilding of the Week: A Recycled Garden Shed in Northern California.
Vintage Barn
Above: A 100-year-old farm in central California boasts a barn clad in corrugated siding and a barn door painted lipstick red. For more, see California Coast: A Visit to Harley Farms.
Kit Houses
Above: Made from a simple kit of factory-built parts, Porch House buildings by San Antonio, Texas-based Lake|Flato Architects are made of corrugated metal and wood.
Canyon Life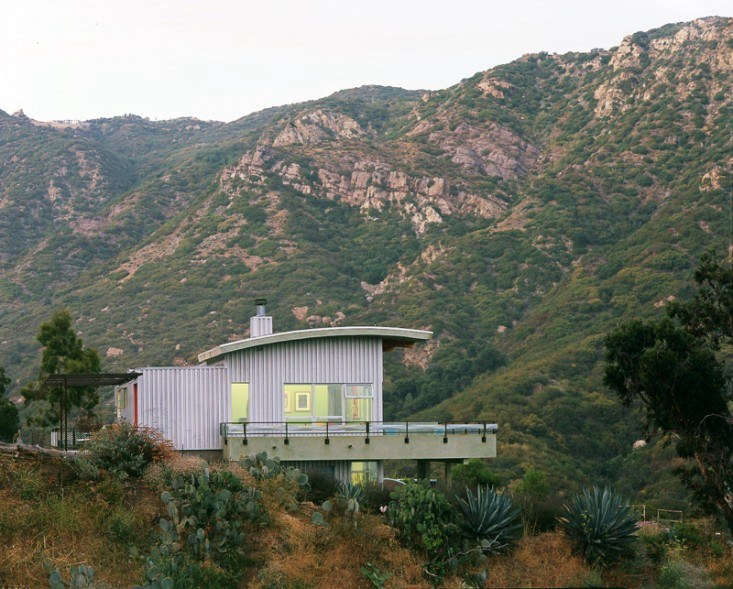 Above: LA-based architect Bruce Bolander decided to experiment with color when he designed a house for his family in a Malibu canyon, using the natural landscape as a backdrop to intensify the colors in the garden and on the corrugated facade. Photograph by Elon Schoenholz courtesy of Bruce Bolander.
For more of this project, see Architect Visit: At Home with Bruce Bolander in a Malibu Canyon.
For more ways to use corrugated or galvanized metal in a landscape project, see:
Finally, get more ideas on how to upgrade your home's facade with our Hardscaping 101: Exteriors & Facades design guide.
N.B.: This is an update of a post originally published March 20, 2015.
(Visited 1,312 times, 3 visits today)