By all accounts, landscape architects Gretchen Whittier and Kate Stickley are courteous people. They must be: after all, along with partner Vera Gates they have created hundreds of happy clients since the launch in 2003 of their San Francisco–based company, Arterra Landscape Architects (a member of our Landscape Designers Directory).
But when we asked Whittier and Stickley about what they wish their clients knew, they didn't hold back.
Here are 10 things that top their list (plus one bonus). While not all landscape architects might agree, most probably would—but are just too polite to tell you. Here, the gloves are off.
1. Your children will quickly outgrow your space.
Let's face it, time moves faster than we think. When you're in the weeds of the toddler years, it can be hard to imagine how much your kids will be changing and developing. "Your children will outgrow, out-throw, and out-kick your small lawn long before you finish creating your garden," says Stickley. "So don't plan your space around them."
She suggests that while your kids are young, let them blow off steam in the neighborhood park. Meanwhile, plan an outdoor space for your future teenagers and their friends—one that feels private (but is still within the property lines).
2. Xeriscape doesn't equal zero-water-scape.
"No living garden is a no-water garden," says Whittier. In fact, most drought-tolerant plants will require irrigation for at least five years to establish themselves. After that they'll need much less water, but they'll still need some.
To minimize water use, Whittier recommends installing a smart irrigation system that will do most of the day-to-day work for you. "After a three-month establishment period, you dial down the irrigation until you find the stress point," says Whittier. "Then you add back time just to the point of good plant health." Your smart system will still need seasonal adjustments, she notes.
3. Artificial grass isn't the answer.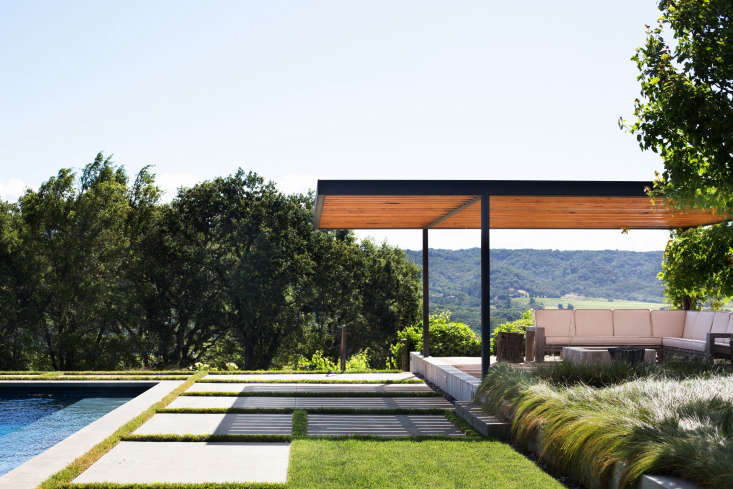 Looking to replace your lawn? Be aware that artificial grass isn't environmentally responsible or cost-effective. It retains heat and gives off gasses for years. What's more, the underlying granules tend to migrate into the water system—and into your house.
If you really want a lawn, says Whittier, "go with a grass blend designed specifically for your area's climate, and then balance out the water needs by using low-water plants and natives elsewhere in the garden." Even better: plant a meadow or a no-mow lawn—and enjoy your extra free time now that you don't have to mow, weed, or fertilize.
4. Gravel can't replace mulch.
Maybe you've hesitated to use mulch in your garden, because you know how messy it looks after it blows onto your patio and walkways. But while gravel may not get blown around, it's not a good replacement for mulch, since it provides no nutrients for the soil. Stickley and Whittier suggest planting ground cover near walkways, and giving it time to spread out. You may still need mulch, but perhaps only for one season.
For more ideas, see Hardscaping 101: Ground Covers to Plant Between Pavers.
5. A specimen tree won't live forever.
Designing and building your new house around a beautiful specimen tree isn't always the best course of action. Before even starting the design process, consult an arborist to find out the tree's health and longevity. Don't compromise the design of your house just to showcase a tree, however majestic it may be. "If it works, great!" says Stickley. "If it doesn't, you can bring in some new big trees for the right spots and watch them grow into legacy trees over time." (And of course, they will take time.)
6. Cutting corners isn't smart.
Pay for the best job you can get, and be prepared for unexpected costs. Often, a project's biggest expense is something you won't even see once the work is done, such as foundation or infrastructure.
And be sure you factor in labor costs. You might think a landscape contractor is expensive, but typically that means they're paying their staff a living wage and benefits. Because of that, their people will have been with them for years—and are bringing those years of expertise to you. Remember: quality design can only be realized through experienced contractors. "It takes a lot of time to get those details to look just like the photos you've been tagging," says Stickley. "Even if it looks simple, it wasn't! Don't believe those ridiculously low prices on the home improvement shows."
7. Patience is a must.
Expect time to move slowly. Building or renovating a garden may feel like the longest period of time with the smallest amount of progress. And the end of construction is just the beginning of refinement—a garden is living and ever changing.
Whittier and Stickley's advice: Go on vacation. The dustiest and dirtiest part of a remodeling project is the start, which involves demolition and installing utilities. Chances are good that the workers will come across something unexpected under all that dirt—say, a gigantic tree root or an untapped spring. Your being there won't speed up the process, so you may as well leave it to the professionals and enjoy some time away.
8. Codes change, inspectors happen.
However many years of experience your design team has, the process is bound to be long and inefficient. One reason for that is the ever-changing staff and officials at your local planning and building departments (where often, logic is not a factor). Be prepared for unforeseen happenstances, wait it out—and then, says Whittier, "be grateful that you all got out alive!"
9. The best neighbors are happy neighbors.
The folks next door may have enjoyed watching the sun set on the tree in your backyard for the past 35 years. If they think you don't care about that, they might suddenly become fast friends with someone in your town's planning department. Sometimes, neighbors just want to feel that their opinion matters, so before you submit your plans, review them with the neighbors. That simple gesture can keep things moving. To put it another way: Information is power. Be the one to control the flow.
In general, says Stickley, collaboration is key. "Your project will benefit greatly from an open dialogue between everyone involved."
10. Trust us.
"If you hire a professional designer just to draw up your own ideas, you're missing the point," says Whittier. "Trusting your design team will be money well spent." She also points out that "custom" means "we've never done it before—but it will be awesome. Don't expect to find the same thing on any of the design sites; just trust us."
11. Bonus tip: Fountains leak.
There's a reason why all those fountains in Europe are covered in lovely moss. That moss needs moisture (read: leaks) to grow. Make sure there's an autofill line in your fountain so your submerged pump won't burn out.
N.B.: Embarking on a garden makeover or landscape project? For more ideas, see: