Every garden needs a mystery. Half-hidden at the top of a flight of stairs, Los Angeles-based Griffin Enright Architects designed planting beds to draw the eye to the back of a Santa Monica garden where something pink and hazy beckons.
Photography courtesy of Griffin Enright Architects.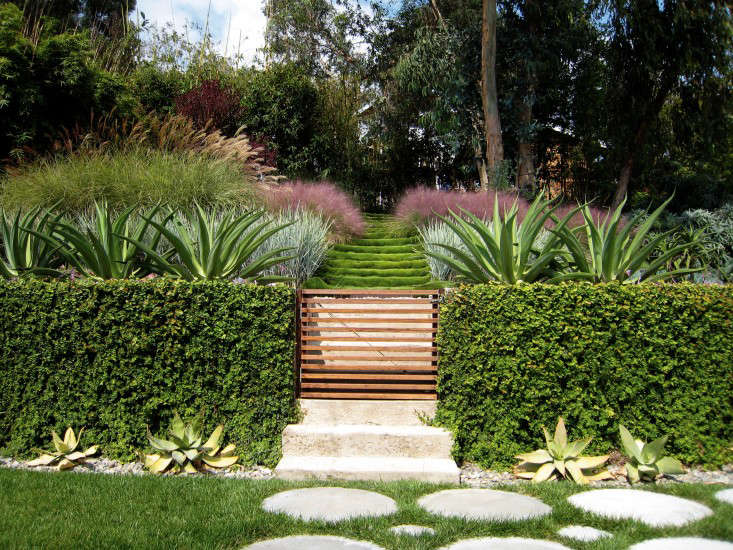 Above: At the base of a retaining wall are a row of Agave vilmoriniana (octopus agave) in a bed of gravel. A flight of stairs is flanked by mirror-image planting beds.
Above: Spiky and silvery, clumps of Leymus arenarius 'Glaucus' (blue rye) grow on either side of the steps.
Above: Blanketing the steps is Zoysia tenuifolia (Korean velvet grass), a low-growing variety used as a substitute for turf grass.
Above: The different heights and colors of three varieties of perennial grasses create a textured backdrop.
Above: Behind a clump of pink muhly is Miscanthus sinensis (maidenhair grass).
Above: Pink echeveria in bloom in the foreground, emphasizing the pink Muhlenbergia 'Pink Flamingo' in the back of the garden.
Above: Barely visible behind the pink muhlenbergia is a gravel patio with two white butterfly chairs.
For more landscapes with a backdrop of perennial grasses, see 10 Garden Ideas to Steal from Superstar Dutch Designer Piet Oudolf and Gossamer Gardens: 11 Ideas for Landscaping with Mexican Feather Grass.
Finally, get more ideas on how to plant, grow and care for various grasses with our Grasses: A Field Guide.
(Visited 223 times, 1 visits today)