The plants that grow around a swimming pool landscape can add privacy and create a serene, inviting landscape if you choose wisely. But pool environments are notoriously harsh on plants. A heated pool will raise nearby humidity levels. The reflective surface of the water also intensifies sunlight, and chlorine or chemicals (from splashing) can be a concern.
For plants that will survive and thrive around a swimming pool (in any climate), use our list of our favorite hardy pool plants—tropicals, succulents, shrubs, vines, and ground covers—as a starting point.
(N.B.: For our posts on other swimming pool design elements, see our Swimming Pools 101 guide. And watch for our upcoming posts on decking materials, coping, and tile for pools.)
Tropical Plants
Banana tree: With their towering, oversize leaves, banana trees (Musa) instantly create an oasis. These giant beauties grow quickly (some varieties scrape the sky at 25 feet) and prefer a sunny but sheltered spot near a wall or interspersed with other plants for protection (because their lush leaves get easily tattered from the wind). Bananas are also greedy for water and love good compost as fertilizer. While most bananas are frost tender, Musa basjoo is considered the hardiest.
Philodendron: For a tropical-modern palette, consider massing philodendrons. 'Xanadu' is a dense (but tender) evergreen, a low-spreading plant that clumps to three feet tall by five feet wide. It boasts heavily dissected glossy green leaves and appreciates a shady spot. The larger variety Philodendron selloum grows into a massive six-by-six-foot shrub and tolerates more sun. See more at Philodendrons: A Field Guide to Planting, Care & Design.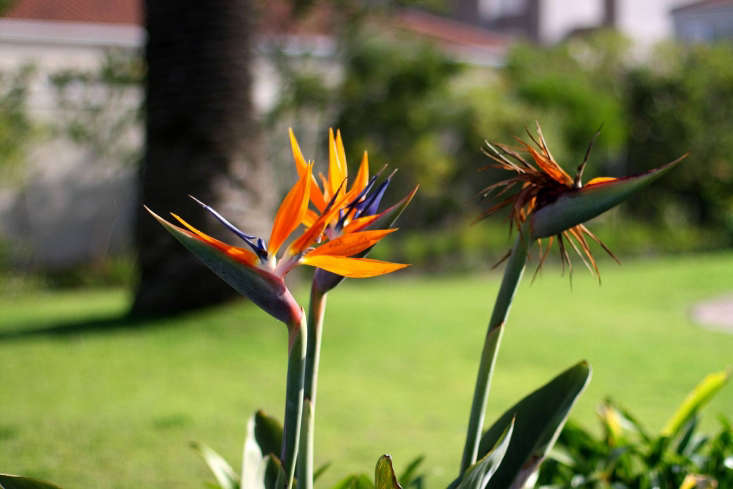 Bird-of-paradise: Strelitzia nicolai is a smart choice because of the fast, fountain-like growth and leaves that can grow to an impressive height of five to 10 feet. Like the banana tree, giant bird-of-paradise appreciates a sunny spot but also shelter from strong winds to avoid the leaf shredding effect. Site this tropical stunner where it can reach its ultimate height and spread of 15 feet wide. A much smaller and slower growing version, Strelitzia reginae is an option prized for its large bird-like orange and blue flower heads and bold evergreen leaves. Growing to only five feet tall, it is great in containers too.
Palm: Like banana trees and giant bird-of-paradise, palms create a strong vertical element and add privacy. One thing to consider, though, is the scale of your garden because some palms can grow to colossal heights. See more ideas at Palm Trees: A Field Guide to Planting, Care & Design. Here are some cold-hardy palm varieties:
Windmill palm tree (Trachycarpus fortunei) is hardy to 5 degrees Fahrenheit.
Mediterranean fan palm (Chamaerops humilis) is hardy to 5 to 15 degrees.
Pindo palm tree (Butia capitata) is hardy to 12 to 15 degrees.
California fan palm tree (Washingtonia filifera) is hardy to 15 degrees Fahrenheit.
Tropical plants to avoid: And then there's bamboo. While I love its versatility and adore how the towering stalks sway in the subtlest breeze, the papery leaves and aggressive roots can be a complete nightmare in a landscape surrounding a swimming pool. Plant only clumping bamboo—and make sure it's a good distance from any pool to be safe.
Succulents
For a more modern look around your pool, consider incorporating shed-free, easy succulents with their sculptural nature.
Aloe: Low maintenance, aloes don't shed foliage and they enjoy the heat; they thrive in full sun. Plus hummingbirds love to visit these bright blooms.
Agave: One of my favorite succulents (surrounding a pool … or just about anywhere) is Agave attenuata. Requiring little water and care, this bold beauty can grow to a height of five feet, provides a strong accent, and looks especially attractive surrounded by additional succulents such as aeoniums and low-growing sedums. Agave attenuata is frost tender to 25 degrees, so provide some protection if needed. Tip: When using succulents around a pool, avoid those with spines, needles, or thorns for obvious skin-exposed dangers.
Hardy Shrubs
Euonymus: Golden euonymus (Euonymus japonicus 'Aureomarginatus') is a brightly colored shrub of green and gold evergreen leaves. Versatile, requires minimal care, and can reach six feet tall.
Fortnight lily: Nearly ever-blooming, the exotic white flowers of fortnight lily (Dietes iridioides) burst from stiff evergreen blades that are two to three feet tall.
Hydrangea paniculata 'Limelight': Surviving harsh winters and full summer sun, this amazingly hardy shrub offers up to four different colors through the season. This generously sized eight-foot-tall beauty also produces pistachio-colored blooms midsummer.
Ground Covers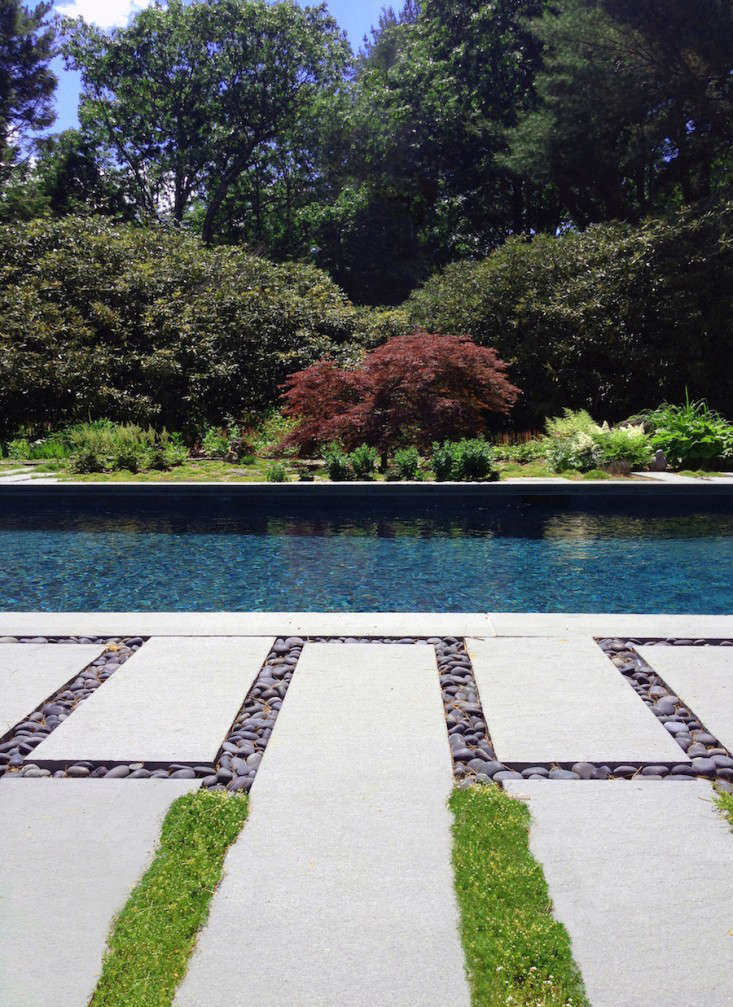 Scotch moss: A superb evergreen ground cover for between pool pavers, Scotch moss tolerates being walked on. While it flowers, the buds are too tiny to be noticed by bees.
Artificial grass: Another idea is to consider installing zero-maintenance artificial grass as a pool edging, simply because the area directly near a pool is extremely tricky due to foot traffic and splashes of chemicals.
Vines
Well-behaved vines can add privacy when trained up a trellis. Chlorine-tolerant vines include confederate jasmine (can also be a great ground cover when contained properly), bright yellow flowered Carolina jessamine, and the reliably tough climbing fig that attaches itself with self-clinging tendrils.
Chilean Jasmine: The wonderfully fragrant Chilean jasmine (Mandevilla laxa) is an easygoing vine (hardy to 10 degrees) that produces white flowers with a heady fragrance similar to gardenia.
See more of our favorite Perennials and Ground Covers in our curated guides to Garden Design 101. For more landscape ideas for swimming pools, see:
Finally, get more ideas on how to integrate a swimming pool into your landscape or exterior home project with our Hardscaping 101: Swimming Pools guide.