Nothing against the Golden State, but there aren't many things that make me want to pack up my things and move to California. (I'm an East Coaster, through and through.) But I have to admit that costume designer Gordana Golubovic's luxe, secluded LA backyard has me questioning my pool-less New York life.
When Golubovic, who designs costumes for film, purchased her house in LA's Los Feliz neighborhood, it was in ruins: "Abandoned for seven years, it was boarded up by the city, ravaged by squatters, invaded by vines and branches. On the day we came it was gloomy and rainy. There were drawings on the wall, stained carpets, the electric and water were disconnected, and with all that it was love at first sight. I could not wait to get started." Here's a look at the exteriors and gardens, which she transformed with the help of landscape designer Becky Bourdeau from local garden shop Potted—gravel courtyard, swimming pool, and sunken fire pit included. Consider me convinced.
Photography by Lauren Moore.
Curb Appeal
Golubovic transformed the exterior of the Spanish-style house, painting the facade in Benjamin Moore's Simply White and planting a front garden. The team worked around several large Euphorbia candelabrum that surround the house: "I think these are the most amazing trees," Golubovic says. "They are so statuesque."
Front Garden
For the front garden, Golubovic chose fragrant plants to welcome visitors: lavender, rosemary, black sage, verbena, yarrow, blue flame agave, velvet elephant ear, artemisia, foxtail agave, and golden barrel cactus. ("I have a plant problem, as you see," she admits. "I'm always throwing in more.") She also planted rose geranium, which she adds to salads and cocktails.
By the front door is a secret passageway that leads into the powder room. The team added self-closing hinges so no door handle would be needed on the outside: "It needed a lot of engineering to get it right, but I think its the coolest thing in this house," Golubovic says.
Backyard Patio
Creeping fig stretches over the doorway. "It was here originally, but we cut it down almost to the stub because no one had maintained it and it looked bad. The roots were thick and messy," Golubovic says. Now it covers much of the house, turning the walls into vertical gardens.
The many entryways to the backyard make it feel as though the gardens and interiors are one large, multi-room living space. When all of the French doors are opened, Golubovic adds, "the breeze is amazing!"
Swimming Pool
For privacy (the house is built into a  hillside, and there's a neighbor beside the pool area), the team removed the existing fencing (rotted except for one section) and installed 100 feet of new fencing around the perimeter. ("My lovely neighbors split the cost," Golubovic adds.) The result feels intimate and secluded.
Gravel Courtyard
Succulents Garden
Golubovic wanted to make the hardscaping multifunctional. Case in point: the concrete steps leading from the dining room to the pool. "There were these concrete stairs that looked small and not to scale, so we poured these long, deep stairs," she says. "We love sitting on stoops and having extra seating for guests. We have extra pillows just for that!"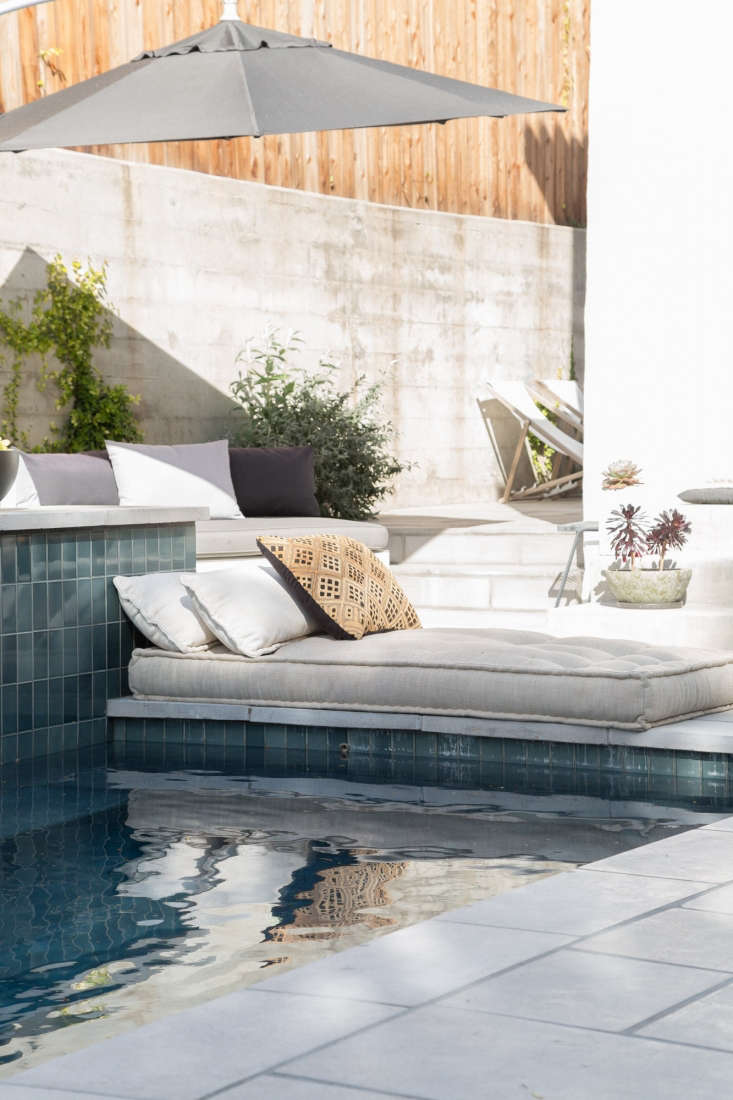 Fire Pit
The area where the fire pit is now was not always chic: Before, there was "a deep hot tub with an angel on it," Golubovic says. The team used the depth of the space to create a poured-in-place concrete bench around a fire pit, with views of LA's skyline.
Outdoor Dining Room
The outdoor dining room is a high/low mix, including a wooden dining table found on Craigslist and two wooden folding chairs from a junk store in North Hollywood.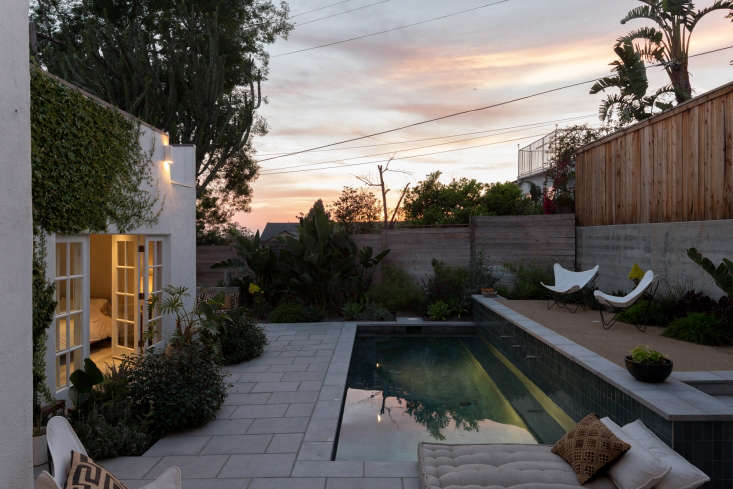 Getting geared up for summer? Check out these covetable swimming pools:
(Visited 2,942 times, 3 visits today)