First there was a vineyard on a slope. From the top, you could enjoy panoramic views of Healdsburg's Dry Creek Valley: a patchwork of peaked roofs and winding roads and endless rows of grapevines. The owners, a family who lived in San Francisco, wanted to build a house that would take advantage of the spectacular vistas.
Next came the architects' plan. "They plunked the house right in the middle of the vineyard—and it turned out to be the most magical thing on world," says landscape architect Kate Stickley of San Francisco-based Arterra Landscape Architects.
Working with Sutro Architects, Arterra designed a landscape respectful of the vineyard—with a swimming pool, fire pit lounge area, and scented garden of roses and lavender. We visited on a clear morning:
Photography by Mimi Giboin for Gardenista.
Swimming Pool
A major challenge for the landscape was to create concrete retaining walls on the slope that would feel balanced (both in front of and in back of the swimming pool). "To set the terrace grade, we didn't want it way up in the air so it would feel like a high rise looking own," says Stickley. "We wanted a connection to the earth."
Arterra set grade to economize; after excavating for the swimming pool, soil was re-used as fill in the terrace area.
Strips of sod fill the joints between the pavers. "You're asking a lot of plants to go between joints like this because the pavers give off a lit of heat. Normally we don't do it in joints that are less than 4 inches wide because the heat will fry the plants," says Stickley. An irrigation system with sprayers keeps the turf green.
Outdoor Shower
Behind the pool, the back retaining wall became a design feature, with a built-in outdoor shower. "The shower is in the perfect spot for use and gives the wall a purpose," says Stickley.
Fire Pit Lounge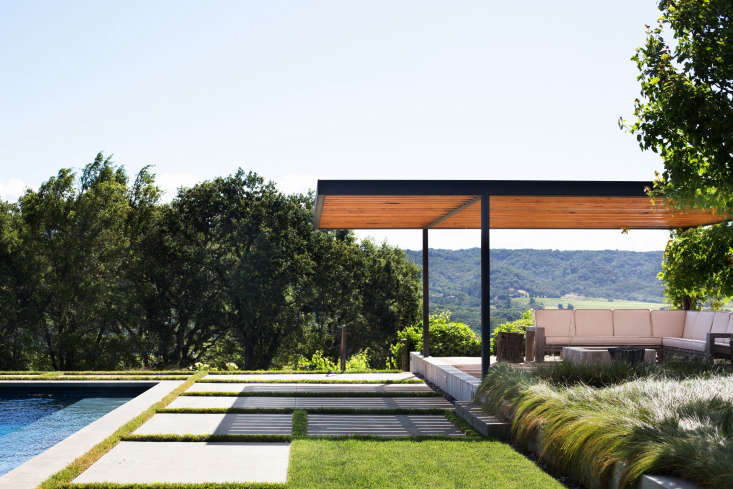 The pergola creates both shade and a sense of space appropriate for a human scale, says Stickley. "If you didn't have that cover, you would feel very exposed being out in this big vineyard; we wanted to have that sense of coziness but not block views."
Outdoor Swing
Garden Path
"This was intentionally meant to be a garden area," says Stickley. "Our client's mom is an avid gardener and was involved in process. The clients wanted scent, an old-fashioned garden feel and a softening to the landscape. As you approach from that path, you have a romantic old-world feel."
Plants were chosen for their compatibility with the surrounding vineyard. "The roses you often see planted at the end of vineyard rows are the canary in the coal mine," says Stickley. "They're more susceptible to problems so if you drive by and see the roses wilting, that's a call that something is getting to them and you need to do something about it."
Color Palette
"If you look around the California landscape, the native plants are mainly yellow and purple," says Stickley. "We wanted to give that palette a more ornamental feel."
"The restrained plant palette was intentional," says Stickley. "They're not living in this full time, so we wanted to use materials that wouldn't take much maintenance, and that idea extended to the plantings."
Hillside Path
"We worked with the vineyard manager, who was great to work with," says Stickley. "When doing grading and development, we didn't want to take out more rows of vines than we needed to. Balancing their yield from the vineyard with what they wanted from their home was fun and resulted in very dramatic setting."
For similar landscape lights, consider directionally focused LED down lights such as the Volt Innovator Path And Area Light; $49.97 (available in several finishes). And see our design guide at Hardscaping 101: Garden and Pathway Lighting.
For more of our favorite landscapes from Arterra Landscape Architecture, see:
(Visited 216 times, 2 visits today)