This Southhampton landscape has an inviting turquoise swimming pool, shade canopies, and an outdoor shower surrounded by lavender: Spanish siestas meet summer in the Hamptons.
"The renovation completely opened up the house to the outside with a few simple gestures and a restrained material palette, changing drastically the way the house is experienced," architect Maria Milans del Bosch wrote in an email pitch.
I replied to del Bosch and learned she originally was from Madrid and had moved to New York City pursue a master's degree at Columbia University; now, she works on projects in both Spain and the US. The Southhampton house belongs to Spanish friends, a couple with young kids, who "love to spend the weekends and holidays outdoors, and their hope was to be able to enjoy the outdoors with their family and friends the way they would normally do it in Spain," she said.
As part of a renovation of  the 1960s ranch-style house, she created a series of outdoor rooms—a pool area and a long veranda, shaded by airy shade sails, plus an outdoor kitchen—that flow seamlessly, indoors to out, for hot summer days in the Hamptons.
Photography by Montse Zamorano, except where noted.
When del Bosch started work on the project, she says, "The rooms in the house had no relationship with the outside whatsoever. It struck me that the garden was divided up into three completely independent areas due to the pool fence and the driveway to the garage."
Del Bosch, who designed the layout and selected the hardscaping materials, removed the obtrusive fence and the paved driveway, turned the garage into an airy bedroom, and stained the existing shingle siding gray using Arborcoat Stain in Semi Solid from Benjamin Moore. The main addition: a veranda extending "along the the east-west axis of the property, creating a cascade of 'outdoor rooms' to be enjoyed during the spring and summer months."
Both the shade sails and the aluminum structure were custom-made by Spanish company Kettal.
I wanted to deliver a structure with almost no maintenance for the client," del Bosch says. "Given how close the house is to the beach, using powder-coated aluminum for the frame was the best option to withstand the high salinity levels," no rust included. The result is a long veranda that feels luxurious but laid back and distinctly Mediterranean.
(In the wintertime, the clients can remove and store the cloth sails, "letting direct sunlight inundate the interior of the house.")
Before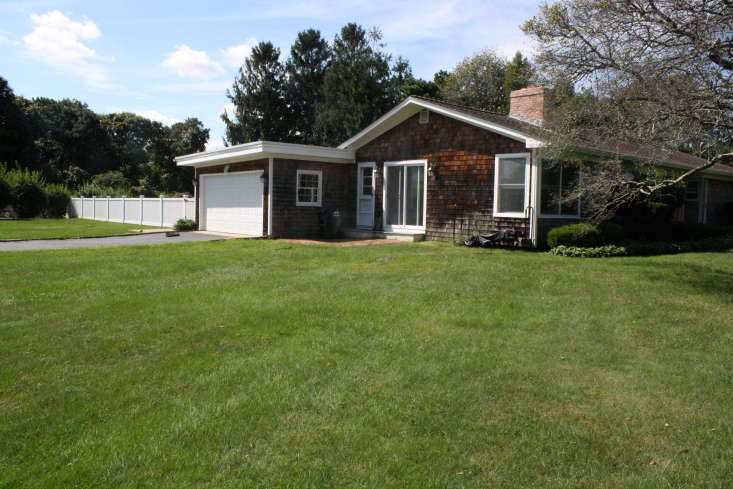 Where the kitchen and outdoor dining space is now, previously there was a rundown brick patio and small doors that didn't make the most of access to the lawn. The bedroom (and sliding glass doors) replaced the attached garage.
In a case of counterintuitive design, del Bosch foreshortened the poolside patio and planted lavender and grasses beside the house, making the pool feel longer and more modern.