Thank you for the luxury of winter. When else would gardeners have time to scheme? Whether overhauling a flower border or just tweaking a few colors, now is the season to plan for the spring and summer show. "Once we get to April, you'll be out in the garden and you'll be going to the garden center to grab whatever plants are there," says Barb Pierson, the nursery manager at White Flower Farm.
No, surprise, winter is also the best time to catch up with Pierson. We found her in her office at the venerable Litchfield, Connecticut-based mail-order plant seller, and asked her to share  her top 10 tips for designing a beautiful flower bed. Here they are:
Photography by Sara Barrett for Gardenista.
1. Good Bones
Above: Good bones are in the background in a trial bed at White Flower Farm, lending impact to the colorful flowers in front. The gold-leafed shrub in the middle of the border is Cotinus coggyria 'Golden Spirit' and in back is Cornus alternifolia 'Golden Shadows' is visible at the back of the border.
Before you add flowering plants, design the bones of a flower bed. Shrubs, small trees, and hardscape elements such as trellises or a bird bath will draw the eye and create a sense of depth. "You need to create focal points," says Pierson. "Make sure your choices work with the architecture of your house."
A trellis can look good in the garden of a contemporary house, she says, "but makes sure it's not too ornate. And a cottage rose garden is probably not what you want to have if your house is contemporary."
2. Complementary Colors
Above: Orange Zinnia 'Zowie! Yellow Flame' ($6.95 per plant) complements the dark purple of Salvia 'Amistad' ($8.95 per plant).
"I love purple and orange and yellow together," says Pierson, who recommends planting in repetition to make a design feel intentional. "A pattern is one of those things that really works in a flower bed," she says. "And plant six of something, not one, so you have swaths or drifts of repeated color."
3. The Power of Pink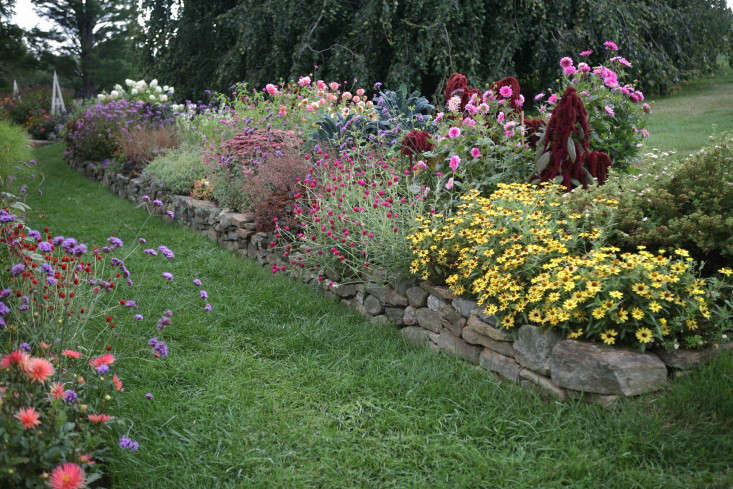 Above: In the foreground is low-growing  Zinnia 'Profusion Yellow', behind which a tall burgundy creature rises (that's Amaranthus cruentas 'Oeschburg').  Also at the front of the bed is deep pink Gomphrena 'QIS Carmine' (available seasonally), behind which grows a clump of tall pink Dahlia 'Onesta' ($8.95 apiece).
"My personal favorite color combination is white, blue, and pink," says Pierson.
Her suggestion for a no-fail combination of the three colors:
White: A long-blooming compact shrub like Hydrangea paniculata 'Bobo' ($29.95 apiece from White Flower Farm).
Blue: Pick a variety of perennial salvia.
Pink: A rose, such as Pink Double Knockout, and then as the season progresses, rely on pink annuals, such as New Guinea impatiens or portulaca.
4. Don't Plant in Rows
Above:  In a trial bed, ppink Gomphrena 'Fireworks' and the yellow perennial Patrinia scabiosifolia are accented by Pennisetum purpureum 'Princess' grass (in the foreground).
"Irregular shapes are better in a flower bed," says Pierson. "You want it to look more natural. You don't want circles. Plant thing off-center."
5. Lasagna Mulch
Above: The deep blue of Salvia 'Indigo Spires' is a perfect foil for Rudbeckia subtomentosa 'Henry Eliers'.
As with the entree, lasagna mulch is assembled in layers. First Pierson layers from six to 10 sheets of newspaper on the surface of a flowr bed, wetting each sheet with a hose. Then she spreads a top layer of two or more inches of mulch on time. "I do it everywhere because I  don't have time to weed," says Pierson.
6. Hot Colors
Above:  Zinnia 'Benary's Giant Salmon Rose pops against the fuchsia pink o Gomphrena QIS Carmine'. In the background, orange Tithonia 'Fiesta del Sol' is a favorite of butterflies.
Mixing hot colors such as orange and pink in a flower border will look good so long as you "plant in big blobs of color, and let the plants look a little jumbled up together," says Pierson. "Don't separate the colors neatly. That's a huge design tip."
7. Annuals Are Your Friends
Above: Even a flower bed of established perennials can benefit from a brightly colored annual flower or two.. Shown here, Lantana 'Rose Sunrise' "is almost like a rainbow of color in each flower," says Pierson.
8. Extend the Season
Above:  The white powder puffs of the compact shrub Hydrangea paniculata 'Bobo' ($29.95 apiece) rise above the burgundy leaves of Coleus 'Peter's Wonder' ($6.95 per plant) visible in the left foreground. The dark purple spires belong to Salvia 'Amistad' (a favorite of hummingbirds).
In a flower border, make sure you have some plants with a long bloom season; shrubs such as hydrangeas are a good choice, says Pierson.
9. Dahlias, Darling
Above: Seen from another angle, the lavender dahlia is 'Mingus Randy' ($8.95 apiece). The pale purple ground cover is the wonderfully fragrant Lobularia 'Lavender Stream', which blooms all summer with no deadheading. Barely visible in the background behind Salvia 'Amistad' is hazy pink Cleome 'Senorita Rosalita'.
To add color in mid- and late-summer borders, dahlias can't be beat. Their height, long-blooming flowers, and dramatic shapes and colors make them the star of a summer garden.
10. Add Grasses
Above: "Grasses are your exclamation points," says Pierson. They also give you texture, and they don't take away from color combinations. "
(Visited 161 times, 1 visits today)