If you live in a climate warm enough to make an olive tree happy, consider your landscape dilemma solved. One olive tree, dramatically situated, is all it takes to inspire awe—and poetic allusions to ancient boughs that sheltered Socrates and his students.
Legend has it, in fact, that the actual olive tree that shaded the philosopher still stands in Athens, as gnarly and cankered as you would expect of an old man who has lived more than 2,500 years. The story may well be true, as olives are one of the longest-lived of all trees (keep this in mind when choosing where to plant one as the spot you pick will be its home for centuries).
Olea europaea (of which there are hundreds of varieties, each with its own distinctive fruit) hails from ancient Mesopotamia and Persia and is a ubiquitous feature of the landscape in warm regions surrounding the Mediterranean Sea. You can grow an olive tree of your own if your winters don't get too cold—it will tolerate a freeze, but not temperatures that dip below 20 degrees Fahrenheit.
Not everyone likes to have olives raining down on the front walk; if that describes you, plant a nonfruiting variety. For the rest of us, Sarah has a recipe for DIY: Home-Cured Olives.
Here are 10 of our favorites way to use an olive tree in your garden.
Anchor a Courtyard
A single olive tree in a Texas courtyard needs no further embellishment to carry the landscape (although the sound of burbling water from a small nearby fountain is always nice).
Shade a Space
Cooking outdoors creates a conundrum: You don't want the sun beating down on your head but a canopy or shade umbrella can trap smoke and make you feel as if you are the meat sizzling on the grill. A strategically situated olive tree creates shade and allows air to circulate.
Create a Canopy
If you want to create an outdoor room without having to build anything, pull some chairs outdoors to sit beneath the generous boughs of an olive tree. Suddenly you have a roof over your head (and can still see the stars).
Promote Privacy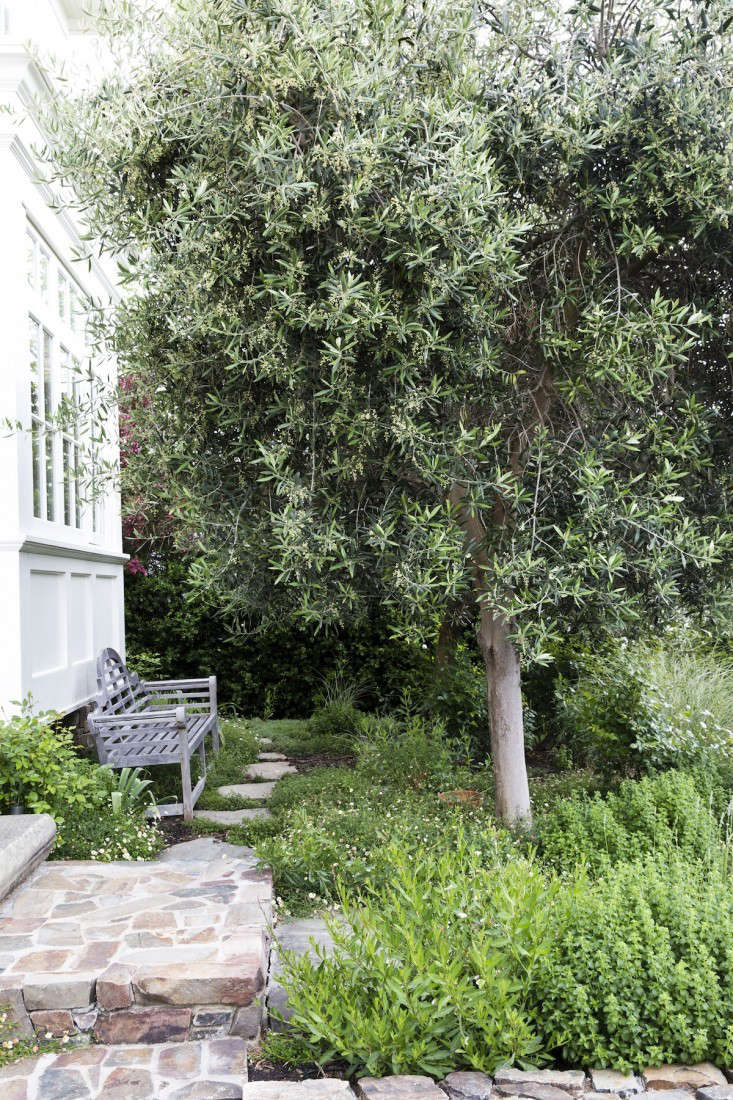 Olive trees grow ver-r-r-y slowly, a fact that prompted Jean and Ken Linsteadt to buy a large specimen tree for their front yard in Mill Valley. If you want to screen the neighbors' house, invest in a large tree. "We're hidden from the street, and my husband sits in front and smokes a pipe a lot," Jean says. "It's amazing the conversations he's overheard from people passing by."
Soften a Fence
A row of small olive trees against a fence does the same job as a clump of shrubbery, adding a layer of texture and softness to the landscape. (An olive tree's airy gray-green leaves look particularly good against a black backdrop.)
Add an Allée
Add drama and formality to a path by planting identical rows of olive trees on either side.
Honor the Horizon
The twisted trunk and gnarled branches of an olive tree will, like a sculpture in the garden, focus attention both on itself and on a distant view.
Frame an Entryway
Twin olive trees on either side of a front path create a pleasing symmetry to frame a facade.
Play Off Gray
The soft gray-green shades of an olive tree's foliage look particularly good when set against both neutral colors (such as natural gravels) and deep, velvety greens (such as the waxy leaves of boxwood).
Hold a Hammock

Above: For more, see Off the Grid: At Finca Es Castell, Mallorca.
You don't need a straight trunk to hold up a hammock, for centuries.
For more Garden Design 101 ideas, see Olive Trees: A Field Guide to Planting, Care & Design. Read more:
(Visited 8,185 times, 25 visits today)