Though she wasn't born in Los Angeles, garden designer Lauri Kranz has lived there since 1993, and knows her way around the hills and valleys. A former singer-songwriter, Lauri's the founder of Edible Gardens LA, and spends her days building, planting, and maintaining stylish organic vegetable plots and edible landscapes for L.A. residents (including more than a few celebrities), chefs, and schools.
When we asked Lauri how to create the quintessential L.A. garden, she was generous enough to suggest the ideas of several other designers whose work she admires—including Matthew Brown, who favors the "kooky eclectic southern California coastal garden." She also gave us a few bonus links to Instagram images that offer inspiration. Here are her 10 tips to get the groovy L.A. look in your garden:
1. The One-of-a-Kind Water Feature
The main benefit of a water feature? "The soothing sound helps us relax and enjoy our surroundings," Lauri says. The unique water feature shown here was repurposed from a piece of early California pottery; to Lauri, it represents "the best of California design." It's actually in Ojai, where it sits just outside the pool cabana on a property designed by Studio Shamshiri, a firm launched by Pamela Shamshiri and her brother Ramin Shamshiri.
2. Courtyard Dining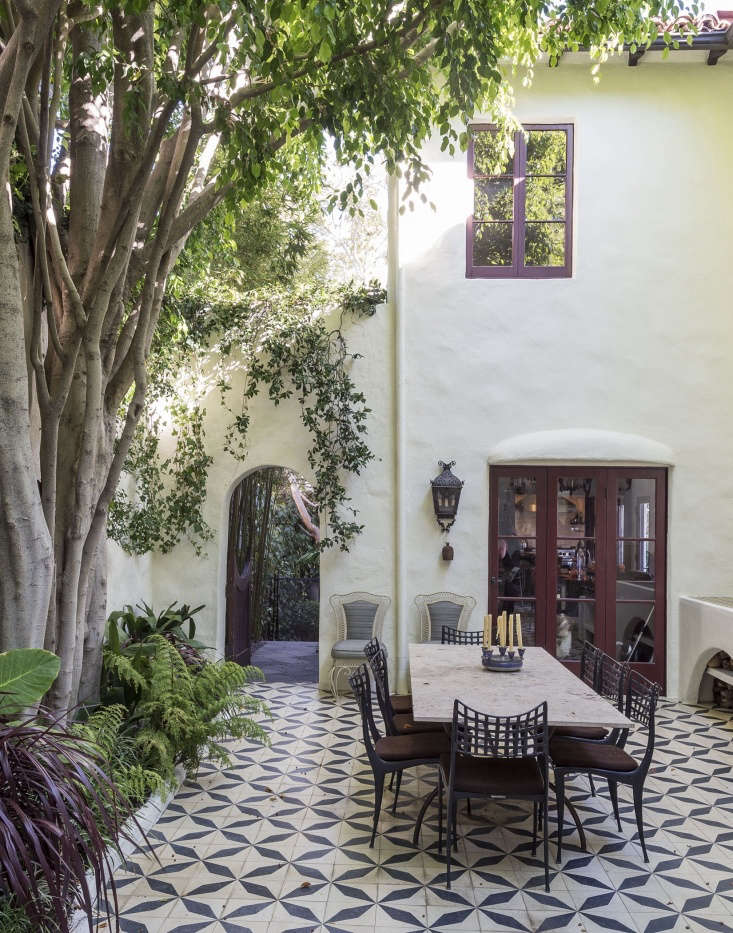 L.A. residents love to have outdoor dinner parties with family and friends. Lauri admires this tiled courtyard by landscape designer Matthew Brown in the Los Feliz neighborhood. "Matthew put in plantings that drape over the walls and envelop the space in greenery," she says. "He also added low-growing, shade-loving plants under the trees. It's a truly sexy courtyard; you don't even realize you're in the middle of the city."
California ceramics sculptor Stan Bitters designed the fireplace; the cement tiles were custom made.
3. The Exotic Poppy
"If I had to pick one flower to grow in my garden, it would be poppies," says Lauri. "The more exotic the better. They're beautiful at every stage: when they first emerge from the earth; the heavy buds when they're ready to open; their spectacular flowers; and finally their sparse and otherworldly seed heads."
See the look on Instagram: @ediblegardensla where Lauri snapped this plum-colored Black Swan poppy, available from Baker Creek Heirloom Seeds.
4.  The Low-Water Garden
For the last five years an unending drought stalked L.A., and the city's resourceful gardeners learned to cope, creating gardens that would thrive without constant irrigation.
5. The Drama of Fire and Water
A pool is so L.A. But a pool with a fire feature that runs the length of one side? "Landscape designer Christine London anchored this pool with a magnificent fireplace that warms the homeowners and their friends after an evening swim," says Lauri. "She knows how to combine glamour and function in the most luxurious ways."
6. Destination Garden
"In Los Angeles' canyons and hills, you sometimes have to wander to find just the right place to grow food," says Lauri. Caption
More on Instagram: @ediblegardensla, to see a raised-bed vegetable garden Lauri's company created on a hillside. "It doesn't sit just off the house; you need to seek it out," she says. "It's up above the roar of the city, but the city is very much in view, along with palm trees and California live oaks."
7. The Secluded Fire Pit
In LA's canyons, a fire pit set against the backdrop of nature is "the perfect place to gather with friends or just enjoy a quiet moment on your own, surrounded by all the nature and beauty that canyon life has to offer," says Kranz. Choose comfortable, stylish seating; site the fire pit among drought-tolerant, low-maintenance plantings, and accessorize with a woolly throw to take off the evening chill.
See the look on Instagram: @ivettesoler. "I love this beautiful space created by garden designer Ivette Soler," Lauri says.
8. Pick Your Own
Gardeners in Los Angeles have the luxury of growing food 365 days a year—and many take advantage of that by planting fruit trees in abundance.
"Victoria Morris, who's one of my favorite ceramicists, has a garden filled with fruit trees of every kind," Lauri says. "Her beautiful ceramic bowls are always loaded with fruit she's just harvested." Lauri sells Victoria's pieces at her online shop , and says, "Her work captures the essence of California, and Los Angeles in particular."
9. The Chic Garden House
Especially when you're growing an edible garden, you need a way to keep deer, squirrels, raccoons, and other rodents from dining out on your precious produce. Here's one very elegant solution, created by Edible Gardens LA for clients living on a shady property in the Hollywood Hills. "This flat piece of land high above the main house was the only place with enough hours of sun for a vegetable garden," says Lauri. "To keep out the deer that roam the hillside, we built a Modernist-style garden house. The screens are large enough to let the bees and butterflies in, but small enough to keep critters out."
10. Artwork Outdoors
With its mild winters, Los Angeles has the ideal climate to embrace outdoor living. "I like to create outdoor spaces using art that's usually housed inside," says Lauri. Here, textile artist Tina Simko Marrie's Wall Hanging is displayed in a covered patio, and one of her hand-loomed blankets is tossed over a butterfly chair.
"Tina, David, and Amy are all L.A.-based artists whose work is available at our online shop," says Lauri. "Think Laurel Canyon porch living, surrounded by the art of California artists."
N.B.: For more of our favorite Southern California landscapes, see: