The more we see of Cor-ten steel in the garden, the more it appeals to us. To everybody else too, apparently–we're suddenly seeing the handsome weathered hardscape material everywhere we look.
We're seeing Cor-ten steel's natural rust finish on fences, raised garden beds, and retaining walls. (Cor-ten is actually the trade name of a material manufactured by U.S. Steel. But, like Kleenex, the copyrighted name is now commonly invoked to refer to a whole category of products. In Cor-ten's case, that's any steel that develops a protective layer of rust when exposed to weather.)
What sets Cor-ten apart from regular steel–and one of its biggest benefits in the garden–is that it becomes harder and stronger when exposed to weather over time. Note that it's not always ideal: Cor-ten isn't well-suited to hot, humid climates, and Cor-ten will leach rust-colored water and stain paths and patios. But in the right setting, Cor-ten is both durable and beautiful. Here are eight ways to embrace burnt orange in the garden:
1. Fire Pits
Above: A 42-inch Cor-ten steel fire pit with fieldstone seating is the centerpiece of a back meadow in a Sonoma garden designed by landscape architecture firm Terremoto. Photograph by Caitlin Atkinson.
For more of this project, see Landscape Architect Visit: Terremoto Creates Serenity in Sonoma.
2. Retaining Walls
Above: Nelson Byrd Woltz created a circular cascade of Cor-ten steel retaining walls for a contemporary Connecticut house. For more, see Playing Matchmaker Between a House and Its Site.
3. Raised Beds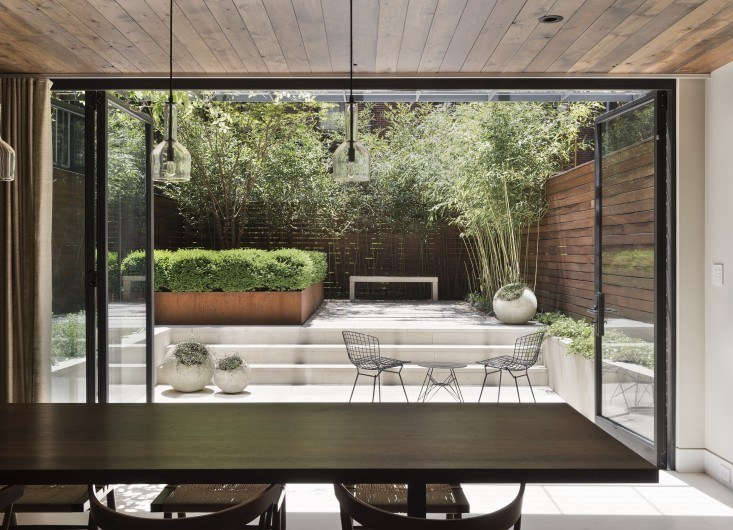 For more of this project, see Before & After: From "Fishbowl" Townhouse Garden to Private Oasis, in Manhattan.
4. Gates
For more, see Architects' Secrets: 10 Ideas to Create Privacy in a Garden.
5. Walls
Above: This ultra-modern Berkeley, CA garden by Mary Barensfeld Architecture was a finalist in the 2014 Gardenista Considered Design Awards. The Cor-ten steel screens provide privacy while allowing breezes and leafy bamboo into the space.
6. Fences
For more of this garden, see Designer Visit: A Garden Hidden in SF's Mission District, by Daniel Nolan.
7. Water Features
For more of this project, see A Manhattan Roof Garden with a Panoramic View.
8. Snake Barriers
For more of this project, see A Family Campground in California Wine Country, by Malcolm Davis Architecture.
Keep browsing garden inspiration in Gardenista Roundup: For Love of Boxwood;Architects' Roundup: 10 Garden Stairways, and Garden Envy: 10 Dramatic Drainage Ideas to Steal.
(Visited 1,405 times, 4 visits today)