Hidden from the street behind a shou sugi ban gate in San Francisco's Mission district, a small L-shaped front garden is pared down to the essentials. For a busy couple with two babies, designer Daniel Nolan knew restraint was the key.
The garden had to do triple duty—as home entrance, walkway, and entertaining space. Nolan created a space that's neither too stark nor cluttered, with a lot of green plants and nothing too colorful to add disruption. "It was important not to overcomplicate the design," says Nolan, an in-house designer for San Francisco-based Flora Grubb Gardens. "We focused on the essentials and didn't throw in things at the last minute."
Photography by Caitlin Atkinson.
Above: A charred cedar door with shou sugi ban treatment opens to reveal the entryway garden. Flanking the entry is Cotinus coggygria var. purpureus (smoke bush) and a phormium (at right), and Strelitzia nicolai (giant bird of paradise) and Oxalis burgundy, on left. Their colors play dramatically off the darkened wood.
Above:  The view from the entryway, looking toward gate.
Apart from the concrete front stoop, which was already on site, Nolan wanted to keep the hardscape across the entire space consistent. And because he was going for simplicity of design, using lots of containers and raised beds was out.
Above: A fig tree came with the property and dominated that corner. Instead of pulling it, Nolan cut it back dramatically and espaliered it. Aspargus retrofactus and Alacanterea odorata grow in the corner planters
The pavers are Arizona flagstone with an infill of black basalt. Initially Nolan thought of specifying gray decomposed granite, but when his client suggested black, he jumped on it. When using basalt, Nolan warns that it moves a bit so proper spacing is important. Huge gaps are problematic— tighter spacing is preferred.
Above: "The tree selection was important," Nolan says. "I wanted to do three so that it felt like an installment and led you to the house." Evergreen Brachychiton acerifolius, commonly known as Illawarra flame trees, line up against Cor-ten steel siding. Nolan chose this species because it's very drought tolerant, tidy, and unusual in San Francisco. Plus, it coordinated well with an espaliered fig nearby. Brachychiton branches at a 45-degree angle and will develop a bulbous trunk over time. Dramatic red flowers broom in mid to late fall.
"Repetition in design is key," says Nolan. "It's important not to get distracted with accessories and little knickknacks and to keep your vision really clear."
Above: The entryway features Galanter & Jones benches, petrified stumps as side tables, and large potted specimens. All plants are irrigation-free. (Plants, accessories, and furniture are available at Flora Grubb Gardens.)
Above: The cool blue color of Yucca rostrata is dramatic against shou sugi ban siding, which runs the length of the walkway. The charring treatment was done on site by a fencing specialist.
Nolan suggests that when picking a specimen for a container think about longevity and to pick one without a complicated root structure. "Go for a dwarf or go for a succulent," he says.
"He'll get thinner over time, and quirky. And I think that's charming," Nolan says about this yucca. "Plants are going to grow, so enjoy it." Nolan typically uses black decor rock as top dressing for his container plantings, another reason the black basalt underfoot became a natural choice.
Above: Cussonia spicata, in the Araliaceae family, takes an interesting turn in this blue pot.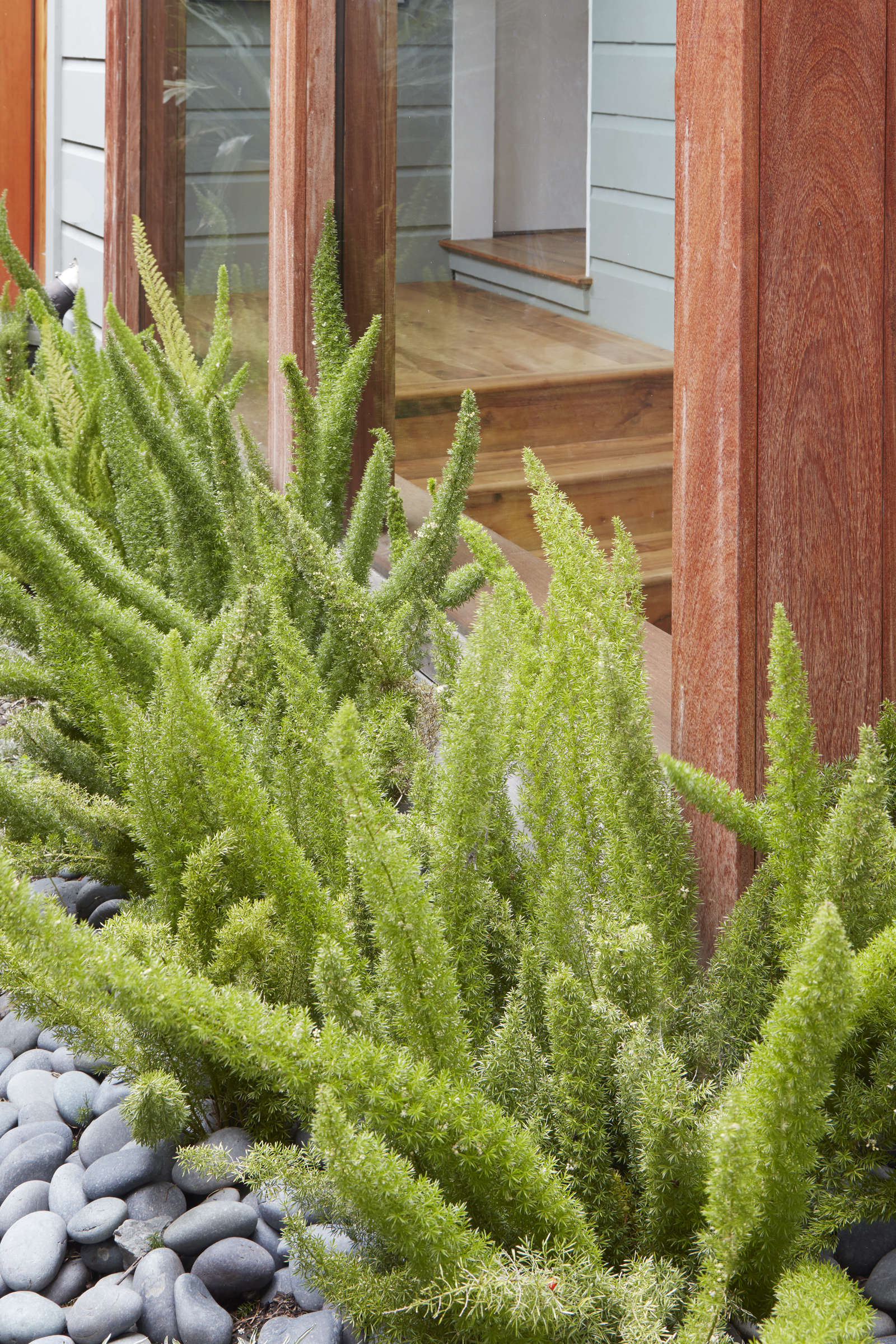 Above: Asparagus ferns and Mexican river rocks offer a clean edge design. At 2 to 3 inches, this river rock is purely decorative. Nolan is careful not to place shedding trees or plants near river rocks because the maintenance becomes a headache.
Above: The fast-growing, evergreen vine of Lonicera hildebrandiana (Giant Burmese Honeysuckle) climbs along the Cor-ten siding and up steel cables. A Cor-ten specialist treated the cables and screws with acid to match the steel siding. Honeysuckle flowers will bloom in spring and into fall. Dymondia margaretae ground cover grows in and leads to a potted Furcraea in a pot.
Above: Nolan created a green-on-green tableau with Furcraea foetida in a green vessel. Furcraea is a tropical plant with leaves traditionally used to produce a natural fiber similar to sisal. Hugging the pot are two varieties of Chamaedorea palms—plumosa in back and costaricana on the side.
Above: The clients provided their own table and chairs for the outdoor dining area.
For more gardens designed by Nolan, see his portfolio at Flora Grubb Gardens.
For more Bay Area design inspiration, see: