Yet another contribution to the "Only in Europe" file: an architect-designed family cabin sited in the middle of a public park.
The Poplar Garden House is a small cabin in Groningen, the Netherlands, designed by Onix architect Haiko Meijer for his family. The cabin sits in the Meijers' allotment in a garden park in the center of the city, where plots are rented to anyone wishing for space to garden. Small structures are allowed on the plots, but are limited in size to about 200 square feet.
The Meijers' structure is a tiny story of split personalities. Because their sunny plot rests between an irrigation ditch and a playground, the architect designed the home accordingly, oriented toward an "introvert" garden to the north, and an "extrovert" to the south.
Photography courtesy of Onix.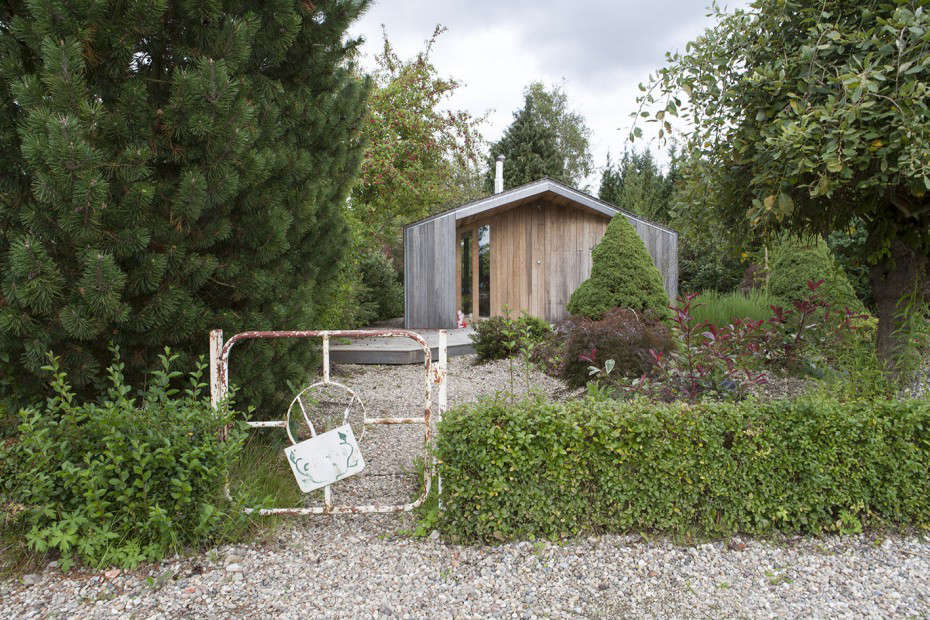 Above: A low hedge and rustic garden gate greet visitors.
Above: The extroverted side of the house faces the playground and features a "creek garden."
Above: The building's design belies its modest purpose as a family garden headquarters and shed.
Above: The entire house is constructed of poplar planks of identical width. The space requires no electricity, and at first glance the skylight could pass for a recessed incandescent can.
Above: In a playful gesture, the architect meant for the planks to be easily removed, allowing art, flowers, or toys to dwell in their stead.
Above: From the concrete kitchen, a view of the introverted side of the garden.
Above: The park has sewers and running water, and an internal gas tank serves the kitchen stove.
Above: The kitchen's gray concrete adds a color counterpoint to the poplar boards.
Above: On both sides, the structure points its inhabitants in the direction of the garden.
Above: An outdoor kitchen has a sturdy poured-in-place countertop and workspace.
Above: The cabin's introverted side abuts an irrigation ditch, shaded by an apple tree, a conifer, and rhododendron bushes.
Above: The garden's boulder clay soil was the reason for the "creek" landscaping, intended to help drain water into the nearby ditch.
Above: Crabapple trees shade the wood deck.
(Visited 253 times, 1 visits today)